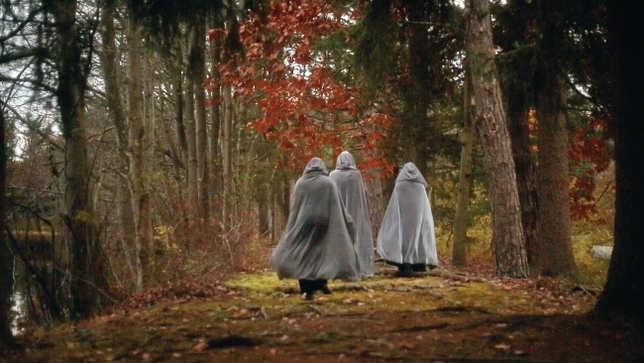 When "Mythos" creator Miriam Pultro approached her actor friends about being a part of her Web series, they were hesitant to work on a project based on mythology. Almighty gods are hard enough to create on a big budget; crafting a Web series with minimal funds and a first-time director and editor sounded like a Herculean task.
"One of my actors said, 'I don't know, but that could be really terrible.' That might be why I set ['Mythos'] in present day," says Pultro, who won an Indie Soap Award for her acting on the series before "Mythos" won best acting at ITVFest. "I love mythology as the source material, but every mythological movie is kind of garbage. The stories themselves are genuinely fascinating and I wanted to draw from them. [Movies] take ancient names and scenes because they think that's what's going to be more epic."
Pultro wanted to steer clear of the common film tropes of "the battles and Pegasus and lightning bolts." To create what she wanted, the actor shot, edited, directed, and starred in the show after her self-proclaimed "supernerd" fascination with Greek, African, and Indian mythology inspired her to write the series, now going on its second season.
"Mythos" follows a group of gods as they struggle to have normal lives and juggle their pasts and their (actually) legendary identities, all while dealing with the loss of prestige of living in a world that no longer believes in them.
"I don't want to say it was easy," Pultro says. "I worked hard, multitasking and writing scenes while working other jobs. The production stuff is a lot harder, I find. Since I wrote it and was acting, the directing came naturally; I understood the tone of what I wanted. All the people I cast are good friends and everybody was so game about expressing my vision and really diving in and applying their talent."
As for how she handled wearing all those hats, Pultro is honest: "I just stopped sleeping," she says. "I gave myself deadlines for things. When we first started producing it, I set our premiere date before we had even shot anything."
For the first-time director, she knew this approach would ensure no one's time was wasted and the project would see the light of day. "Otherwise it's useless to the actors because they work on something and they don't see the result for years and years," she says, speaking from experience. "I wanted to get it out sooner rather than later."
The hard work, bottles of wine, sleepless nights, and first-time indulgence in Red Bull has paid off for the actor and her show.
"We had an email from a stranger halfway around the world," says Pultro, "a French Canadian student studying mythology saying, 'I just want to tell you I watched this and I can see the mythology links, and it's great and I want to see more!' For a stranger to take the time to even pay attention, let alone go out of their way to comment and send encouraging thoughts, it's really amazing."
Like this story? See more of our Now Streaming articles here!