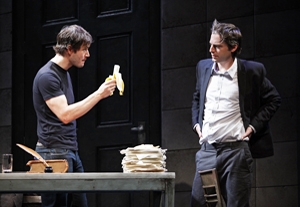 Justin Kirk is far more successful than Harry, the underemployed actor he plays in "The Understudy," Theresa Rebeck's three-hander now currently being presented by the Roundabout Theatre Company Off-Broadway at the Laura Pels Theatre. Indeed, Kirk is well-known for his creepy, neurotic turn as Andy Botwin on the Showtime series "Weeds." Nonetheless, he understands the comically tormented Harry's plight. "For an actor, it's a constant struggle to keep yourself from diving into cynicism, paranoia, and the feeling that the universe is crashing in on you," he says. "But we try." The play, which also stars Julie White and Mark-Paul Gosselaar, touches on a range of thorny issues: jealousy, anxiety, and rage as talent-free actors become stars while their more-gifted counterparts are relegated to the understudy role.
Kirk observes that occasionally talent is recognized and rewarded and oftentimes it is not, if for no other reason than there are far more actors than roles. He feels the concept of acting talent is "amorphous. What do you mean when you say someone is a good actor? It could mean you like the actor's voice, face, worldview, or you like the person. You like stories filtered through who they are. So the idea of what is good acting is hard for me to identify." He advocates striving to be a better actor, yet he's not entirely sure how an actor gets better—though he feels certain he has. He is equally unsure of how an actor can define "hard work."
The 40-year-old Salem, Ore., native has undoubtedly demonstrated hard work over his career. On stage, he has appeared at Playwrights Horizons, Lincoln Center, and the Geffen Playhouse, among others. Though he is loath to employ the term "career turning point," arguing it's a myth, at least in his experience, he admits "Love! Valour! Compassion!" was the first major hit he starred in on stage—earning an Obie Award in the process—and he later starred in the Mike Nichols TV-film version of "Angels in America," garnering Screen Actors Guild and Emmy nominations. Still, he's not convinced that those gigs radically altered the course of his career. Either way, each role presents its own new challenges.
 "The biggest challenge in playing Harry is all the words," Kirk admits. "It's been a while since I did a play. It's a different muscle. You have to give yourself permission to have your process be slower. On TV your brain memorizes material differently. At the end of the day you can let it go, and the next day it will be there."
A daunting task is getting pounded on stage night after night by White and Gosselaar. "It's choreographed, but we really are hitting each other. Whenever the stomach punch is coming, I tighten my stomach, though I still have a bruise or two. I'm also afraid that I'll get sick and won't be able to perform at all. I did not have that as a younger actor."
Loving L.A.
Kirk knew he wanted to be an actor early on, and when his family relocated to Minneapolis he had the chance to attend a now-defunct performing-arts high school in the city. His next step was the conservatory program at New York's Circle in the Square. He recalls being one of the youngest students and not emotionally mature enough for some of the training. Still, he started working almost immediately and admits that since his second Equity job he's been almost steadily employed.
"I lived in New York 10 years and made my living in the theater," he says. "I was not doing TV or commercials, despite trying. But I lucked into some long runs, and I lived cheaply. I might be unemployed for several months, but then something happened. I did some TV pilots that went nowhere and a few indie movies."
Unlike Harry, Kirk was never an understudy. But he was a replacement and feels there is some similarity in the job descriptions, especially the limited rehearsal time and then finding yourself thrust onto the stage. "It's scary as hell," he says.
Kirk did not relocate to the West Coast until his first pilot "Jack and Jill" was picked up. He admits that throughout his tenure in New York, he grappled with whether or not he should move. "I spent far too much time worrying about, Should I go to California? Where should I be living?" he remembers. "I now realize it doesn't matter. Just be a better actor and stuff will reveal itself. Having said that, I think an actor should live in New York, and a good time is when you're young." He adds, only half-kidding, "L.A .is for old people who like warm weather and more space. I love L.A. I have a house there, and I miss it when I'm in New York. I love all the things about L.A. that you're supposed to hate. I love the fact that it's a company town and that everybody has got a script and trying to become an actor and that people come from everywhere to do that. Also, separate from showbiz, L.A. is a unique American city."
After a handful of TV guest shots, he landed his plum role on "Weeds," a stint that came to him after one audition. He had previously performed with "Weeds" star Mary-Louise Parker in "Angels in America," but he says she had nothing to do with his landing the part. Interestingly, when he went in to audition, he had no idea it was anything more than a guest appearance. "But the next day they offered me a series regular," he says, adding he doesn't think members of the creative team knew exactly what they were looking for when he came into read. But an actor's personality, style, and performance can open up possibilities that no one had thought of, Kirk points out. That's one of the reasons he advises actors to audition for everything that comes down the pike. You never know what leads to what. More important, it's an opportunity to hone your acting skills. Kirk says he is good at auditions, though he rarely books a job that way. Most of his roles have been offered to him, but he adds modestly that these are not major film roles.
After five years on "Weeds," Kirk says, he and the other actors are having a fine time and there are no acting challenges to speak of. It's all second nature. He's always asked how he'd like his character to evolve and responds, "I'd rather experience it like a fan and see what happens next." That's pretty much how he approaches his career as well. There are no roles he's dying to play, and he enjoys the surprises. Asked where he wants to be in five years, he says, "I want to be a better actor," then reluctantly adds, "And even richer and more famous."
"The Understudy" runs through Jan. 3, 2010, at the Laura Pels Theatre at the Harold and Miriam Steinberg Center for Theatre, 111 W. 46th St., NYC. Tickets: (212) 719-1300, www.roundabouttheatre.org.