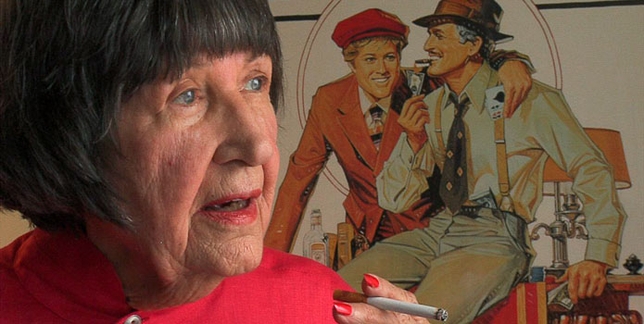 Almost everyone knows a film can be made or broken by casting, yet the casting directors usually don't get the attention they deserve for their work.
The late casting director Marion Dougherty, who died in late 2011 after a career spanning more then five decades, is largely responsible for pairing Dustin Hoffman with Jon Voight in "Midnight Cowboy," putting Danny Glover alongside Mel Gibson in "Lethal Weapon," and suggesting that Carroll O'Connor play Archie Bunker in "All in the Family." She earned the admiration and affection of directors from Woody Allen to Martin Scorsese with her bold, innovative casting choices.
"Casting By," a new documentary from filmmaker Tom Donahue, not only focuses on Dougherty's stellar career, but examines the mysterious casting process as a whole.
What made you decide on Marion as a subject? Did you know her personally?
Tom Donahue: I actually had never heard of Marion Dougherty until I was approached by two casting directors—my producers, Kate Lacey and Joanna Colbert—about the possibility of doing a documentary on her. This was back in '07. I told them I had no idea who Marion was, but that I would look into it. I found one article on her. One! It was an interview done at the University of Oklahoma.
Both Kate and Joanna were connected to Marion's work lineage; Joanna had interned for Juliet Taylor, who had been Marion's first assistant, and Kate had been Marion's last assistant before she retired in '99. So both had a profound respect for Marion and her accomplishments and started filling me in. I had no doubt that this was a story that needed to be told. I saw early on that Marion's story was also the story of an entire profession. It amazes me that to this day that casting directors are not fully recognized as creative collaborators in the filmmaking process. I hope the film helps start to change that.

What do you think made Marion so beloved by the film community?
Donahue: Her honesty, her forthrightness, her great taste, and her amazing instincts. Directors and producers loved to work with her because her amazing choices made them look good. Many actors are beholden to her because she saw something in them that, in many cases, others weren't seeing.

"Casting By" screens Monday, Sept. 10 at the Isabel Bader Theatre at 7:15 p.m. as part of the Toronto International Film Festival..