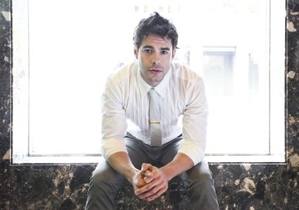 One of the biggest success stories of the fall television season has been that of actor Jayson Blair, who went from a guest star in the pilot of NBC's "The New Normal" to series regular. We sat down with Blair during his recent trip to New York City to talk about audition strategies, putting a time limit on making it, and humping chairs to get a job.
Originally, you were just supposed to be a guest star, right?
Jayson Blair: The way it worked in the breakdown was guest star with the possibility to recur. The audition scene was literally one scene, but on that one page, the girl I was dating at the time and I worked on it for four and a half hours. I made him really lovable and shrugging, even though you walk in on me cheating. And based on that, when we did the table reads with the creators, Ali [Adler, co-creator with Ryan Murphy] pulled me aside and said, "With your audition, there was no other choice. And based on that, I rewrote the scene and added a scene." And when I was shooting the second episode, I got to set and Ryan was like, "Do you like the show? I'm going to figure out how to put you in more episodes and make you a regular."
Four and a half hours! Do you always work on auditions for that long?
Blair: No. This pilot season was the most character-breaking months of my life. I'm so cool about auditioning, but pilot season is crazy because it's not the best actor [who] gets the job, it's who auditions really well. And if you don't have the time to prepare… Sometimes it'd be 20 pages of material for three auditions the next day. I was kind of frantic for the first time in my life. And the way I was approaching the material was just to be good and book the job. Which is totally against the way I work and how you should work. Trying to be good takes away all that depth and specificity and that's why pilot season is so tricky.

The reason I think I got this is we spent so much time on it. It's only one page and so everyone's gonna go in there and read it the same. And I wanted to create something that was really different. And bring someone in who changes [the creative team's] view of the role. When it's only one page, there's so many choices and everyone's probably going to do a good job, but what can you do that will be totally different from what everyone else is going to do?
So were you the guy who took his clothes off in the audition?
Blair: I kept the clothes on! First of all, it's totally bizarre to audition a sex scene. So for my audition, I literally was humping a chair. I was actually working a chair and then looking at the casting director. And the way I auditioned it and the way we actually did it was very different. But I think it was fun and really unique and gave them the sense that this guy is willing to go here, so if we want to pull him back, we can. He will do whatever it takes for this role in this comedy. He'll make it work.
It must have been exciting to have the pilot picked up, but how did it feel when you got a full-season order?
Blair: It was a crazy day. It was super busy and I came out of my trailer and someone was like, "Congratulations!" And I was like, "Thanks! For what? Tuesday? Awesome!" But the coolest thing about us getting picked up was it was on the exact day I arrived to Los Angeles 10 years prior. Honest to God, that city saved my life. I was a really bad kid in Michigan, and I was off my path and when I moved out to Los Angeles, that's where I started my evolution. And that happening on the 10-year anniversary was amazing.
Did you ever give yourself a time limit? Like, 10 years and then that's it?
Blair: When I first came out, everyone said, "Don't do that." I had graduated high school and wasn't doing anything else, so I paid to go to Barbizon Modeling school and through that, I ended up in Los Angeles with Keith Lewis, who had the Morgan Agency. And he sat me down and he said, "So you want to model? You've got a really great personality, have you ever thought about acting?" And I said no. And he said, "Well what are you going to do when you're 25 and your career is over?" So I came out to Los Angeles and I started applying myself. I actually named my corporation One Day Away because I always told myself, "I could have an audition today and I'll get a phone call tomorrow and everything is different." You're always one day away from changing your life if you're applying yourself. So I always tell everyone, "If you love it, never give up. But if you're not applying yourself…" Even a plumber works eight hours a day to be a professional and acting is no different.
And then you booked "The New Normal!"
Blair: I watch it on Tuesday night and I'm going to work on Wednesday, and I'm like, "Man, I gotta bring it to work today. Everyone's so good on this show!" They found the perfect people for every role.
I have to ask, could Bebe Wood, the child actor on the show, know how to do a Little Edie Beale impression before she had to do it for the entire second episode?
Blair: I'm about to blow your mind. Her idea. This is my understanding. She was doing the voice during the pilot and Ryan was like, "What is that?" And she's like, "Oh, Little Edie. 'Grey Gardens' is my favorite movie." And the second episode was that episode because she was doing that voice. She's awesome.
And finally, what advice do you have for actors out there?
Blair: The best advice I can give is that you need to be challenged at all times. If you're in a class and you're comfortable and it's fun, you need to get out of that unless there's someone forcing you to grow. You should be in class always. I'm in class twice a week still. And you can't be afraid of failing because if you don't apply yourself you'll never know. When I was first starting out, I wouldn't fully dedicate myself to auditioning because if I walked away, it was like, "You weren't good enough for that. You, Jayson." And people need to put the focus on the story instead of booking the job. It's not an audition, it's an opportunity.