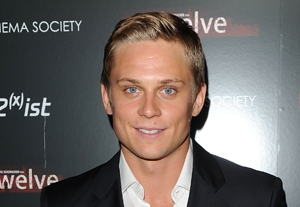 Actor
Billy Magnussen
has a lot going for him: talent, looks, charm, and a pivotal role in the latest Joel Schumacher flick, "
Twelve
," in which he shares the screen with Chace Crawford, Curtis Jackson, Emma Roberts, and Rory Culkin. In the film, opening Aug. 6, he plays Claude, an Upper Eastsider whose charmed world crumbles in a world of drugs and violence. Though probably best known for his role as Casey Hughes on the CBS soap "As the World Turns," the actor has also appeared on Broadway opposite Rosie Perez in "
The Ritz
." Back Stage recently chatted with Magnussen about his role in the film, his love of theater and New York, and what it's like to intimidate 100 innocent background players.
Back Stage:
How would you describe Claude?
Billy Magnussen:
A sad, deprived-of-love-from-his-parents, steroid drug addict.
Back Stage:
He's definitely one of the darkest characters in the film. Was that challenging?
Magnussen:
I don't think my character is a dark character. He doesn't think he's a bad guy. He's just treating the world how he knows it treats him.

Back Stage:
What was one of your favorite memories from filming on set?
Magnussen:
I guess the shooting scene. It's funny, there's a party, and when I'm on set I'm in character a lot, and when the day is done I'm out, I'm out of character, I'm just doing Billy again. But when I'm on set, I am the character, and walking through a party of, I don't know, a hundred extras, and telling them not to fuck with me. I think that was kind of cool just to be, like, it's a professional job.
Back Stage:
Do you think you scared or intimidated any of the extras?
Magnussen:
Absolutely. But not maliciously. I'm not saying I went out of my way to do all that. I just made my presence known.
Back Stage:
How did you get started in the business?
Magnussen:
I hurt myself wrestling in high school, and I couldn't take a gym class, so they put me in an acting class, and then I found out you could go to college for acting, and I was like, "Okay, that's it." And then the next step after college was to move to New York and try and get a job.
Back Stage:
Do you prefer theater or film?

Magnussen:
I want to do theater so bad. I love theater. It's just exciting. It's the same story, but the journey's different, and that's what makes it so much fun in theater. You always fly; you really do a story in two hours. Theater is brilliant. I just think, you know, film is the industry now. No one wants to go out to be entertained. They want to be in their dark bubble and watch a film. With theater, it's very interactive; in theater you have to participate as an audience member, and people don't like doing that anymore, which kind of sucks.
Back Stage:
Do you think you'll stay in New York or come out to L.A.?
Magnussen:
I love New York. I would not give up New York for anything.
Back Stage:
What direction would you like to see your career go?
Magnussen:
I just want to be involved with good stories. The size of the role doesn't matter, as long as it's a good story. That's what really makes the script. You can have the best actor in the world but a horrible script, and it's horrible; it doesn't matter. It really is writing. This reality show, reality TV shit, it's ridiculous, and it's horrible.
Back Stage:
Do you have any advice for actors reading Back Stage?
Magnussen:
Keep going. When you can't hold on and you can't hold on, hold on.