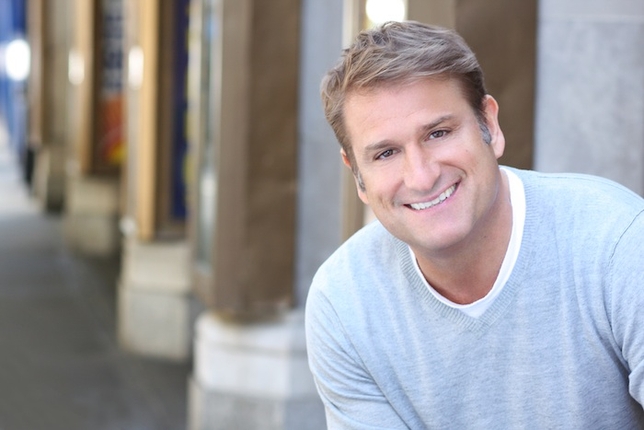 "I'm so grateful every day that I get to make my living, living out my childhood dream," Broadway director Jeff Calhoun says. "As corny as that is, I feel like the luckiest person in the world."
It's the sort of thing you'd expect to hear from someone just starting out in show business. But the two-time Tony-nominated director and choreographer's resume lists some of Broadway's greatest hits of the past three decades: "Grease," "Annie Get Your Gun," "Big River," "Grey Gardens," and of course, "Newsies," which celebrates its one-year anniversary on Broadway on Thurs., Mar. 29.
Perhaps it's that childlike enthusiasm that's made Calhoun so successful. Or perhaps it's the fact that he still looks for the heart in each show he works on. "You have to love something so much that you want to make it your life," he says. "You have to eat, breathe, and sleep it."
We sat down with Calhoun to discuss how he keeps the show fresh, what he looks for when casting, and advice he'd give to aspiring directors.
Backstage: Where you surprised about what a hit "Newsies" was right out of the gate?
Calhoun: I was proud. It's a real testament to [Disney Theatrical Productions President] Tom Schumacher and the way he produced the show. They went through the proper channels and spent years really developing the book and getting it right. And then they went to the protective environment of regional theater where we could do the work. It wasn't a result-oriented show. It was really about the process. It is fun to see something that was done so correctly be not only embraced by critics and audiences, but be rewarded by recouping faster than any other Disney stage musical.
How important is the out-of-town theater in which to develop a show?
Calhoun: It's as important as when you bring a newborn baby home. You're not going to put that newborn baby in your king-sized bed. You're not going to just leave it on the couch. You put it in a crib and you get a crib that matches the size of that kid. And as the kid grows, the bed grows. A show is very much like that. I like to find the most intimate place with sophisticated theatergoing audiences and artistic directors that understand the process and take care of the artists.
What's changed about the show moving from Paper Mill Playhouse to Broadway?
Calhoun: We have so many new members in "Newsies" now that the show's DNA is different. Rather than ask these new actors to recreate movement and blocking other actors did, choreographer Christopher Gattelli and I went in and tailored the show for the new cast. We found out what tricks and what dance steps look good on these actors. So it feels fresh and organic again, while at the same time equally breathtaking as the beginning.
"Newsies" was embraced by critics and audiences early on, but in that same season, another show you directed, "Bonnie & Clyde," wasn't. How much does the press affect the creative process?
Calhoun: You can hear a negative comment and somehow move on and forget about it. But to actually see something in print, it tends to sear into your memory. It can be very damaging for an artist. The dance is to have a thick enough skin where it doesn't completely dispirit you – where you can survive the slings and arrows. But not thick enough that it keeps your heart removed from the world.
You've worked with some of the best talent – from Megan Mullally to Jeremy Jordan. What do you look for when casting?
Calhoun: I look for someone I want to spend the night with. You're inviting the audience to have a two-and-a-half-hour date with the cast. I figure, if I want to spend two and a half hours with this person, the audience is going to as well. So you're casting not unlike you're casting for a date!
I'm lucky enough to be in a position where actors like those you mentioned before can be discovered. I love talent. So I always take the time – sometimes to the chagrin of the casting directors – to see any actor who wants to audition for the part, whether they're in the union or not. Because how do you get a job unless someone will see you? In "Newsies," we've given a total of 25 actors their Broadway debut. I'm very proud of that.
Tommy Tune gave you your first big Broadway directing break. Do you feel a responsibility to have a similar mentorship with those coming up in this business?
Calhoun: If Tommy Tune had not taken me under his wing, God only knows where I would be. With success comes the responsibility to pass down to another generation the gift you've been privy to. That's part of the reason I never have a closed rehearsal. There's always an open door policy for anyone to watch my rehearsals. Imagine what you're going to learn watching professionals rehearse? There's responsibility with good fortune. And I learned that from Tommy Tune.
What advice would you give aspiring directors?
Calhoun: Hone your observation skills. Keep a journal and chronicle things that affect your life, so you have those things as resources to look at when you do work. Our memories are short. If you see a beautiful sunset, write down how that makes you feel. If you see a color scheme you've never seen together, take a picture of it and put it in your book. Just so when you need inspiration, you can go back. Our frame of reference is so important. When I go through life, I try and see the world in 360 degrees. I don't want to miss anything. Something in those 360 degrees may be something I'm going to need developing a show one day.