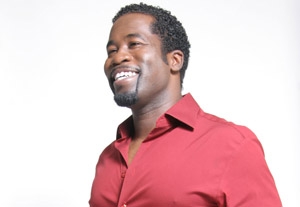 Daniel Beaty, who speaks softly but has an intense verbal style, defines himself as a social-political artist. By that he means, "The particular mirror I'm holding reflects our social political landscape but, hopefully, in a way that is deeply emotional so that we can move past didactic discussions of politics to understanding the sense of urgency around certain issues, which are based on how the human condition is impacted." But politics are always secondary to his role as an interpretative artist, he insists. His current solo show, "Through the Night," now playing Off-Broadway at the Union Square Theatre, is at once political and deeply moving. It ends on an unexpectedly affirmative note.
Directed by Charles Randolph-Wright, "Through The Night" tells the interconnected stories of six African-American males desperate to define their place in the world, while struggling with inner and outer demons. There's the 10-year-old scientist who is determined to create a healing herbal tea, and his dad who runs a failing inner-city health-food store, which he likens to "a fried-chicken joint in a vegan compound." There's the closed-minded Bishop and his closeted gay son, a high-powered record executive. There is the dyslexic young man thrilled to have beaten the odds and made it to college. And finally, there's the ex-con, recovering addict, battling temptation at every turn and grappling with the upcoming birth of his first child—praying the baby will be, unlike the parents, HIV-free.
Such heavy-hitting artists as Bill Cosby, Ruby Dee, Brian Stokes Mitchell, and Phylicia Rashad are lending their support to the production through audience development and personal appearances. But then, Beaty is an award-winning writer, actor, singer, and composer who has already garnered critical acclaim for his haunting one-man piece "Emergency" (formerly "Emergence-See!"), which ran Off-Broadway and regionally.
No Agent, No Problem
Unlike many actors who create solo shows due to paucity of good roles, Beaty insists that art, at least for him, cannot emerge from anything as "egocentric as the need to show off. I have a saying: Purpose is the bridge past ego. My purpose is to transform pain into power."
Beaty does not have an agent—doesn't view it as a problem—and has auditioned fewer than 15 times in 10 years. Nonetheless, during the last five years, he has performed steadily, thanks to work he has created. "In the next phase of my life, however, I would be interested in doing more ensemble work," he admits. "But there would have to be an impulse in the play and in the character I was portraying that had a sense of urgency about something in the human condition. I believe theater is a sanctuary, and the intent of the play and performances must have moments that are profound. That's not just drama. It could be a profound sense of liberation and joy. I would love to do a Tom Stoppard play. I think his work is genius. As a singer, I love the work of Ahrens and Flaherty. Musically, they are consistently moving and inspiring."
Still, he needs the autonomy that comes with forging his own pieces. For him the writing and acting impulses emerge from the same place, and he loves the art forms equally, though he acknowledges that when he writes, he is far more concerned with building a well-crafted play than with forging characters he can tackle as an actor. "I trust I have the facility as an actor to find within myself the ability to play the characters that I am writing," he says.
Beaty is also a player on the slam scene, winning the 2004 Grand Slam Championship at the Nuyorican Poet's Café and the Fox Networks National Redemption Slam Champion. He says he was (and is) a page poet but realizes his written work is not unlike slam poetry in cadence, rhythm, tone, and viewpoint. He attributes that to a shared perspective. "I never created work for slam poetry but took what I was doing as a writer and performer and used it in the slam poetry world. There is a legacy of black poets who are also playwrights: Langston Hughes and Amiri Baraka, LeRoi Jones."
Making the
Specific Universal
Brought up in Dayton, Ohio—"in a chaotic home rife with addiction and incarceration"—Beaty would play Dr. King's "I have a dream" speech and knew he wanted "to use words to change the world," he recalls. By the time he was in third grade, he was giving motivational talks at the Optimist and Kiwanis clubs. He toyed with the idea of being a politician but switched gears when he started acting in school productions. "I realized the arts were a more fitting place for my gifts and passions," he says.
At Yale University, he earned his B.A. with honors in English and music, then received his MFA at the American Conservatory Theater in the San Francisco Bay Area. Beaty performed his first solo play at La MaMa ETC, which led to his residency at the New York Theatre Workshop, "where they helped me clarify my voice, resulting in my writing 'Emergence-See!' " It's a surreal play that imagines a slave ship sailing into New York harbor today.
The challenge in writing "Through The Night," he says, "was to give each of the six main characters a journey that has dimension. As an actor, the challenge is to be able to move from one character who is light and comedic to another who is extremely intense in a split second. Doing a solo show requires a lot of energy and focus to be present emotionally, mentally, and physically. I eat healthy, and I do workouts every day—light physical and vocal warm-ups and stretches to make sure the breath is moving on the days I'm performing. I also find a weekly massage and a session with a chiropractor helpful."
Beaty advises young actor-writers who want to try their hands at a solo show to "discover what it is about the world you feel is urgent and needs to be spoken about. Focus on your purpose more than your ego." He urges all artists—but especially those of color—to stop worrying that their stories won't have resonance for audiences outside their ethnicity or demographic. "Trust that if you are authentic and as specific as possible, it will be universal and mean something to people who may not look like you. Also, don't be afraid to self-produce even on a small scale. Don't be afraid to start in a small community, in a space where people are eager to hear what you have to say. You build from there."

"Through The Night" has an open-ended run at the Union Square Theatre, 100 E. 17th St., NYC. Tickets: (800) 982-2787 or at the theater box office.
Bio Brief
-Won Obie and AUDELCO awards along with two Helen Hayes Award nominations, among other honors
-Collaborated with composer and violinist Daniel Bernard Roumain on an orchestral work, "Darwin's Meditation for the People of Lincoln," that has toured nationally and internationally
-Beaty's ensemble play "Tearing Down the Walls" will bow at Chicago's ETA in December, and "Breath and Imagination" is slated to be staged this spring at the Riverside Theatre in New York