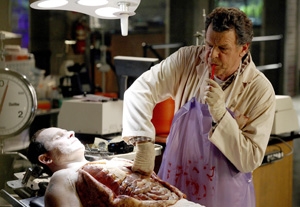 Australian thespian John Noble is best known to the U.S. crowd for a pair of pleasingly unhinged performances. In Peter Jackson's "The Lord of the Rings" saga, he brought wild-eyed tragedy to the role of fallen king Denethor. And in Fox's sci-fi hit "Fringe," he embodies the central part of mad scientist Walter Bishop with unabashed vigor.
But Noble just laughs at the notion that he's in danger of being pigeonholed as the crazy guy. "At this stage in my career, I don't have 30 years to worry about it," he says, chuckling heartily. "It's a great privilege to be able to do these sorts of roles."
And after a long, lauded career on the Australian stage, Noble is thrilled to be making his mark in film and television. His enthusiasm for the whole "Fringe" experience is clearly on display as he chatters amiably about everything he does to ensure Walter is a fully realized human being. "There was an episode recently where I had to play the character 25 years younger," he muses. "That was challenging because I had to change the energy of the character. We did some work on him; there's a vocal difference. If he runs, he runs differently."
He pauses, considering the experience, then lets loose with another belly laugh. "I mean, I had to get really fit to do this. I just wanted to imagine that if I had to take my shirt off, I would be that fit, handsome man that Walter was."
The role came to Noble in an "unusual" way—unusual because, he notes modestly, he didn't have go through the battery of screen tests traditionally associated with pilot season. "I was in Australia at the time, and I got a call that I should have a tape," he says. "I went into the studio with my daughter and put down a tape, and I was cast."
Noble says the producers were already familiar with his work, thanks to "The Lord of the Rings," a guest bit on "24," and the fact that he'd worked with "Fringe" co-creator J.J. Abrams' father some years ago. But the relative ease of the casting process doesn't make Noble any less grateful for the gig. "It's almost like the perfect character," he says. "If I'd had to write a character to develop at this stage of my career, it would've been this, you know?"
King of the World
Growing up in Australia, Noble says it never occurred to him that acting could be a real job. "My mum was a wonderful pianist, and we used to dress up and do our own [shows] around the country halls, but I didn't know you could do it," he explains. "I fell into it because I was doing an elective [at school] and people said, 'Gee, you're okay.' "
Noble didn't get serious about his performing endeavors until his mid-20s, when he became involved in the Australian stage scene. He served as artistic director of the Stage Company of South Australia for a decade, producing more than 70 plays and cultivating a career as an in-demand theater director. "I really don't know what happened," he says of the transition into directing. "When I started doing theater, I used to design the sets, too. I used to do the lighting rigs. That's the exciting part of doing small theater. To do directing, that was sort of a logical thing."
When asked about landing his first agent, he bursts into gut-busting laughter, then notes, "Someone just said to me, 'I'm going to represent you,' and I said, 'All right, thanks.' " And though he has appeared onstage in a variety of vehicles, from one-man shows (Rob Blair's "The Christian Brothers") to ensemble pieces, he dismisses the idea that there was a breakthrough theater role. "I mean, when I ask my wife about this, she can pick probably two stage performances that she thought were turning points for me," he says cheerfully. "But that's just her opinion."
He acknowledges "The Lord of the Rings" was a huge opportunity, though, putting him on the map for international audiences. "For a stage actor like me to get that role was a huge gift," he says. "At the time, Peter was auditioning all over the world, and everyone was putting their hand up. He didn't know me from a bar of soap. But the story goes that later on, when they got back and they were looking at all the tapes, he said, 'Who's that bloke?' And they kept coming back to me. Basically, what I did was what he wanted, even though he didn't know who I was."
All the World's a Stage
These days, Noble's busy "Fringe" schedule rules out a lot of other parts, but he doesn't seem to mind much. He and wife Penny are enjoying traveling the globe, from Australia to New York to Vancouver, where the show is filmed. "Our children are grown up, so we're like vagabonds; we're sort of like carnies," he says. "We just have a great time wandering around."
He's not sure where they'll settle eventually but notes the acting life is a good one no matter where you are. "In Australia, you don't get a lot of praise for your work; it's just, 'Oh, yeah, whatever,' " he says, laughing. "But, look, playing a character, once you're inside and the lights are on, it doesn't matter where you are. It could be Prague or Timbuktu. The experience is the same."
No matter where he ends up, Noble hopes to one day tackle the role that has so much in common with Denethor and Walter: the towering King Lear. "Over the years, people have said to me, 'That's the role that will bring you back to the stage,' " he says. "We'll see. The thing about Lear is you've got to be so, so old. But I think I may have a go at it."
Outtakes
– Won a Screen Actors Guild Award for his ensemble work in "The Lord of the Rings: The Return of the King."
– Loves to teach acting and hopes to return to it someday: "I'm sure that's how I'll finish my years."
– Performed with the ballet during his Australian theater career. "I had to dance in the ballet, which was ridiculous, because I'm not a dancer," he says. "They invited me in as an actor to act and sing songs, and then the choreographer wouldn't accept the fact that I couldn't dance. It was so exciting."