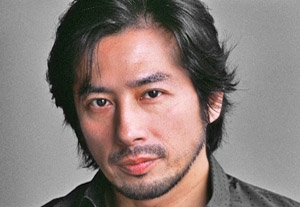 Hiroyuki ("Hiro") Sanada has a broad range of credits under his belt but continues to be most identified with martial arts and action-adventure flicks such as "The Last Samurai," "Twilight Samurai," and "Rush Hour 3." On the small screen, he's best known as the mysterious temple master and warrior Dogen in "Lost." But Sanada does not feel restricted by the stereotypic image. Indeed, he views martial arts as a useful skill for an actor, not unlike singing or dancing, strongly believing the more talents he has the more likely he is to get cast. Consider his résumé. He has appeared in musicals and Shakespeare in his native Japan and in London with the Royal Shakespeare Company. He co-starred with Ralph Fiennes in the James Ivory flick "The White Countess" and can now be seen in Ivory's "The City of Your Final Destination," playing Anthony Hopkins' lover. "If I do action-adventure, that's fine," Sanada says. "If I don't, that's fine too. But for me doing action-adventure has been a good thing." It has made him an international star.
Nonetheless, Sanada is modest about his accomplishments, stunned that he's had a chance to act with Fiennes and Hopkins. He repeatedly says he's especially self-conscious about his English, speaking slowly and carefully. But crossing over is essential for him as an actor and a global citizen. "There are a lot of walls between the East and West," he explains. "There are walls even within Asia, between China and Japan, Korea and Japan, Korea and China, but these walls do not exist in the film industry anymore. We can learn and share and make something new together. The film industry can be the bridge and a great model for real life."
Culture Shock
Like many foreign actors, Sanada grew up infatuated with Hollywood movies. Later when he worked with American actors—initially in flicks helmed by Japanese directors—his desire to act in the States was reinforced. "American actors were relaxed and creative and better-trained than we were," he recalls. "They could sing and dance and act. I felt it was a different level."
His beliefs were confirmed during trips to New York when he'd take in Broadway and Off-Broadway plays. He experienced "culture shock" due to the high quality of the work, the scale of the Broadway productions, and the size of the audiences. "I felt Japan was a small country."
In Los Angeles, he made friends and connections, and when he decided to relocate to America five years ago, L.A. was his destination. But he emphasizes he was no longer starry-eyed about his new home. Indeed, his primary aspiration was to master English. Still, within six months, Danny Boyle cast him in "Sunshine," and shortly thereafter Sanada got a manager. "I still don't have an agent," he admits frankly. "It's very hard," he says.
The differences between Japanese and American filmmaking are sizable, he says. Contrary to what we may believe about the power of the Hollywood auteur, Sanada says, the director in Japan has far more clout. "Here the editor is very strong, and that's why the directors here take so many shots: master shots and middle shots and close-ups," he elaborates. "In Japan they don't have the time or the money and the director knows his editing plan ahead of time." Also, while the quality of acting in any given project in the States is fairly uniform, in Japan it's a mixed bag: "Some actors are trained, others are not, and they are all thrown together. Some of the acting is childish, like cartoons, and the audience loves it."
To Play an American-Born Character
Sanada was a child model and on the cover of a magazine at age 4. A year later he had enrolled in a children's acting school and made his film debut. The movie starred Sonny Chiba, who subsequently became a seminal figure in 1970s martial arts cinema. Chiba also organized and ran the Japan Action Club, a martial arts training center Sanada joined at 13. After four years of martial arts training, he was cast in his first ninja film role. 
Sanada graduated from Nihon University, where he majored in film and later starred as Romeo in an acclaimed Japanese stage production of Shakespeare's tragedy, after which he went on to play the title role in a respected production of "Hamlet" that ultimately traveled to London. That trip turned out to be a watershed.
"Nigel Hawthorne and an RSC producer came to the theater and watched our 'Hamlet,' " Sanada recalls. "They were looking to cast the Fool for a production of 'Lear.' Because the Fool is an outsider, they wanted an Asian actor to play it and asked me if I was interested. I said 'In English?' " Even now the horror in Sanada's voice is evident. "To work with Nigel Hawthorne and the RSC was a dream, but I didn't have the language. But when the producer said, 'You are an actor before you are Japanese,' I heard a gong go off in my head, and I thought I should do this." He says he was capable of simple English conversations, but performing Shakespeare in the original language before a live London audience was something else. "Unlike a movie, you can't redo it," he says. "It was the biggest challenge in my life, and it changed my life."
Being cast in "Lost" was yet another challenge and life-changer; it made his international audience even wider. Still, shooting a TV show in English was daunting, given television's fast pace. Worse, he says the producers had misled him. "They said all my dialogue would be in Japanese, and I said okay and signed the contract," he says, laughing. "Then I read the script. I had lines in English, and I said 'Oh my God, they lied to me.' I said to them, 'You lied to me,' and they said, 'Yes, that was our intention.' It was scary for me, but then I began to enjoy the shooting, and everything I've done since then has gotten better." But he's noncommittal about his future on the show. In his last episode, Dogen was drowned.
Whatever his character's fate, Sanada says he's at the starting line of a new career. His ambition is to be able to play an American-born English speaker, though at the moment he admits playing Japanese natives makes the most sense for him. Regardless of his language challenges, he's looking forward to larger roles in significant American and European films. "That's important for me as an actor and especially a Japanese actor," he says. "There's a lot of misunderstanding about Japanese people and culture. I'd love to help change that."


Outtakes
- Says that despite the popularity of American films in Japan, the country is closed-minded toward Western culture
- First English-speaking movie role was "The White Countess"
- Has appeared in more than 76 films and television shows