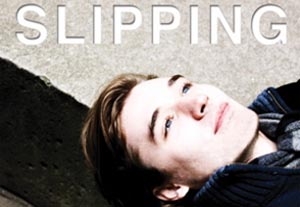 Daniel Talbott planned to be an actor and director. The desire to write plays came long after high school, when he read the late British playwright Sarah Kane's "Blasted," a bleak and violent piece scripted when she was 23. "I was inspired by the way she wanted audiences to feel they were in the room where the action is taking place," he says. "Sarah wanted audiences forced to collaborate. Her work is physical, action-based, and violent. It's not Noël Coward."
Neither is Talbott's play, "Slipping," running Off-Broadway at the Rattlestick Playwrights Theater. "Slipping" is a gritty—and very funny—play about a young gay man, his two ambivalent lovers, and his dysfunctional mother. "The actors in the play cannot hide behind language," Talbott continues. "It's not foolproof. It leaves breath and air for the actors."
"Slipping" is not autobiographical. Talbott says he is married, has a child, and is not gay. But a close friend in high school was not unlike the protagonist in "Slipping" he was so tormented by others as well as his own demons that he ultimately dropped out, disappearing from the scene. Talbott often wondered what became of him. "Slipping" is Talbott's dramatization of what might have happened to his unhappy friend.
An Oakland, Calif., native and Juilliard graduate, the cheerful and gregarious Talbott has a roster of regional and Off-Broadway acting credits on his résumé. Among these: Shakespeare Festival of St. Louis, Alabama Shakespeare Festival, McCarter Theatre/Yale Rep, and the Classical Theatre of Harlem.
Talbott has written several plays that have been produced but has never written a role for himself, nor has he ever directed a play he has written, at least not the first production. "There are a lot of holes in a play that the writer is going to miss the first time," he says. "That's why I like someone else directing it. In the future maybe I will direct a play of mine the first time out, but I will never direct myself in anything." He admits it takes him a long time to get into a role and find its form. So it's important for him to have a director giving him guidance.
He jokingly maintains he has attention deficit disorder and can do only one activity at a time. Mercifully, writing, acting, and directing are discrete activities. Still, he says, the three art forms inform one another. When he writes he has the actor's experience in mind, making sure the dialogue is speakable and the characters juicy and actable. He brings his acting chops to directing as well. "As an actor it's very important for me to work in a trusting environment. So when I direct, I try to create that environment. I also understand that each actor has a different way of working, and it's important for me as the director to support that."
Through directing he has learned to recognize the rhythms of a play "and that every action has a reaction," he says. "Being a director has helped me understand context and how to be more precise when I write and act." But thanks to writing and directing, he has grown more fearless as an actor: "I've always struggled with fear of failure. But writing and directing has helped me realize that everybody is struggling in the room in the same way. Writing and directing has got me out of myself and made it possible for me to be braver when I act."
Keeping Up With Miss Jones
Seeing Cherry Jones in "The Heiress" as a youngster was his turning point. "It changed my life," Talbott recalls. "I wanted to be that good. She embodied the style but didn't play style. Her performance was personal and heartfelt yet very much of that period." With maturity, he says, merging those two elements has become easier for him.
So has utilizing his feelings onstage. He describes his terror at playing Malvolio in a Juilliard production of "Twelfth Night," but when the director urged him to use that fear—" 'because Malvolio is all about fear,' he said"—it was a successful performance and an artistic epiphany.
Talbott has forged his own method of getting into a role, much of it based on what happens among the actors during rehearsal. He says he never memorizes his lines before the rehearsals begin. "I want to listen to the other actors and get into the rhythms of the play first. I'm always influenced by what others are doing. I love it when other actors play off of me and are spontaneous. But it's also important for me to find out what my fellow actors need. Some like a performance to be the same every night. I have to respect that too."
The most challenging role he has played is the young son in Eugene O'Neill's "Ah, Wilderness." "I had trouble understanding it," Talbott says frankly. "I grew up in a place so opposite to that play. I was so not that teenager. I didn't understand that innocence. I worked hard." The roles he is most proud of are those that have required him to "work hard and push myself the hardest."
Talbott has worked steadily as an actor, mostly on stage but also on television programs and in a few independent films; the latter especially appeal to him, and he hopes to write and direct movies along the lines of John Cassavetes and Elia Kazan.
Determined to have a safe haven to do his own work, Talbott and a group of like-minded friends forged Rising Phoenix Repertory in 1999, which began by producing a reading series of new plays and has continued to add workshops, festivals, and productions of new plays that have been co-produced by such companies as Piece by Piece Productions, Rattlestick, the New York Theatre Workshop's Fourth Street Theatre, and HERE Arts Center. Rising Phoenix co-produced "Slipping." The company does not have a permanent home, and Talbott describes the troupe as "nomads." But he believes actors benefit in having a place where they feel free to experiment. He also advocates working as a literary manager—as he does at Rattlestick—for aspiring writers and directors. It's often unpaid work, but the experience is invaluable, he says.
Asked where he wants to be in five years, Talbott says he's on the right track now but with one addendum for the future: "I want to have enough money to put my kid through college and own a house."
"Slipping" will run through Aug. 15 at Rattlestick Playwrights Theater, 224 Waverly Place, NYC. Tickets: (212) 868-4444 or
www
.
smarttix
.
com
. www.risingphoenixrep.org. 
Outtakes
> Talbott received a 2007 New York Innovative Theatre Award for directing, a Drama-Logue Award and two Dean Goodman Choice Awards for acting, and was named one of the 15 People of the Year 2006 by NYTheatre.com
> "Slipping" was produced by the Side Project in Chicago in 2008 and was part of the International Dublin Gay Theatre Festival