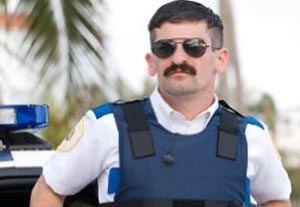 Though you might not recognize him, Robert Ben Garant seems to be everywhere this summer. If you turn on the television, you can catch his brainchild
Reno 911
!, the Comedy Central series he not only writes and directs but also appears on as the sunglasses-addicted Deputy Travis Junior. On big screens, you can see Garant's script for
Night at the Museum
:
Battle of the Smithsonian
come to life—and also catch him and co-writer Thomas Lennon as Orville and Wilbur Wright. In his rare free time, Garant still performs live, often sitting in at shows at the Upright Citizens Brigade or I.O. West in Los Angeles or touring with the State, the cult comedy team that gave Garant his start.
The Early Days
Garant grew up in Tennessee and attended New York University, where he met the other members of the 11-person troupe the State, including such comic luminaries as Kerri Kenney-Silver and Michael Ian Black. In 1994 the television show
The State
premiered on MTV and was quickly recognized for its offbeat comedy. "We didn't want to be derivative of anything else you were seeing on television or in clubs," Garant recalls. "As a result, you really couldn't compare us to anything else." During the show's three seasons, Garant played characters ranging from an abusive fast food manager to Sid Vicious competing on
The
$
25
,
000 Pyramid
.
Though he met future writing partner Lennon through the State, Garant says they never wrote together on the show. "I wrote mostly by myself," he notes. But when the members got a movie deal to write a screenplay, Garant soon found that only he and Lennon were left to work on the project. "We really took to it. Everybody else kind of drifted off and got tied up in other commitments. And by the end, he and I had learned how to write a screenplay together."
Fighting the Law
After
The State
, Garant created (with Lennon and Black) the Comedy Central series
Viva Variety
. When the network came looking for another series in 2003, Garant and Lennon suggested a largely improvised pilot they had shot for Fox Television, called
Reno 911
!. Comedy Central picked up the show immediately, and Garant is now in his sixth season as a writer-director-producer-actor on the show. Every episode is directed by Garant or Lennon, a task the former admits can be taxing. "Luckily, we work with the most amazing cast and crew," Garant says. "I would be a fool to complain about my job." Lennon also stars on the show, as the homosexual Lt. Jim Dangle, prompting Garant to remark, "I never thought I would wind up spending so much time on a series playing Barney Fife to a gay Andy Griffith."
Everyone's a Critic
During Reno's run, Garant has built an impressive résumé as a screenwriter. He and Lennon wrote a script—it was eventually made with the title
Let's Go to Prison
—that caught the attention of the industry, and the pair began taking meetings as writers. They went on to pen scripts as varied as the Vin Diesel family film
The Pacifier
, the Jimmy Fallon–Queen Latifah action comedy
Taxi
, and the blockbuster
Night at the Museum
. He also directed the quirky comedy
Balls of Fury
and the big-screen version of his show,
Reno 911
:
Miami
!. Garant believes that if his films have anything in common, it's their critical reception—which is generally negative. "I guess not too many critics have taken to our writing," he notes. "Which is fine. We're really just trying to make each other laugh. We write like two 14-year-old boys, and we love it."
Though he still appears on
Reno
, Garant says he's moved away from performing and that his interest now lies largely behind the camera. "I've definitely tended to gravitate more towards the writing and directing as of late. There is so much that I love about all aspects of making a film or a TV show," he says. "But I do feel stronger in my writing and directing. And I just don't know that the world would miss my acting."