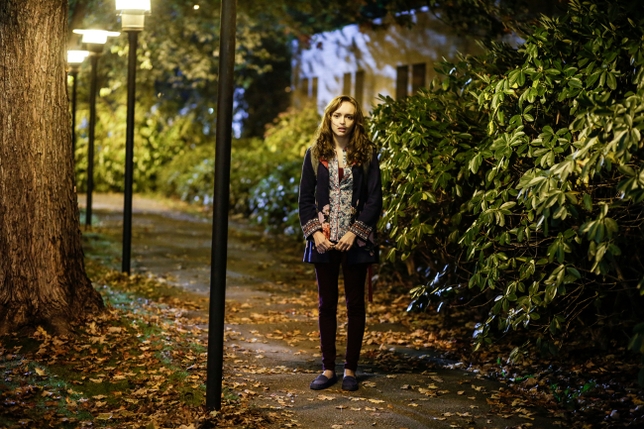 A&E's "Bates Motel," the pseudo-prequel to "Psycho" that finds a present-day Norma and Norman Bates muddling through life in a town in the Pacific Northwest, could go badly wrong very easily. That it doesn't is immediately attributable to Freddie Highmore's Norman and Vera Farmiga's Norma, characters out of a Greek tragedy working in a hotel and routinely stumbling across corpses both of their own making and not.
While the two central performances are mesmerizing, it's the supporting actors who make the Bates' world come to life—particularly Olivia Cooke as Norman's classmate, the dreamy, wide-eyed Emma who wields the oxygen tank required by her cystic fibrosis like it's a recalcitrant child at the end of an exhausting workday.
While the second season of the series hacked away at Norma and Norman's co-dependency, finding both characters trying—and mostly failing—at carving lives for themselves without the other, Emma truly blossomed.
"We all had a meeting before we started filming in Vancouver where they were giving us tidbits on how our characters would develop," Cooke says over the phone from the U.K. "So I knew there was more of a grown-up adultness, but I didn't expect her to leap into things as literally as she did!"
That leap signaled a sea change in Emma, part of her willingness to embrace life despite her condition that found her both in a relationship and jumping off a cliff into a freezing river, an experience she calls "exhilarating. And I can put it away now and never do it again!"
But while Emma moved on from Norman, Season 2 still found her on the outside of Norman and Norma's relationship, wanting to be a part of their family but held back by the Bates' many, many secrets. What makes it heart-rending is the palpable chemistry between the trio; Emma easily fits in with mother and son on the surface, but their labyrinthine inner lives prevent anything too close from existing. Onscreen, at least. On set is a different story.
"We have so much fun," Cooke says. "I've never been to drama school or trained properly, so watching [Farmiga and Highmore] is like a master class. Vera is awe-inspiring and it's so amazing to watch. I'm just really grateful that these are the people I've ended up with."
Though Cooke says it took her three episodes until she got a real grasp on Emma—"She's American and she's got CF and she's otherworldly and quite ethereal and vulnerable so it was a lot!"—she has consistently provided a heart to the show. And she points to Farmiga for helping her come to terms with acting in front of a camera.
"I was convinced I had to do hardly anything," she says. "I thought doing a lot in front of the camera would come across as too big, but watching Vera in her more theatrical moments and how that came across on the screen [changed my mind]."
As for Emma's mortality, Cooke is as concerned about her chances of survival as anyone else; young women don't tend to fare well around Norman Bates. "It depends on where her relationship with Norman is going," she says. "If it's going on a romantic route, too many people have bid farewell. But if Norman continues keeping her at arm's length, I think she'll be OK."
Like this article? Check out our interviews with other Emmy-worthy performers all week!