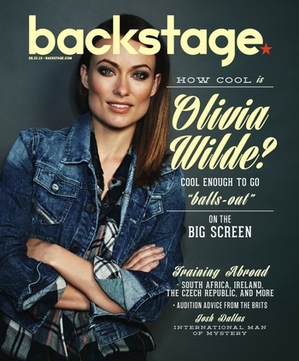 Olivia Wilde graces our cover this week, and she chatted with Backstage about her role in Joe Swanberg's entirely improvised film, "Drinking Buddies," out Aug. 23. Pick up a copy of the latest issue on newsstands Thursday, and check out a sneek peak of the feature below!
---
Olivia Wilde on Working for a Casting Director:
Olivia Wilde can't speak highly enough of her time working in casting director Mali Finn's office, calling it "invaluable." "Many casting directors won't hire aspiring actors," she warns, "because you might be burning some chick's headshot under the table so she doesn't get the part." But in between watching mothers remind their child actors about dead dogs (or directors teaching child actors about the mortality of parents), Wilde was learning from the crashing and burning of even the best-trained actors.
"So many actors walk into an audition without making a fucking choice, and it would sink them," she says. "Don't walk in there groveling and desperately wanting to be some amorphous thing you think they want. Don't go in there with a defeatist attitude."
Wilde also suggests biting the bullet and finding out why you didn't get the part. "People have nervous tics they don't know about, and I would advise asking around," she says. "Ask the casting director, 'Is there something I'm doing?' I would see people unconsciously rocking back and forth. I roll my lips. I bite my lips and roll them."
But even all of her behind-the- scenes training couldn't save Wilde's audition for "Rock of Ages." "I sang 'I Want to Know What love Is' at the top of my goddamn lungs with Tom Cruise in a sound booth," she says, still laughing about the moment. "And I was so completely off, so out of tune, my voice sounded like a drowning gerbil." She pauses, then laughs again. "But I made a fucking choice."