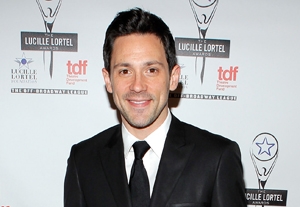 Tony nominee Steve Kazee chatted with Back Stage at the Lucille Lortel awards about moving "Once" to Broadway from Off-Broadway, and what he's learned as an actor.
"Once" started Off-Broadway at New York Theatre Workshop this season and then moved to Broadway. What was that process like for you?Steve Kazee:
We didn't try to change too much because we knew what we had down at New York Theatre Workshop was a good product. I think the trap sometimes in moving uptown is you tend to go bigger, and we knew that that would not be good for us, so we stayed the same. It's been really nice to see how the audience has responded to that.

How did you keep the show intimate in a Broadway theater?Kazee:
That's the thing. When you think about Broadway, you think broad and big, but the fact is there are so many plays that are very intimate, but fill a 1,500-seat house. Plays like "Who's Afraid of Virginia Woolf?" have deep moments of silence and intimacy to them. The trap is to think that you have to be anything different. So we just continue to be what we were, and the intimacy just followed with us. We didn't have to put anything on.
What has working on this show taught you as an actor?Kazee:
It's taught me to be very thankful for what we do as a career. It's not always that you get the opportunity that we have right now, and to be in a show that's so beautiful and moving, it makes you appreciate what we do for a living.
What advice do you have for actors?Kazee:
Reach down, grab your boots, pull 'em up and just take a deep breath and jump in the pool because it's a tough business, but when it's rewarding...

Suzy Evans is the Senior Web Editor at Back Stage. Follow her on Twitter: @suzyeevans.