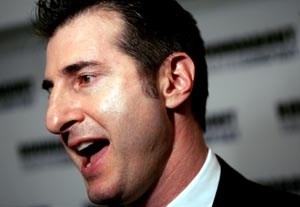 When "Other Desert Cities" opens in December at Lincoln Center's Mitzi E. Newhouse Theater in New York, it will signal the return of Jon Robin Baitz, who left the theater world for a few years for the small screen and his creation, ABC's "Brothers & Sisters." But before that happens, Baitz is fine-tuning his latest play with a workshop performance this week at the Ojai Playwrights Conference—a path Baitz took twice before, with "The Paris Letter" and "Chinese Friends." A public reading of "Other Desert Cities" is featuring Mary McCormack ("In Plain Sight," "The West Wing"), Holland Taylor ("Two and A Half Men"), Concetta Tomei, and Thomas Higgens.
Baitz considers the workshop process a valuable tool leading up to a full-scale production, and he likes the fit of Ojai, thanks in large part to its producer and artistic director, Robert Egan. "Robert and I started working together 22 years ago," Baitz says. "He directed 'The Film Society' at the L.A. Theatre Center. Any chance you can get to work on a play before you're actually doing the production of it I think is really useful. It's not pleasant to rewrite a play during rehearsal for the actors or the playwright or the director, so workshops can serve as a place to work out what the play looks and sounds like, and you can get a lot of work done. I love Ojai. Since having worked there, I have gone up quite a bit to write."
From inception, through a workshop, and up to opening night, Baitz considers the evolution of his plays a collaborative effort—even during the times when the collaborators are only in his head. That's because he tends to write parts with actors in mind. His best-known pairings are with Ron Rifkin, who starred in Baitz's "The Substance of Fire" and "The Paris Letter," and Nathan Lane, who worked with Baitz in "The Film Society" and "Mizlansky/Zilinsky or Schmucks." Baitz also had Donald Sutherland in mind for "Ten Unknowns."
"Most often I usually write for actors, but there could be one of three or four for a part," Baitz explains of his process. "But I know the sort of temperature of the actor I'm looking for. I have a sense of what certain actors can do and what they sound like. They are instruments. They have a kind of music to them, and they all have different music. So it's important to have a relationship with lots of different actors. I didn't work that way at first, but as I built relationships with actors, that started to develop. I wish there were another way [to cast] than auditions, because often the best actors don't audition well."
Though the New York cast for "Other Desert Cities" has not been announced, Baitz says he followed his usual pattern of writing with actors in mind, and allowed their voices—or music, as he put it—to help transform the characters. That process that helped influence his decision a couple of months ago to move "Other Desert Cities" from a larger Broadway venue to the Mitzi E. Newhouse Theater.
"There is a trend for Broadway productions based on stars," he says. "I just wanted to be able to concentrate on the play and let the chips fall where they may and find the most right actor, no matter who that is—not necessarily a star. This is my return to producing plays, and I didn't want it to be defined by commercial factors."
As for the Ojai workshop, the actors may not be the ones he imagined when writing the play, but they still were carefully chosen. "There is a complicated alchemy to casting," he says. "Sometimes with a workshop, the actors might be too young or too old for the parts, but that's the least of the concerns. The question is, Are they teaching you something? Actors are seldom wrong. That's been my experience over the 25 or 30 years or writing plays. If that's the case, then you have to cast the right actors at workshop.
"Holland Taylor is someone with tremendous talent who I trust, and I hear her clearly in my head," he continues. "Mary McCormack, who is one of my dearest friends, has exactly the right temperature. It's not so much having the exact person. You need a group of people who have the right kind of intelligence. These are actors that I believe know my idiosyncrasies as a playwright and how to use those idiosyncrasies in performance. 'The Paris Letter' had a number of different people in workshops, and I learned from all of them. If you cast capable, intelligent, inventive, generous actors who bring something to the table, you definitely learn quite a bit.
And what does Baitz get from a workshop that he can apply toward a production? It depends on the play. "I actually think those Q&A sessions are of no use whatsoever," he admits. "But it's a development thing that's useful for audiences. It gives them the sense they are participating. But it's a closed circle between you, the director, and the cast. I'm not saying the audience can't tell you anything, but I'm not interested in their dramaturgy, so to speak.
As for this session at Ojai, he says, "This play I have been working on quite a bit, so I'm not going to do too much to it. In the past I've rewritten massively. And sometimes it's an opportunity to cut. When I did 'Paris Letter' at Ojai, there were a series of long interstitial monologues Ron Rifkin did playing a psychiatrist. They ended up being a play within the play. They were compelling, but I realized they stopped the flow. And I cut a lot based on that workshop."
Even though Baitz doesn't expect major changes between the workshop of "Other Desert Cities" and its December opening, he admits to never knowing what will happen. "Actors are constantly surprising me," he says. "And I love that."
To learn more about the Ojai Playwrights Conference, which continues this week, visit www.ojaiplays.org.  To learn about the premiere of "Other Desert Cities," visit lct.org/showMain.htm?id=201.