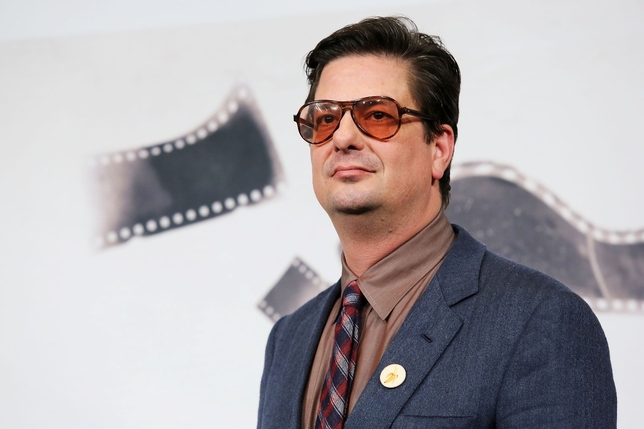 February is looking good for Roman Coppola. Not only will he be attending the Academy Awards as a nominee for best original screenplay for "Moonrise Kingdom" with his frequent collaborator Wes Anderson, but it marks the release of his second film as a director, "A Glimpse Inside the Mind of Charles Swan III." The movie, his first as director since 2001's "CQ," stars Charlie Sheen as a graphic designer whose recent breakup causes him to descend into comical revenge fantasies. Like much of Coppola's work, it's highly stylized and nearly impossible to explain. It also features a cast that includes Coppola's cousin Jason Schwartzman and Bill Murray, both seen in "Moonrise Kingdom."
In addition to making movies, Coppola has a wide variety of other projects. He's patented everything from a photo bubble to a magic trick. "I'm just kind of a hobbyist and all-around lover of ideas," says the son of Oscar-winning filmmaker Francis Ford Coppola. And he's creative. "Charles Swan" was shot on a modest budget in 25 days around L.A. utilizing his house as a primary location. "It was a quick shoot with a lot of hustling around."
Congratulations on the Oscar nomination. How did you get the news?
Roman Coppola: Thank you, it's really thrilling. I was driving to the airport. My parents, my girlfriend, and my daughter were all in the car, and a friend texted me to say congratulations. It was a very nice celebration in the car.
Coming from a family of great filmmakers, is there any kind of friendly competition?
Coppola: I wouldn't say competition, more a sense of camaraderie. When I made my movie or work on a script, Sofia is one of the first people I'm excited to show because I know her so well. Likewise, when she does something, I'm probably the first eyeballs on it. Our whole family is very close and I feel quite lucky we have this great tradition and experience together. I've worked with my dad so many different ways, shooting second unit or whatever. It adds up to this wonderful circus-like family.
Charlie Sheen is really fun in this film. I have to say, I'm a fan.
Coppola: There aren't that many people who will openly admit to that, but I'm glad you will, and I am too.
Have you known Charlie a long time?
Coppola: I have. We were kids together during "Apocalypse Now," so when we were 10, 11, we hung out together on the set in the Philippines and were pals. Over the years, I wouldn't see him so often but when you make a friendship with someone as a boy, its something that always endures. Occasionally I'd run into him or hear from him and when I was preparing this film, a mutual friend put us on the phone together and Charlie said something to the effect of, "Hey man, we gotta make a movie together ones of these days. Our dads did a great movie, we have to make a great movie." I was just finalizing my screenplay and with that encouragement, I realized he would be great for the role.
Was there any resistance to casting him?
Coppola: There was some pushback. People said he was uninsurable, but I kept persevering. And on Charlie's end, he didn't say yes right away. There's a lot of challenges in my movie in regards to dancing and singing and exposing yourself emotionally. So it took awhile to get him to commit but once he did, he was incredibly committed.
How did the rest of the cast come together?
Coppola: I wrote the character for Jason. With someone you're that close to, you don't want to make them feel expected to do it or guilted into doing something, but he was into it. There are certain people in my life who are supporters and encouraging and he jumped in. Similar with Bill Murray, he can be very elusive and hard to pin down, but I described the material and he was intrigued. But it wasn't until very close to the shoot that I kind of needed to know if he was in. He said he would be happy to do it, but I didn't' hear from him for awhile, and I didn't know how to reach him to get his plane ticket or his sizes. But he's a true blue guy. He showed up the day before; we got his costume; and he was there.
What about people you hadn't worked with before?
Coppola: Mary Elizabeth Winstead, I had not met before but she was friendly with Jason and he said I would love her. There are some people you meet, and I'd put Aubrey Plaza in the same category, where you say, "This is going to be a person I'll work with again over the years." They were both people I met through friends, not agents or auditions. The Ivana character was the only character where I met a bunch of girls and read and considered different people. Casting people were throwing out ideas and putting people on tape. I found Katheryn Winnick while watching TV one night, she was making a guest appearance. I think it was on "Bones." I was struck by her performance in this little clip I saw while flipping through channels. So I tracked down who that was and we kind of had a bit of an audition. Audition doesn't sound so warm—we had a session together. We talked it through and read some stuff together and I put her on tape and talked it through with some colleagues.
You've acted yourself. Do you think that helps you to work with actors?
Coppola: As a kid, my dad would put me in his films, most notably as a young Sonny Corleone in "Godfather II." But I'm basically an extra. For him, it was more a way to have a nice souvenir of that time and place. In my film, Charlie's niece is played by my little daughter. So the tradition of nepotism continues.