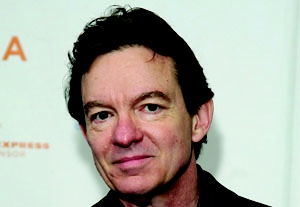 Premiering Sept. 7 on HBO, "My Trip to Al-Qaeda" is a documentary based on journalist and author Lawrence Wright's one-man show of the same name. Composed largely of Wright performing his piece in front of an audience, "My Trip to Al-Qaeda" chronicles his personal experience researching and investigating al-Qaida and Sept. 11 for his Pulitzer Prize–winning book, "The Looming Tower: Al-Qaeda and the Road to 9/11"—a tome that has since become the go-to reference on the subject.
Wright had previous experience with filmmaking: He had written screenplays for political films such as "Noriega: God's Favorite" and the 1998 Denzel Washington–starrer "The Siege." That film's plot revolved around terrorist attacks that lead the U.S. to declare martial law and place Arab-Americans in detention camps.
Imbued with personal reflections as well as a journalist's eye, "My Trip to Al-Qaeda" offers invaluable insight into the historical occurrence, telling the tale in an intimate and humane way. Back Stage caught up with Wright to talk about the project, as well as his unexpected transformation from writer to actor. 
Back Stage
: Did you always want to be a journalist? 
Lawrence Wright
: I wanted to be a writer, and I had a very ill-conceived notion of what that would mean. I kind of thought I'd be a poet in SoHo; I didn't know what it cost to live in SoHo when I imagined that. I drifted into reporting because of two things. One is that I have really admired some nonfiction writers, especially George Orwell, who opened up the idea of literary nonfiction for me. The other thing is that I found that reporting was one of the few areas of writing where people would actually pay you. So it was a practical matter: I needed to make a living.
Back Stage
: What inspired "The Looming Tower"?
Wright
: I had lived in Cairo for two years, so I was familiar with that part of the world and very fond of my experience there. I studied Arabic while I was there—I would not claim to be fluent in Arabic, but I was able to get around with the language. Also, I had written "The Siege," which had, in some eerie way, presaged the events of 9/11 and what followed. I had interviewed people in the FBI counterterrorism division, and I had studied what had happened in historical instances in other countries when terrorists struck, and I just made the conclusions that I did, about how we would behave if those things happened to us, and unfortunately "The Siege" was eerily accurate. So those things were all on my mind. I felt the need to learn what exactly had happened and trace it down to its roots. I had to write about 9/11. I'm sure there were many people that felt the same urge, but for me it was more like a mission. 
Back Stage:
How did "My Trip to Al-Qaeda" arise?
Wright:
There were several precedents for that leap. One was when I went to see Anna Deavere Smith's "Fires in the Mirror" at the Public Theater. I was completely galvanized because I love theater and I am a journalist, but I never thought you could put the two together. Yet here she was doing this very responsible journalistic account of the Crown Heights tragedy and enacting the experience of getting this information on stage, and I thought it was absolutely brilliant. After the book came out, my buddy at The New Yorker, John Lahr, was asking me what I wanted to do next. I said I want to write a musical comedy, but I couldn't afford it and didn't know how to do it. He said, "Well, I know André Bishop at Lincoln Center. I'll call André." So I went over and saw André, who kind of rolled his eyes at my musical-comedy idea. Then I mentioned that I had secretly always nurtured this fantasy, since I saw "Fires in the Mirror," of doing a one-man show that would speak about my personal experiences in researching that book. He said, "Well, if that's what your passion is, then you should do that." So I walked back down to Times Square to The New Yorker office and ran into Rhonda Sherman, who is a New Yorker promotions director. I told her what Andre had said to me, and she said, "Well, I'll produce it, and I'll get Greg Mosher, the two-time Tony winner, to direct it, and we'll do it at The New Yorker Festival." So within the space of an hour, I had a director, a producer, and a date, and no script at all.
Back Stage
: You mention in the film that, as a reporter, you sometimes have to become a person you might not normally be and have opinions you might not normally have. In this way, do you find reporting similar to acting?
Wright:
I'm not sure that you can draw that parallel too sharply because one would then think that reporters are naturally good actors, and I don't think there's much evidence of that. But reporters are good storytellers, and in that sense we are sort of professional cognoscenti of what is a good story, and our mission and our delight in life is to deliver good stories to the audience. I think it's more likely that my experience in writing screenplays laid the groundwork for my decision to get on stage. I actually took some acting lessons when I started writing screenplays in order to understand what actors need in a scene. That has been very helpful to me.
Back Stage:
So an understanding of acting is important for a dramatic writer?
Wright:
Not just dramatic writing. I think acting lessons are great for any writer: to study how scenes are built and so on. It was very useful to me.
Back Stage:
Was it a challenge getting into a performance frame of mind for "Al-Qaeda"?
Wright:
I used to have a lot of anxiety about speaking in public. One time, in the 1990s, I was going to be making my first public speech, and I was very anxious about it. I happened to be interviewing a witch in the Bay Area called Star Hawk. I don't know why, but I confided in her that I was going to be making this speech, and I was worried about it. And she said, "We witches have a saying: 'Where there's fear, there's power.' " I thought, "Wow, I don't know what that means," but it was still a very interesting statement. The more I thought about it, the more I thought that maybe my fear is not really peeing my pants and making a fool of myself; it's, in part at least, being the kind of person that can walk out and confidently talk to a large group of people. I realized that there was not as much to fear as I thought there had been, and gradually my stage fright has diminished to the point where I now enjoy the opportunity to be able to get out in front of people and express my thoughts and communicate with them in such an intimate manner. There's nothing like the theater for that. It's very gratifying.
Back Stage
: Has your experience as an actor in the show inspired you to perform more in the future? 
Wright:
I have a new one-man show that opens on Oct. 2 at The New Yorker Festival. This one is called "The Human Scale," and it's about Israel and Gaza. We have a 30-day run in October in Lower Manhattan. I really like the idea that theater can become more of an outlet for journalists. I think it's just a very fun thing to think about, cross-fertilizing these different fields, so I'd like to see this trend continue.