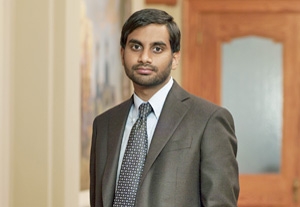 Aziz Ansari doesn't know how to play it coy. Take his first meeting with Greg Daniels and Michael Schur, the successful sitcom masterminds behind the American version of "The Office." The duo was looking to cast an upcoming NBC show and thought Ansari might be a good fit—even though they had no idea what form the concept, story line, or characters would take. "They were like, 'You're someone that we think might be cool to have in the mix,' " recalls Ansari. "I was like, 'I'll be honest with you: This is pretty much my dream job.' "
Thankfully, a show eventually took shape: "Parks and Recreation," a blissfully absurdist look at small-time politicians in Pawnee, Ind. Ansari regularly steals scenes as Tom Haverford, a wily, self-centered government official who wears his underachiever persona like a badge of honor. Because the character was tailored for Ansari, he's had input into Tom's various quirks. In an upcoming story line, for instance, the actor suggested that the impressionable Tom might have a bit of a hero-worship thing going on with an ultra-cool character played by Justin Theroux. "I was like, 'Man, what if Tom just thinks Justin is the coolest guy ever?' " says Ansari with a chuckle. "So anytime Justin comes in the room, Tom just gets so excited—starts talking to him about clothes and stuff. The scripts we get are great, but sometimes when we're on set, we'll improvise, and some of that stuff makes it in."
Ansari first attracted Schur and Daniels' attention through his work on the MTV sketch show "Human Giant," on which he played such characters as a Criss Angel–esque illusionist who raises the dead via the magic of card tricks. "That's what got me hired, I guess," says Ansari. Then, without missing a beat, he deadpans, "That and the fact that I bought them both speedboats."
True Stories
Ansari was born and raised in South Carolina and set out for New York City with a decidedly unflashy goal in mind: to major in marketing at NYU. But friends recognized something hilariously unique in his off-the-cuff way of relating mundane anecdotes, and they recommended he try standup comedy. "I always liked telling stories and making people laugh," he says. "I did the pretty standard trajectory: You start off doing open mikes and talent nights and work your way up."
In formulating his act, Ansari says he went through a lot of trial and error but ultimately decided not to mess with what made his friends laugh in the first place. "I kind of figured out, 'Okay, if I can talk about whatever's in my head, that'll be good,' " he says. "And it'll be unique to me; you can either do a joke about, like, Smart Cars, or you can talk about 'This is what I'm going through in my life right now and this is a funny thing.' I think if you go that latter route and talk about yourself, that's always more interesting than making observations about the kind of things that you could hear anyone make an observation about."
Since then, he has honed his voice, but the general feel of the act is the same: biting, whip-smart, occasionally perplexed riffs on his everyday experiences, such as the horrors of Cold Stone Creamery and the confusing nature of DVR technology. And this month, he'll go through a key standup rite of passage: a solo special for Comedy Central that will also be released on CD and DVD.
Even as his acting career is taking off—in addition to "Parks and Recreation," he has made memorable appearances in "Funny People," "Observe and Report," and "Flight of the Conchords"—Ansari says he hopes he'll always be able to tour around with his standup act. "Standup's very much like throwing darts," he says. "Whenever you find a new joke that hits really well, that's the rewarding part of it. Some of my favorite stuff I've done in my career was [appearances on] 'Kimmel' and 'Letterman.' To just to go on there and do material and have it do well is really cool."
That said, Ansari recognizes the challenges inherent to maintaining a solid act— particularly with a day job as demanding as "Parks and Recreation." "It's tough 'cause you have to keep writing new stuff," he says. "People hear your stuff, and they're like, 'All right, that's cool. What else you got?' It's not like music, where people want to hear the hits. People get pissed when you play the hits: 'I've heard that hit already!' "
Acting Out
Ansari transitioned into acting thanks to his work with "Human Giant." He met fellow performers Rob Huebel and Paul Scheer through New York's Upright Citizens Brigade Theatre, and the trio eventually hooked up with director Jason Woliner to capture some of their best ideas on film. MTV took note and gave the troupe its own show, which gained a rabid following during its two-season run, attracting attention from discerning TV fans and comedy-scene luminaries alike.
Since then, Ansari has probably garnered the most big-screen notice for his turn as brazen comedian Randy (or, as the character likes to say, "Raaaaaaandy!") in Judd Apatow's "Funny People." Like Tom in "Parks and Recreation," the character is a bit of a lovable jerk—a larger-than-life persona you can't help but root for. "The initial thing Judd told me is he wanted Randy to be really cocky, really into selling merch," remembers Ansari. "I just ran with it. I pitched Judd all these ideas, and a lot of stuff came up when we were improvising the first scene we shot with Adam [Sandler], where I'm talking about all these ideas I have for when I do a big tour: how I want to have a DJ and pyrotechnics and a Randy dance."
The character grew so much, Ansari and Woliner ended up shooting a series of online shorts to promote the film. Now there's talk of a feature-length movie—perhaps the character's outlandish dreams of Randy-branded merch aren't so crazy after all? "It's such a high-energy character," says Ansari, laughing. "If you see a comedian like me when I'm myself, I'm like, 'Yeah, so I've been walking around….' With Randy, it's like, 'Y'all ready to laugh your dicks off?' Which guy are you gonna be more captivated by?"
The proposed Randy movie is part of an overall deal Ansari and Woliner now have with Apatow and Universal Pictures; they're currently hard at work on several script ideas. Between this, "Parks and Recreation," and standup gigs, Ansari has a pretty full plate. "But I enjoy all of it," he says. "If I can get those three things done, I will be ecstatic. That and if I can get an Old Spice commercial. If I can get those
four
things done, I'll be thrilled."    
Outtakes
-Was named Hot Standup in a 2005 issue of Rolling Stone; won the Jury Award for best standup at the U.S. Comedy Arts Festival in Aspen in 2006
-Cites Patton Oswalt and Louis C.K. as comedy heroes, saying "I like jokes that come from autobiographical elements. Like, Louis C.K.'s stuff is about a guy in his 40s that's raising kids. Mine's about being a 20-something dude who's just dickin' around all the time."
-His standup special, "Intimate Moments for a Sensual Evening," airs Jan. 17 on Comedy Central; the CD and DVD will be released Jan. 19: "At the end, there's a 10-minute Randy mini-special. It's my first standup record, so I hope people like it."