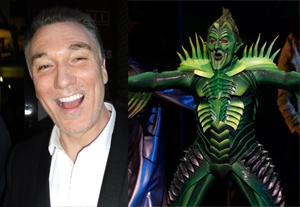 Patrick Page
is having a ball playing the dual role of mad scientist Norman Osborne and the super-powered villain The Green Goblin in Broadway's comic-book spectacle
"Spider-Man: Turn Off the Dark."
Since the show opened last year after a prolonged and controversial preview period, it's been one of the Main Stem's highest-grossing attractions.
Amidst the high-tech special effects, Page creates a riotously funny, high-camp nemesis reminiscent of kooky creeps on the beloved "Batman" series of the 1960s. His numerous additional Broadway credits include "A Man for All Seasons," "Beauty and the Beast," "The Lion King," and "How the Grinch Stole Christmas," in which he played another green-skinned baddie.
Back Stage caught up with Page at this year's Drama Desk Awards, where he was nominated for outstanding featured actor in a musical.
What are the challenges of putting on tons of green make-up as the Goblin and still coming across as real?Patrick Page
: I don't have a lot of problems with the make-up because I have wonderful, wonderful people who do all that for me. It's a quick change now because I'm Norman Osborne in the first half of the play. It really only takes 15 minutes. Then when I'm in it, it's mask work. Anybody who's been to acting school will tell you by far the most popular class is the mask class because you put on the mask, you look in the mirror and suddenly there's someone else there. It releases an energy and a personality. So a great deal of your work gets done for you. That's a lot of fun.
What advice do you have for actors just starting out?Page
: A couple of things. I would say have faith in yourself and that you don't necessarily know how things should go. You think you do, but you don't. So the job you desperately wanted may not be the one you needed. Maybe you didn't get it and it makes you available for something else which is better for you. Just have faith and stick with it. Give yourself a plan. Also, I think a lot of artists are afraid to be business people and to advocate and sell for themselves. Remember that you're the CEO of your company.
What is it like being in one of the most controversial Broadway shows in recent years?Page
: The challenges were mainly external; they came at us from the outside.So we had to stay focused, make sure we're doing the work, and that you're not buying the stories that are coming at you. Because they are different from your stories and you can start believing them whether they're positive or negative. Keep your own story. 
David Sheward is Special Sections Editor for Back Stage. Follow him on Twitter at @DavidSheward2.