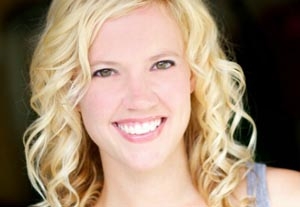 "I loved this role!" Patti Murin squeals with delight. "I knew that everyone would love the show like I loved the show... it's snappy, it's witty, it's current, I mean it's great." The show she's raving about (and just about everybody else is too!) is Broadway's newest hit, Douglas Carter Beane's "Lysistrata Jones" and she proudly plays the title character.
A graduate of the Syracuse University theater program, Patti's musical debut was playing Tina the mouse in her 6th grade production of "Cinderella." Although, she might be more familiar to fans for her role in another one of Beane's musicals, "Xanadu."
When not performing Patti is always up for a little fantasy football or gossiping about really good/bad reality TV. A Girl after my own heart! She recently got to live out one of her dreams singing the National Anthem at a New York Giants game.
Chosen as this week's Actor2Watch, Patti will be featured in a series of articles, fun facts and social media tweets through this week for subscribers of Girl2Watch.com.
A2W: What did you love about the Syracuse Theater Program?
PM:  I think some of the most talented people come out of Syracuse, and I'm not just saying that because I went there. They teach you really how to act and not just 'this is how you act while you do the song', they teach you how to act for real, how to listen and be present in your scene, especially in musicals. I think that's really important. A lot of times you don't buy some performances where you're like, they're just pretending to be somebody.
A2W: After you graduated from Syracuse you moved to New York.
PM:  I moved here right away and I actually did non-Equity Theater for about two years. I didn't get my equity card for two years and kind of on purpose. I didn't want to get it without knowing that I would use it again.  
A2W: When did you get your equity card?
PM: My second cousin works for Shirley Grant Management, and when I graduated he sent me out on some auditions. He would send me for random stuff and one of the auditions was for a reading for a show called "Princesses." It was at the 5th Avenue Theater and I did it for an out of town tryout and it just never went. And then I got a show about twelve 16 year olds and I did another reading of it and we went to the Good Speed and that's where I got my equity card, at the Norma Terrace.  
A2W: How do you keep yourself in performing shape?
PM: A lot of time is spent resting. I've kind of sworn off my social life for the next few months, I work out with my friends for a little while. It's a really challenging show vocally and physically and I've carried shows before and I've been in leading shows before but for two months at a time not for the entire span. So I'm really being good to myself and just kind of let myself relax.  
A2W
:
Do you worry about your voice?
PM: I don't worry about it because I never had problems with it, but I definitely take care of myself you know. I get a lot of sleep, I try to get at least 8 hours a night, I try for 9 if I can which involves being really strict with myself. It's 10pm it's time to take my contacts out so I can be lying in bed by 10:30pm and I can be sleeping by 11pm.  
A2W: You must be exhausted.
PM: Yeah, it's like that good kind of exhaustion. I mean right now it is. It's that good kind of exhaustion, I am doing something. That's the thing I love about this show. I hate the gym, I really hate the gym. I'm somehow blessed with some kind of metabolism that I don't have to worry about working out too much, but I also don't feel awesome when I'm not active.
A2W: But dancing all day is a great workout.
PM: And it feels good, even after a week of rehearsals I was like 'oh, there are my abs again, great.' For someone who hates to go to the gym I don't have to go to the gym now. I can work my butt off for 2 hours and 15 minutes every night sometimes twice a day and be okay.  
A2W: How do you prepare for an audition?
PM: I try to memorize as much as possible. Sometimes you have to learn a lot, but I try to learn as much as possible. I'll use my recorder on my phone, and I'll go through the scene but I'll say the other person's line and then leave space for myself. My husband and I will be like 'can you test me on these lines?' I like to look at the breakdown and be like this is what they said they want, you know, if I don't immediately feel like I'm really right for something, then I'll sort of be okay, well I'm going to do this the way I want, even if it goes against something that they say in the breakdown. This is what I'm going to bring to it and do, rather than just try to fit into a box. Especially because I do so much new stuff that it's always about what you're going to bring to it anyway, like who you are.
A2W: What is your auditioning philosophy?
PM: I've finally gotten to the point where I'm comfortable going into auditions. I really like it, especially for TV and film, because every time I go in I'm learning something because it's so much newer to me than musicals are, and I've also gotten to the point where I know what I do well, I know my strengths. In the last three years I've learned so much. I also think that there's definitely such a thing as over preparing. When I go into an audition and the girl next to me knows what she's going to do when she goes in, that's the fun part for me, it's like testing myself and being open.