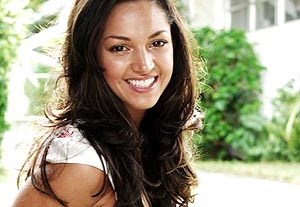 "People tell me being a perfectionist is a fault, but I find that's what drives me," says Paula Garces.
You may already know Paula from her stand-out work on "Guiding Light" and "The Shield," but that perfectionist drive has empowered her to create her own new fashion and style show called "The mun2 Look," which debuted just last week on the NBC channel mun2.
A native of Columbia, Paula has a passionate interest in transplants like herself, and how they mix and transform their native cultures with what they find in the U.S. With her new show, Paula wants to make the seemingly impenetrable world of high fashion accessible to the rest of us, and explore the places where the runway meets the street.
Chosen as this week's Girl2Watch, Paula will be featured in a series or articles, fun facts and social media tweets through this week for subscribers of
Girl2Watch.com
.
Actor2Watch:  Can you tell us about the moment you knew you had made it as an actress?
Paula Garces: Hmm. I don't know if I've felt that yet. I don't know if I consider it making it, but I've definitely had moments where I'm like, "Yes! I can't believe I got it or I nailed it."
I think the reason why I'm an actress is because I got hooked on the feeling of studying for an audition, going to the audition, and then getting that phone call.  You get a callback, and then going to the callback and then actually getting the part.  It's a high.  It's definitely thrilling to know that you studied for something, and then you went in, and tried to do your best and then somebody dug what you did.
That feeling is definitely a high and is something I never got over, obviously. I remember feeling amazing the first time I got "Clockstoppers," like getting that phone call of, "You got this movie and it's one of the starring roles in an action/adventure for Paramount." That, to me, was great.
A2W: What was it like being on "Guiding Light"?
PG: It was hard. It was really, really hard.
I don't think people understand about soaps that if you are the person who is starting a particular character, like it was in my case, the first six months of your job is really, really hard, because you are constantly having to remind the audience of what your purpose in that story is; who you are, where you came from, what have you been up to before that, and what you're about to do.
Every day I had pages and pages and pages to memorize and try to perform. I'm very appreciative of my "Guiding Light" years. My best and worst moments on TV are on that show.
A2W: Tell us about "The Shield."
PG: Getting "The Shield" was amazing. When I first got that part, I was only supposed to do one episode, and then one of the producers called me personally and was like, "Instead of doing one or two episodes, do you want to stick around for a while?" That phone call was surreal.
Oh man, I learned not to be a selfish actor on that show. From the first moment I had heard about the show to flying myself out there for the audition, and fighting really hard to get it, and finally convincing people that I should be on it, and then just talking to writers and telling them, "Hey! Write more for me," and this and that.
A2W: What's the most humiliating thing you've had to do on the job?
PG: I did a lot of commercials early on, and I remember the first commercial I ever got was for a product called Funyuns. I had to eat these chips for like 12 hours straight. I remember them passing around what was called a spit bucket.
In the beginning I was like, "Oh! These are actually really good. I don't have to spit them out." But by the second hour, I was like, "Oh, yes I do." And I was spitting the product out along with all the other actors, and it was pretty humiliating. 
Although I was very excited to have this first job and be on a commercial, I very quickly learned that it wasn't as glamorous as I had thought.