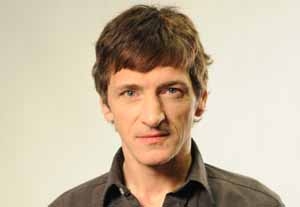 There's no such thing as an overnight success. What may look like luck is generally the result of years of hard work, close calls, and major disappointments. Back Stage recently spoke with three actors—who are enjoying major turning points in their careers—about the roles that helped to change things.
The Actor: John HawkesThe Roles:
You may not know the name, but odds are you'll recognize the face, as Hawkes has appeared in countless films and TV programs over the last two decades. Audiences generally are familiar with him from three wildly different roles: the doomed fisherman in "The Perfect Storm," Sol Star on HBO's Western "Deadwood," and Miranda July's unlikely love interest in "Me and You and Everyone We Know." But it's his fierce, unforgettable turn in Debra Granik's Sundance hit "Winter's Bone" that has stirred Oscar talk for the actor. As Teardrop, a dangerous criminal who helps his teenage niece (Jennifer Lawrence) search for her missing father, Hawkes is alternately terrifying and tender—but you can never take your eyes off him.
Breaking In:
Growing up in a small town in Minnesota, Hawkes didn't have a role model for being an actor, he says, but jokes, "I was a child star in my family." After a high school teacher encouraged him to try a school play in his junior year, he instantly knew he'd found his calling. "I immediately felt that weird sense of being home, that this is what I was meant to do," Hawkes says.
He spent a year at St. Cloud State University, where he studied everything about theater except acting, but his life was changed when a friend introduced him to the holy triumvirate: Tom Waits, Jack Kerouac's "On the Road," and the movie "Harold and Maude." After hitchhiking around the country, Hawkes settled in Austin, Texas, and formed the theater company Big State Productions. "You can trace the start of my career to those days," he says. "Hitchhiking was my training. You have to play a character. You might be with someone you're really offended by, but if it's pouring rain outside, you have to convince them you're like them, until you can get out of the car and wash your mouth out with soap."
Hawkes did theater for 10 years, augmenting his income with work as a carpenter or waiter, before landing a job touring with the two-man show "Greater Tuna," in which he played a variety of characters. The play's success got him a commercial agent, who had seen the show in L.A., and helped give him the courage to make the move to Hollywood.
The beginning was tough. Hawkes briefly worked as a telemarketer for a time-share presentation. "It made me physically ill to do it," he recalls. "I would rather be homeless." His theatrical agency went out of business for "bilking their clients," he says, and he signed with another that went out of business for the same reason a year later. But roles began to trickle in, though Hawkes admits it took him time to find his footing: "Friends would say things to me like, 'I saw you on "Wings"! You're a great stage actor!' It took me some time to be comfortable in front of the camera—to be aware but not too aware."
In 1992, he landed a guest-star role on the series "Northern Exposure." "I remember auditioning for a part and being so devastated I didn't get it," he says. "About two weeks later, I got an even better role. Many things seemed like failures at the time but made the way for something better." Another turning point was "The Perfect Storm," in which his rough-around-the-edges fisherman, Bugsy, shares a surprisingly sweet chemistry with Rusty Schwimmer's Irene. The two actors met up at a bar the night before their screen test and performed the scene in which Bugsy and Irene first meet at the local watering hole. "Our goal was to do the scene without having people know we were acting," Hawkes reveals. "We had our sides on our lap and really underplayed it." During filming, he and Schwimmer were constantly developing their characters, he says. "She and I really finessed those characters into what they became."
Hawkes admits he could feel a shift in his career after "The Perfect Storm" became a hit: "I had auditioned for a big studio movie months earlier and not heard anything. The Monday morning after 'Perfect Storm' came out, the role was offered to me. The CD later told me someone came in and said, 'I want someone like Bugsy.' And she responded, 'Really? Because you actually read him already.' "
Hawkes takes such experiences in stride. "I don't feel so bad when an audition misses, because I think maybe they just didn't see it or I just didn't have it that day," he says. "Or I'll not get a job but three years later I'll hear from the casting director, and they'll tell me, 'I remember you from three years ago; you were wrong for that part, but we thought of you for this.' " And although he still auditions regularly, he is getting increasingly impressive offers: "Every once in a while my manager gets a call like, 'Ridley Scott wants to know if you want to be in "American Gangster." ' Then to find yourself, hat in hand, auditioning for a low-budget indie—it's just the life of an actor for sure."
The Public Eye:
One part that came as an offer was Teardrop. Granik was a fan of "Me and You" and said Hawkes could bring vulnerability to the role. He has endless praise for the director and says they had long discussions over how intimidating the characters should be. "People will say to just play your part, but that's not how I work," Hawkes says. "For me, it all begins with story: What's the story we're trying to tell? And how can I, through my character, help tell that story? So for 'Winter's Bone,' my function is to complicate the heroine's journey. So I wanted the audience to worry when we were together. I think Debra wanted to take more of the edge off him, and I wanted to keep him in an unpredictable place."
Coming Attractions:
Thanks to "Winter's Bone," Hawkes landed a role in Vera Farmiga's directorial debut, "Higher Ground," in which his character will age over the course of 30 years. He will also return in some capacity for Season 2 of "Eastbound & Down," the HBO comedy in which he plays the brother of Danny McBride's lead character.
With a role on the final season of "Lost" and his stunning turn as Teardrop, Hawkes is finding himself more in demand than ever. At the same time, he worries about losing some of his anonymity. "While it's flattering to be recognized, there's a part of me that wants to remain hidden as much as I can," he admits. "I feel my strength as an actor is, no matter how good a movie star is, you're going to think, 'There's a movie star playing a jazz musician. But that guy playing drums must be a real person.' Because they don't know you have three pet cockatiels and just broke up with your girlfriend who used to be on 'Ally McBeal.' "
The Actor:
Bruce Greenwood The Roles:
Long regarded as one of the best-kept secrets in Hollywood, Greenwood comes armed with leading-man looks but is usually drawn to more-nuanced character parts. Though he became a TV fixture starting in the late 1980s with roles on "St. Elsewhere," "Falcon Crest," and in many movies of the week, he has been steadily building a résumé that balances acclaimed indies ("The Sweet Hereafter," "Capote") and popcorn blockbusters ("I, Robot," "National Treasure: Book of Secrets"). His turn as Capt. Pike in last year's "Star Trek" reboot has earned him a new legion of fans.
Breaking In:
Growing up in Canada, Greenwood first decided to try acting when he was in college. "I had a heavy course load, and I needed three easy credits," he admits. "But I soon learned acting was something that spoke to the things I loved: language, performance, rhythm." He was soon appearing in college plays, where an agent saw him and signed him. One of his first screen appearances was as Guardsman #5 in "First Blood," where he "hid behind a log and looked terrified."
Greenwood gave up acting once, choosing instead to be the lead singer in a cover band called Heirbourne. When the band needed a new P.A. system, he decided to audition for a role on the HBO series "The Hitchhiker." He landed the part and had to fly down to L.A. for looping. He never went back. While visiting, he met his manager, Chuck Binder, who was a friend of the episode's director. "He basically looked at me and said, 'You're pretty. I could probably get you work,' " Greenwood recalls of the manager. They never signed a contract. "He said, 'If I don't like you, I don't want to be stuck with you, and if you don't like me, you don't want to be stuck with me.' So we shook hands, and we've been together 25 years."
In 1986, Greenwood began playing Dr. Seth Griffin on "St. Elsewhere," a role that ran the gamut over three seasons. Griffin started out as a playboy, then contracted HIV, then became a born-again Christian. But Greenwood particularly remembers one unique character choice. "I can't believe I got away with playing a doctor and wearing a mullet," he says, laughing. During that time, he admits, he wasn't very selective about the work he chose: "I took virtually anything I could get. Looking back on it, I guess it would have been different if I had been pickier. But I'd never made any money in my life, and suddenly I was making a living. So I took stuff that was not so great. But I loved working and learned so much."
Quite the Character:
Though Greenwood worked steadily over the years, a star-making vehicle seemed to elude him. He almost landed the role of Dr. Geiger on "Chicago Hope," which later won Mandy Patinkin an Emmy. Greenwood appeared in studio films that seemed to be surefire hits ("Hollywood Homicide," "The Core") but bombed. "I came close on a lot of roles that would have been career changers," he acknowledges. "And they were, just not for me."
But, for anyone paying attention, Greenwood was consistently delivering solid performances in quality films. He teamed with Canadian director Atom Egoyan three times, first in 1994 as the haunted widower in "Exotica." When Egoyan was casting "The Sweet Hereafter," he originally wanted Greenwood to play the father of Sarah Polley's character, who is engaged in an incestuous relationship with his daughter. Feeling it bore similarities to his role in "Exotica," Greenwood suggested he play Billy Ansel, the gruff but loving father who loses two children in a tragic bus crash. Growing "as much facial hair as I could muster," he says, and removing his false front tooth for the shoot, he is virtually unrecognizable in the role.
Greenwood says he gravitates toward more-layered roles, though at times his classic good looks have interfered. "People don't understand that it's not that difficult to step away from the leading-man look. I've run up against 'You're not charactery enough,' " he says, adding with a laugh, "I hear that less and less now. Now I'm too charactery."
Coming Attractions:
He will next be seen in the Steve Carell–Paul Rudd comedy "Dinner for Schmucks," opening in July, as Rudd's sleazy boss. It's something new for Greenwood: a lighthearted role in a big summer comedy. "We had so much fun making the film," he says. "The first day on set, I was laughing so hard, I was literally weeping." He'll also appear in the historical drama "Mao's Last Dancer" in August, which reteams him with "Double Jeopardy" director Bruce Beresford. Then Greenwood will appear in "Barney's Version" with Dustin Hoffman and Paul Giamatti and in "Meek's Cutoff," about the Oregon Trail.
And if the acting thing doesn't work out, Greenwood might have a future in music. An avid guitar player, he wrote the closing-credits song for his TV film "A Dog Named Christmas." He supports the Unusual Suspects Theatre Company, which works with at-risk youth. He says keeping busy outside of acting has helped him be more fulfilled and selective about roles: "I never wanted to tie myself to the idea that I had to only do movies that made a jillion dollars. I just want to do my work as best I can."
The Actor:  Nick OffermanThe Role:
Offerman currently brings his deadpan charm to the part of bacon-loving, work-avoiding department head Ron Swanson on the NBC comedy "Parks and Recreation." Don't be fooled by Swanson's gruff demeanor; it hides a genuine affection for his overachieving employee Leslie Knope (Amy Poehler). Random facts about Ron: He is prone to sleep-fighting, moonlights as a saxophone player by the name of Duke Silver, and has two ex-wives named Tammy (one of whom is played by Megan Mullally, Offerman's real-life spouse).
Breaking In:
Offerman did plays in high school, but it wasn't until he met theater students at the University of Illinois at Urbana-Champaign that he realized he wanted to be an actor. His first significant role was in a production of "Picnic"; he thought he would land the part of Hal but ended up cast as Alan, the character cuckolded by Hal. Sounding not unlike Swanson, Offerman says, "I can tell you with all candor that I was really terrible."
Offerman started out in the Chicago theater scene, working with Steppenwolf and founding the Defiant Theatre Company, where he performed, did fight choreography, and built scenery. He also won a 1997 Joseph Jefferson Award Citation for his performance in Pegasus Players' production of "The Kentucky Cycle."
Still, Offerman found that his background meant little when he made the move to Hollywood in 1998. "When you come from Chicago theater, nobody really understands the depth of the work you've done," he says. "So you go into these meetings, and they look at your résumé and have never heard of 'The Kentucky Cycle' or barely know who Sam Shepard is. You're trying to communicate to them that you are an intense, seasoned actor, and they're like, 'Well, it looks like you've just done a bunch of theater.' "
Offerman had appeared in films that were cast out of Chicago, though his best work was never seen, he says. He played the superintendent of Keanu Reeves' building in "Chain Reaction" but was cut from the film—although nobody told him. Unable to attend the premiere, he instead sent a friend and his girlfriend at the time. "When they came home I asked, 'How was I?' They said, 'Well, you weren't.' " A role as the bad guy in the Ben Affleck indie "Going All the Way" also ended up largely on the cutting-room floor. "It was set in the 1950s, and Ben had a whole story line where he grows a beard as an act of rebellion," Offerman says. "But the fake beard looked so bad, they ended up cutting the whole story line. I think seven of my nine scenes were cut."
But that film's director, Mark Pellington, and others on the shoot encouraged Offerman to take a shot in L.A. Also a factor: a toothache. "I had a molar with a hole in it I could fit a peppercorn in," the actor recalls. "I was living in a warehouse where I built scenery for the theater and living on peanuts. So the legend of SAG insurance had a lot to do with me making the move."
The Chicago casting director of "Going All the Way," Tracy Kaplan, referred Offerman to several agents and managers, and he was signed fairly quickly and began booking guest-star roles, such as in the live episode of "ER" (in which Hawkes also appeared). But Offerman was dissatisfied. "In Chicago, I was getting to do magnificent roles, from John Proctor at Steppenwolf to 'The Kentucky Cycle,' " he says. "I was making a nice living, but when you add up the material and the scene work, it's like thin broth compared to the meal you have in Chicago." He says he didn't feel at home in L.A. for two years, until he became involved with the theater company the Evidence Room—and met Mullally during a production of Charles Mee's "The Berlin Circle."

Park Playground:
Offerman was 39 when he landed his breakthrough TV role. Producers Michael Schur and Greg Daniels had auditioned him for "The Office" many times and created Swanson with him in mind. Still, the actor was only cautiously optimistic. "I had been through this a few times before, where the writers wrote parts for me in the pilot and I got all the way to the network test, and the network always thought I was a little too intense or weird," he says. "A few times, it even happened at NBC. So the very things they now love in Ron Swanson were the things that scared them off of me in the past."  When he got the part, he says, he "cried for days."
Offerman and Swanson share similarities: Both are accomplished saxophone players, both are woodworking experts (Offerman's real-life wood shop has been seen on the show), and both sport what Offerman calls "a kick-ass mustache." The facial hair was important to the character from the beginning. "For me, that's Midwestern virility," he explains. "My two farmer uncles growing up had them, and I knew I would never be a man until I had one myself."
The Buzz:
Offerman has made many critics' shortlists for Emmy consideration, and the actor has been to the ceremony many times before—and he didn't always keep his cool. "We used to go to the Emmys," he says, "and I would be so outraged anyone would say anyone was funnier than Megan or Sean Hayes that Megan would always have to hold me back from picking a fistfight with Doris Roberts. Which I'm thankful for, because I think she probably could have taken me." He confesses that a nomination would be a nice pat on the back, but he already feels he's won with the role of a lifetime. Again sounding not unlike his lovable alter ego, Offerman says, "I've been so blessed. I continue to be the king of the lucky bastards."