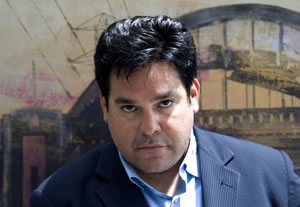 On Thursday, July 22, the Farhang Foundation and the Art of the Middle East Council (LACMA) will present a free screening of "Pearls on the Ocean Floor: A Documentary on Iranian Female Artists." Back Stage spoke to filmmaker
Robert Adanto
, who profiled several Iranian artists for the film.  For more information, visit
http://www.lacma.org/programs/Lectures.aspx
.

Back Stage
: Can you tell us what the film is about?
Robert Adanto:
"Pearls on the Ocean Floor," my new film, features interviews with some of the most important Iranian female artists living and working in and outside the Islamic Republic, including Shadi Ghadirian, Shirin Neshat, Parastou Forouhar, Haleh Anvari, Sara Rahbar, Leila Pazooki, Malekeh Nayiny, and Gohar Dashti. Given the tragic events that followed the disputed election of 2009, I felt there was no better time than the present to examine this nation at a crossroads and no better approach than through the visual imagery of female artists. It is women who have collectively bore the brunt of an oppressive regime and the bias of a Western media that has repeatedly constructed one-dimensional images portraying them as humorless, repressed, second-class citizens in black chadors. The film allows these brave women to reclaim their complexity and individuality.
Back Stage:
How did you get into documentary filmmaking—you began as an actor, correct?
Adanto:
Oddly enough, I still consider myself an actor first and foremost, and my experience on stage informs every aspect of my filmmaking. Last October I directed myself in Harold Pinter's "One for the Road." I played the verbally abusive officer Nicolas, and Bill Heck, a fellow NYU graduate, played Victor, one of three victims of the unnamed totalitarian state. Doc filmmaking, like acting, requires a great deal of research and private time, and when I am conducting an interview my listening skills are heightened and very much in play. It's sort of a game of getting someone to a place where they trust you and open up because they see you have done your homework and really know their story and their work. As an outsider, being that half of my interviews were done through an interpreter, [it's] doubly difficult to connect, but I love the challenge. It's live theater, and you have to give to get. After working as a researcher for a friend's film and watching documentary after documentary, I felt that I could add something to the medium by eliminating narration and forcing an audience to remain engaged while a compelling drama is presented. Experts all agree that the rapid, tectonic changes sweeping through China have never been seen before in the modern era, and the drama that is still unfolding in Iran is Shakespearean, in my opinion, filled with power struggles, chaos, troubled kings and valiant heroes, in this case wearing green, challenging an entrenched and aging regime.     
Back Stage
: Anything else you'd like to add?
Adanto
: Both [my first documentary] "
The Rising Tide
" and "Pearls on the Ocean Floor" were scored by Nalepa, an L.A.-based electronic musician and producer revered in avant-garde circles, a dear friend whom I met 15 years ago when we were both teaching at Crossroads School. In addition, I'd like to mention and thank several of my former students who played major roles with this latest production: Micah Levin, the owner of Movie Magic Media Productions, was a producer; David Green, my chief editor, and Alexander Rydell, Andrew Bird, Daniel Perez, and Lisette Vega contributed on many fronts. May we always create!