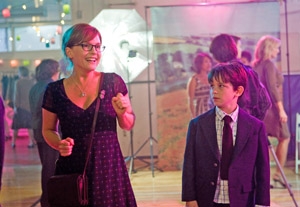 In last year's monster hit "The Hangover," Rachael Harris terrorized audiences as Melissa, a sharp-tongued control freak with no concept of personal space. But even though the character was portrayed as a brash bully of a villain, Harris has nothing but enthusiasm for her. "I loved her so much," the actor says earnestly. "I love playing characters that are disapproving. I empathize with those characters because [they must have] so much pain to treat people that way; there has to be a good reason that she's doing it. For me, it's that she so desperately wanted to have a perfect boyfriend and a perfect life. She goes overboard, trying to have control." Harris pauses for a moment, then gleefully adds, "Also, at the end of the day, it's just fun to play a bitch."
Certainly, the actor seems to have perfected the art of portraying prickly anti-heroines, from cynical singleton Cooper on "Notes From the Underbelly" to a more recent turn as Courteney Cox's judgmental nemesis on "Cougar Town." And yet, Harris breathes such life into these misanthropic personas, we can't help but wish most of these projects were all about her.
Harris loves pushing the boundaries of "bitch" as much as possible. On "The Hangover," she remembers one particular suggestion she made to director Todd Phillips and co-star Ed Helms, who played Melissa's put-upon boyfriend. "I said, 'What if I grabbed Ed's face?' " she recalls. "It's so intrusive. Absolutely no boundaries. Todd was like, 'Do it.' "
Harris' latest role should provide a bit of a nice surprise to her devoted fans: As Susan, the harried mother in kid-friendly flick "Diary of a Wimpy Kid," the actor gets to show a softer side: "She's really sweet and lovely." When the actor first auditioned for the role, she recalls, director Thor Freudenthal asked her to read it "about 10 different ways."
"I started to think, 'Obviously I'm not right for this character, because I'm not giving him what he wants,' " she says. "Then I realized, as I continued to work with him, no, he is just very specific. It's similar to the thing about improv that I love from the Groundlings: You try everything and see what works, and the more you try things, the more you realize, 'Oh, that doesn't work.' Anything you try just gives you more information as to what works for the character."
Comedy Calling
Harris grew up in Worthington, Ohio, and caught the performing bug at an early age. A key moment came in the form of a first-grade talent show. "I loved the Carpenters—I'm totally dating myself," she says bemusedly. "I would sing constantly to 'Mr. Postman.' My brother and my sister said, 'You should sing Mr. Postman to the record for the talent show.' They gave me all these motions to do and I remember even at that time being like, 'Eh, no, that's too much. I don't need the hand motions.' "
Harris won the talent show and recalls experiencing a moment of glorious elementary school triumph—until she found out her brother stuffed the ballot box. "That's why I won," she says with a chuckle. "But winning was what really started the sickness in motion of me wanting to perform. And get awards."
While studying theater at Otterbein College, Harris dreamed of making her name as a serious dramatic actor, tackling weighty material like " 'Night, Mother" and "The Cherry Orchard." One rather insightful college professor suggested that Harris' true calling might be comedy, but the actor brushed that aside and ventured to New York. "I wanted to be a stage actress and do dramas," she says. "But I really had a difficult time finding work. I hostessed up and down every single restaurant on Broadway and on the Upper West Side."
Upon relocating to Los Angeles, Harris continued her quest for dramatic fare—until the fateful night a friend invited her to see a show featuring the Groundlings.  "Immediately, when I saw that show, I thought, 'Oh my God,' " she remembers. "It's like, to quote Tina Fey on '30 Rock,' 'I want to go to there. I want to be on that stage right now, doing that funny stuff. This is like my homeroom.' "
Harris joined the troupe and eventually became a standout member. Her comedic skills even caught the attention of mockumentary god Christopher Guest, who cast her in "Best in Show," "A Mighty Wind," and "For Your Consideration." But the stint as a straight-faced pseudo-journalist on Comedy Central's "The Daily Show" proved to be her major breakthrough. Much as she initially shunned comedy, Harris didn't think the show was a good fit but agreed to go on an audition. "But when I saw the material they wanted me to do, it felt like a duck to water," she says. "So I went to New York, and I auditioned for that, and I improvised way too much. The writers on 'The Daily Show' are so good, it's sort of like getting a script from Arthur Miller and you decide you're just gonna make it your own. I'm so grateful that they didn't write me off then."
On the Spot
In addition to her thriving film and TV career, Harris has also made a name for herself as an in-demand commercial pitchwoman: Eagle-eyed couch potatoes have spotted her singing the praises of such wide-ranging products as T-Mobile, Mervyn's, and Expedia.com. The actor always stands out because her 30-second personas are just as fully developed as the characters she crafts for full-length features.
"My attitude with commercials—and I'm gonna get so much shit for this—is treat them, the auditions in particular, like you're auditioning for a Broadway show," she says. "I would go into it with the same kind of script analysis that I would for a play. That sounds so crazy, but I do think it worked, because I was like, 'I've got to build a character for this. Who am I? What is my intention?' Because a lot of times, people go in like, 'It's just a commercial.' Yes, it's just a commercial—that millions of people will see."
Harris will also be seen by millions in several upcoming TV guest spots. She has an arc on "My Boys" and will be featured in an episode of "Party Down" and the season finale of "Gary Unmarried"—in all cases, she's a potential love interest for one of the series regulars.
"So I'm falling in love a lot on these shows," she says jokingly. Not that that means her characters won't display that snarky charm we've all grown accustomed to. "I'm a little bit of a bitch in all of them," she says. "But there's nobody as extreme as Melissa. I love it, so if I got to do that the rest of my life, it wouldn't be a bad thing."