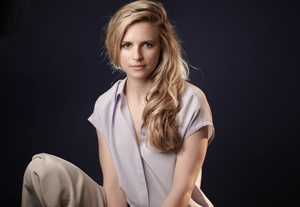 In "Sound of My Voice," Brit Marling plays a cult leader whose followers have to master a complicated secret handshake before being allowed to meet her. The handshake has even become part of the film's marketing, with Fox Searchlight posting step-by-step guides on how to perform the greeting. But Marling and co-writer and director Zal Batmanglij put off designing the handshake until they were five days into shooting the film.
"We'd written it into the script and always knew we were going to have to come up with it," Marling says. "But it was so hard to get that movie made, we kind of kept forgetting. We had 25 people, 17 locations, and no money. I'd wake up in the morning and come out of the shower in my bathrobe, and there would be a fleet of interns in the living room and someone making omelets for everyone. And every day we'd say, 'We have to get to that handshake today.' Then it was literally the night before we were to shoot the scene where the handshake first appears, and we realized we had forgotten. So Zal and I watched all these YouTube videos of handshakes—there are some amazing ones, they're like performance pieces. We sort of borrowed what we needed and came up with things from our own experience and came up with it. We would all practice on set; it became a fun bonding experience."
Check BackStage.com on Wednesday to read Back Stage's cover story about Brit Marling, which will be on newsstands Thursday, April 26.