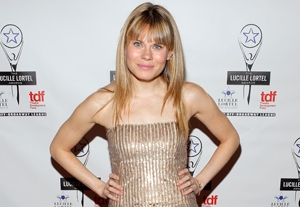 It's hard not to love Celia Keenan-Bolger. The effervescent, powerhouse performer is currently Tony-nominated for her role as 13-year-old Molly in "Peter and the Starcatcher," and the nomination is just the cherry on top of a season that also saw her star as Mary in the Encores! production of "Merrily We Roll Along."
Back Stage caught up with her at the Lucille Lortel Awards on Sunday night and talked about moving a show from Off-Broadway to Broadway and going to the Tonys with her brother, "Newsies'" Andrew Keenan-Bolger.
How does it feel to have both your show and your brother's show nominated for Tony Awards this year?Celia Keenan-Bolger:
It's crazy. Also the fact that we're nominated in a play and a musical and that we're not competing against each other is so amazing. It's so amazing to get to share this with him.
With "Peter and the Starcatcher," you started Off-Broadway at New York Theater Workshop and moved to Broadway. As an actor, what was that process like?Keenan-Bolger:
This show in particular is super close to my heart. I did it in La Jolla before we did it Off-Broadway. I've been with it for three years so I have a real investment in the piece. When you move a show Off-Broadway to Broadway, I had some reservations because it was so special Off-Broadway, and I thought, "I hope that it doesn't lose some of the magic." I think everybody involved was very interested in preserving the integrity of the piece. And luckily, we were just with a bunch of people who made sure that it retained a lot of what made it so special downtown. Honestly, from Off-Broadway to Broadway, the least changes for me. From La Jolla to New York Theater Workshop, there were a lot of changes. And then that last one was just tightening things up and because we had all done it before, it was easy to drop back in and start all over.
What do you enjoy about working Off Broadway?Keenan-Bolger:
Everything. I feel a real sense that the process, as opposed to the product, is really valued in a way that because Broadway is so expensive sometimes can't happen. The four new plays that are nominated for Tonys this year all started Off-Broadway, and I don't think that is a coincidence. Off-Broadway is really looking for the innovative, new voices of the American theater in a way that Broadway sometimes just can't afford to.
What advice do you have for actors?Keenan-Bolger:
Try whenever you can to have experiences outside of the theater, and try to see as much theater as possible. I think that's how I learned the most, by getting to watch performances that I really admire and seeing things.
Suzy Evans is the Senior Web Editor at Back Stage. Follow her on Twitter: @suzyeevans.