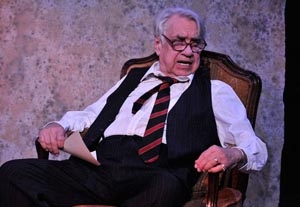 Though he has appeared in more than 100 movies and television shows, consummate character actor
Philip Baker Hall
says he is still most often recognized as Lt. Bookman, the tough-talking library cop he immortalized in a 1991 episode of "Seinfeld." It makes sense in a way, as Bookman was a classic Hall character: gruff, authoritative, and utterly no-nonsense. It's a persona he's perfected over his lengthy career, while being guided by great filmmakers, from Robert Altman ("Secret Honor") to Paul Thomas Anderson ("Hard Eight," "Boogie Nights," "Magnolia").
Though there's little the 79-year-old actor hasn't tackled in his career, he admits to battling some nerves on the day we speak. It's one day before opening night of "I Never Sang for My Father," his first play since his turn in 2002's "The Guys." The production of Robert Anderson's 1968 play, directed by Cameron Watson, comes courtesy of
New American Theatre
(formerly Circus Theatricals) and runs through May 22 at the McCadden Theatre in Hollywood.
Back Stage: It's been awhile since you've performed onstage. Why the hiatus?
Philip Baker Hall: I've been doing movies and television. I kind of feel that I did my share of plays; I did over a hundred plays around the country. I had the opportunity suddenly to make money, actually make a living. I have two young daughters too, so I have kids to put through college, so I had to think somewhat in the larger picture. Also, plays are a big commitment. Bigger than movies, because movies get filmed in segments, often short segments even. But plays are a pretty big commitment. It takes a minimum of three months out of your life, really. And if you have family or kids, then at least during the rehearsal period for five or six weeks, you kind of say goodbye to everybody.
Back Stage: So what was it about this production that brought you back?
Hall:
Anne Gee Byrd
and I have known each other for about 50 years. We're both from Toledo, Ohio. And she's playing my wife in this production. She's a great actress. I mean, do you know another actress who played Desdemona on Broadway? She and I have always hoped that we would have an opportunity to do a project together somewhere along the line. It just hadn't worked out. She called, and they said, "Are you ever going to do a play again? Or, do you want to do a play?" And for some reason I was vulnerable to it this time; I'm not exactly sure why. But they were ready to go, you know what I mean? They had already been rehearsed, and they had lost the actor who was playing the role that I'm going to play. The set was built; everything was ready. When Anne Gee called me, they were only a few days away from opening. Obviously, they had to postpone that and reschedule everything. Anyway, it just seemed like I could handle this without taking too much away from my family.
Back Stage: Now that you're back onstage, was it easy to slip into "theater mode," or are you finding it difficult?
Hall: Well, it's easy because so much of my life involved doing live theater. From the time that I was in high school, my life really revolved around live theater, so it almost feels genetic.
Back Stage: I read somewhere that you saw "I Never Sang for My Father" when it first came out.
Hall: I did, in New York. I was in—let's see, my first decade as a professional actor. That was 1968, I think. I don't have a lot of memory of it; my memory is less of the actor, Allen Webb, who played the father and as I recall was perfectly good. But I think everybody's focus at that time was on Hal Holbrook, who played the young man, the son, because Holbrook was trying to break out of Mark Twain. Holbrook was already established, hugely established, for his "Mark Twain Tonight" performances. I remember there were all these discussions, "Could he do anything else?" So everybody was kind of focused on him in that play more than on anybody else, because this was his first big breakout in a different kind of part, in a part that was age-appropriate. It was great, and he was terrific.
Back Stage: So are you nervous to be getting back on stage? Or excited? Or both?
Hall: I'm a little nervous, yeah. I was at the dress rehearsal last night; I was feeling the pressure of it all. You know, it was only our second time through it last night, and again I'm playing catch-up here—all the rest of the cast has been working on this for a couple of months now, so I am trying to catch up to be at the same level that everybody else is, in terms of just familiarity with the script and the sense of ease and confidence that comes with knowing what you're doing. So I'm getting there, but I'm working at it. I was a little nervous last night, no doubt about it.
"I Never Sang for My Father," presented by New American Theatre, runs through May 22. Friday–Saturday, 8 p.m.; Sunday, May 22, at 3 p.m. Tickets: $25. McCadden Theatre, 1157 N. McCadden Place, Hollywood. (310) 701-0788 or www.newamericantheatre.com.