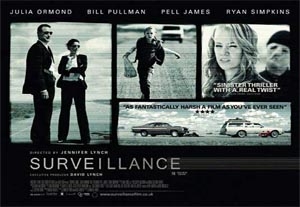 Several years ago, Jennifer Lynch answered her phone in the middle of the night and heard a voice mutter, "You're the sickest bitch I know." Normally, one would assume this to be a depraved crank caller, but she knew better. It was her father, Oscar-nominated filmmaker David Lynch, calling to tell her he loved her script for
Surveillance
, which was about to become her first feature in 15 years. He even signed on as executive producer, but he had one problem with the story.
" 'Jenno, you can't end your movie like this! It's so sick. It's way too dark,' " recalls Jennifer Lynch, impersonating her father's voice. A film
must
be disturbing if even David Lynch is horrified. He challenged her to write a new ending. She did and ended up shooting two versions of the twist ending (the other one will appear on the DVD). But she never had any intention of ignoring her instincts.
"This is where these people go," defended Lynch.
"Surveillance
is an unashamedly sick and twisted psychological thriller—a very dark romance, in which a
Rashomon
-like narrative consisting of unreliable witness accounts to a brutal highway murder leads to a shocking and bizarre revelation." The film, premiering June 26 in L.A., took the top prize at Sitges International Film Festival of Catalonia in October and made Lynch the first female in the history of the New York City Horror Film Festival to win best director. But this isn't the first time the precocious filmmaker has made history.
At age 19, she wrote the
Boxing Helena
screenplay. At 22, her novel
The Secret Diary of Laura Palmer
stayed on the New York Times Best Seller list for 15 weeks. And at 24, she became the youngest woman in American film history to direct a feature. Unfortunately, 1993's
Boxing Helena
was a critical flop and is chiefly remembered because of the $8 million lawsuit against the original leading lady, Kim Basinger, who dropped out of the role and subsequently lost the breach-of-contract case and filed for bankruptcy.
Back in 1984, Lynch worked on her father's
Dune
set and witnessed the near death of his career. "[
Dune
] was really tough on him," she says. "I think what helped me even more so was just watching him really take joy in the work and really try to not listen to whatever everybody else was saying, and just holding out for what he wanted the most." Now 41, Lynch has the temperament of someone who survived a war. She battled depression, got sober, became a single mother, and endured three spinal surgeries after a car accident as a teenager. "Ultimately, I think that whole process saved me, too, because I really had to decide what to do with my life, even if I couldn't walk again. You certainly find out what you're made of when they start taking you apart," she says of her surgeries. Lynch's spine is fused with titanium, and, ironically, she now has the "backbone" to take a risk and return to what she loves most: making films.
"I think time and living a little bit of other life outside film really made it easier this time around," says Lynch. "So if there's a lesson to learn and I fucked up then, at least I know I fucked up, and I didn't do it because I did what somebody else said I should do or didn't do something I believed in. That's really the lesson, big-time."
Lynch hooked up with
You Can Count on Me
casting director Lina Todd to flesh out her
Surveillance
script. She looked at 100 headshots and about 20 young girls for the brave Stephanie, a key role inspired by her daughter, Sydney, but the search was over as soon as she met Ryan Simpkins (
Sherrybaby
). "She was so genuinely a kid, not an actress or performer. Ryan was smart and kind and really listened. I could just give her colors or feelings and poke her in the gut and say, 'This is where you feel this,' " says Lynch. "I was very careful not to have her there during filming [the more disturbing sequences]. That's all shot separately. Working with Ryan and seeing how well she's grown up and how beautifully she's been raised gives me hope that there is a way for a kid to perform and still be healthy."
For the other supporting roles, Lynch tried some creative casting. For Bobbi, the drug addict, she decided to cast Pell James (
Zodiac
). "Pell looked like such a wholesome housewife. I was like, 'Yeah! Let's skank her up,' " Lynch says devilishly. "She has such a sweet face, but she's got it in her to go plenty of dark places. The whole movie examines what 'good' and 'bad' look like. I think each of those moments is a little bit surprising in this." French Stewart (
3rd Rock From the Sun
) and Cheri Oteri (
Saturday Night Live
), known for their comedic roles, were cast as a menacing cop and Stephanie's irresponsible mom, respectively.
"After meeting them I knew they wanted to do more [with their range]. To me, people who make you laugh are often the saddest person in the room, so I knew there was a wealth of pain there," Lynch explains. "I consider humor and terror very close together. That fear that someone is outside your window is sort of the same terror as waiting for a punch line on a good joke. I wanted to slam the humor right up against the dark."
The leading roles of the two federal agents were to be played by Julia Ormond (
The Curious Case of Benjamin Button
), who came directly to Lynch, and Billy Burke (
Twilight
). In what seemed like a cruel twist of fate, history repeated itself and Burke dropped out in the first week due to "scheduling problems." That's when Lynch called Bill Pullman, who had passed on the script a few years prior. "He said, 'Why did I say no to this?' I said, 'Well, you weren't really clear. I don't think you liked it.' He said, 'Okay, send it to me again.' And he called two hours later and said, 'I'm in,' " Lynch says. "And the script had certainly changed and improved. I think it's good when people say no. It makes you work harder."
Lynch did not have a rehearsal period, but she allowed the actors plenty of freedom on set when it came to bringing their own ideas and improvisations. Once she was finished editing, she screened the film for her father, who had not seen it since it was a script. "I said, 'If you want to take your name off as executive producer, I understand,' because he'll do that sometimes: He'll put his name on something, but if he doesn't like the final product, he'll have helped get it made, but he won't have his name on it," Lynch explains. "And afterward he said, 'I want my name bigger! That's all I want.' " The elder Lynch even contributed a song he sung called "Speed Roadster" for the closing credits. Reporters who have seen
Surveillance
are already accusing her of copying her father's style.
"Someone mentioned to me the other day, 'Well, how come your cop stations always look like his cop stations?' Isn't that like saying, 'Your wedding photos look just like your husband's wedding photos?' " asks Lynch. "I saw the same cop stations. I was exposed to the same environments on trips or in small towns. It's not an emulation as much as my interpretation of a similar situation. If you're going to be compared to somebody, it's not bad. I'd love it if people looked at my mother's paintings and also said, 'Wow, you shoot the way your mother paints,' because I think there's a lot of that in there." In a show of support in response to the inevitable comparisons, David Lynch recently told her, "That's all right, someday they're going to say, 'Aren't you Jennifer Lynch's father?' "
Lynch has already finished her next feature.
Hisss
, a "creature-feature, action-love story," stars Bollywood beauty Mallika Sherawat and centers on India's oldest legend. "This should be fun," says Lynch. "This folklore is something they really believe in India. Every day they pray to this cobra goddess. She's the goddess of fertility, and you do not fuck with her." She smiles and adds, "I will never be the filmmaker [my dad] is. I will be the filmmaker I am."