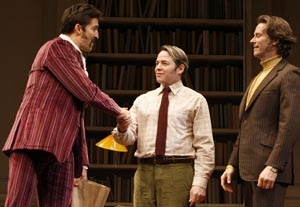 British-born Jonathan Cake has been a steadily employed actor on both sides of the Atlantic throughout his career. Now based in New York and enjoying a featured role in the Roundabout Theatre Company revival of Christopher Hampton's
The Philanthropist
, Cake is clearly having a hell of a good time playing an obnoxiously cocky, narcissistic, novelist opposite Matthew Broderick's annoyingly good-natured professor. But then, an unabashed sense of fun characterizes many of his performances, including the sly Iachimo in Lincoln
Center Theater's production of
Cymbeline
.
For his stint as the tormented Jason in Deborah Warner's
Medea
, which played the West End and Broadway, Cake received a Theatre World Award—a special achievement in light of how daunting he found the role. He describes the modern adaptation of the classic tragedy as his most challenging: "It's one of the monumental plays, and I spent 20 minutes in the water screaming over the slaughter of my two children. I didn't have children at that time, and it was very hard to deal with the idea that my wife had killed our two children. I had to re-create that experience each night."
Cake also boasts an array of film and TV credits, including the remake of
Brideshead Revisited, True Blue
, and
The One and Only
. Among his small-screen roles in the U.K., Cake has played Alastair Campbell in the BAFTA-winning
The Government Inspector
and had featured roles in Eddie Izzard's
Cows
and Dennis Potter's
Cold Lazarus
. In Hollywood, he appeared in
Six Degrees, The American Embassy
, and
Chuck
.
Back Stage
: How do you approach a role? What is your method?
Jonathan Cake
: I don't do a part unless something in the role—in the play—speaks to me. It's a completely instinctive thing. I see the character visually and try to work out what's being said and what's not being said. I try not to make prejudgments because they're usually false trails. The real thing occurs between the actors playing the characters. I try to understand the currents in the room. That's the key. Once you know that, you can decide what you wish to embody or explore or articulate in playing the part. But I never grew up with a set method. I started doing plays when I was very young. So I always felt I could just get up and do them.
Back Stage
: Have you had formal training?
Cake
: After I spent three years at Cambridge University reading English literature, I went to Bristol's Old Vic theater school. They had no method. It's very different in the U.K. They don't have structures of schools and teaching like you do here.
Back Stage
: When you're thinking about doing a project, what's more important: the script or the character?
Cake
: It's hard to differentiate. I would be loath to do a project where the character is fantastic but the script is lousy. It's easier to be good in something that's good, though I did an ABC show called
Empire
because I wanted to play a hero. I wanted to see what playing the Gary Cooper role would be like. I wanted to try to embody nobility. It's easier to play the darker, troubled, more morally dubious character. Playing decency—playing the Everyman—is very hard. It's an extremely underrated quality on stage and screen. It comes my way very rarely, and it was fun.
Back Stage
: Do you have different standards for doing a film or TV show versus a stage project?
Cake
: It's the same, but one has to be realistic. The stage is a verbal medium. Essentially it deals with language, which is why actors own it so much more than they do on TV or film, where they can't be responsible for the visual look. TV and film is a pictorial medium. Also, once the curtain goes up on stage, you can't say, "No good. Let's do it again." So there are different imperatives. When you act on screen you have to realize it's a small part of a big totality. The leading actor in a play has the most influential say in how the audiences will receive [the play]. An actor playing a lead in film can sit there and stare at the green screen and have all kinds of things projected on or around or behind him. It's a director's medium. You're not in control, and you've got to adjust your sights accordingly. And there's that commercial imperative that goes along with TV and film. Theater generally pays so poorly.
Back Stage
: Are you more likely to do a TV or movie script that's not top-notch, because of the money or perhaps because it's high-profile and might lead to something else?
Cake
: In my 20s I was concerned with doing something to get somewhere else. I was terribly ambitious and very obsessive. In my 30s I stopped obsessing. It's nothing you can have control over anyway. So I just attended to what was in front of me. And then I got more successful because then I was doing better work. Success usually comes when you're looking the other way. Strategizing just makes you crazy.
Back Stage
: Do you think strategizing over one's acting career is more of a phenomenon in the States than it is in the U.K.?
Cake
: The stakes are so much higher here. You make huge trucks. We make bicycles—not that we don't have some extremely ambitious bicycle makers in the U.K. But it's on a different scale. That's not to say it's always art for art's sake. Ambition and corruption, they're endemic everywhere.
Back Stage
: Was there ever an artistic turning point when you saw something new about the approach to acting?
Cake
: I was in [an adaptation of George Eliot's]
Mill on the Floss
[in London and on an international tour], directed by Nancy Meckler, and she turned to me and said, "I really like how you do this part." She said it like a friend, not a director, and it took me by surprise. It was a moment of appreciation when I felt empowered for the first time with a certain confidence. I think acting is about confidence and feeling entitled to do the role.
Back Stage
: What do you look for in a director, and what turns you off?
Cake
: I don't like directors who are closed down to playing or to experimentation or directors who are dogmatic. I like directors who are smart and have a quickness of mind and are capable of giving reassurance. A good director is somebody in control, yet is able to give the actor confidence. That's a huge part of it.
Back Stage
: Are there any actors who've been especially influential in your career?
Cake
: Yes, my wife, Julianne Nicholson. We met while doing an HBO pilot that never [went beyond that stage]. I realized I was working with someone who, instead of putting up walls, was peeling back layers. My training had been to impersonate rather than embody. She was doing something raw, naked, and unadorned. It was so inspiring.
Back Stage
: If you could redo your career, what would you do differently?
Cake
: I'd probably be entrepreneurial at a younger age. I'd create my own company instead of waiting about for a movie career. I should have been writing and doing my own work.
Back Stage
: What are your ambitions right now?
Cake
: I'd like to be in a position where I could go to a theater administrator here [in New York] and say, "I'd love to do the Scottish play." I'd like to be well-respected enough to make that happen.
"The Philanthropist"
runs through June 28 at the American Airlines Theatre, 227 W. 42nd St
.,
NYC. Tickets
: (
212
)
719-1300. www.roundabouttheatre.org
.