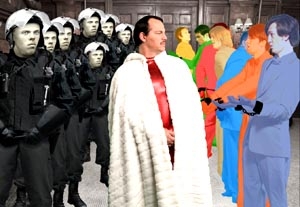 Every now and then a true original comes along. This time it's in the form of Cory McAbee, whose second feature, "Stingray Sam," could be described as a musical Western set in space. While its plot is completely silly—two convicts are promised freedom if they rescue a kidnapped girl from a faraway planet, where a bratty despot named Fredward, a grown-up test-tube baby born from two men, is holding her captive—the film is a mesmerizing cinematic treat, with great musical numbers to boot. Think David Lynch's "Eraserhead" if it were much happier and the characters broke into song.
As with his first feature, "The American Astronaut," McAbee wrote, directed, and stars in the new film, which debuted as part of the New Frontiers program at the Sundance Film Festival earlier this year. "Stingray Sam" will open in Los Angeles on Sept. 15 and be broadcast online the same day.
John Cooper, the Sundance Film Festival's new director and previously director of creative development for the Sundance Institute and the festival's director of programming, has had a lengthy professional relationship with McAbee and has been one of his most ardent supporters for close to two decades. Cooper was drawn to McAbee's first short, the animated "Billy Nayer," which was shown at Sundance in the early 1990s. McAbee was repeatedly invited back to the festival, where in 1994 he presented a multimedia event and in 2001 premiered "The American Astronaut," which he had workshopped at Sundance's Screenwriters Lab. Two years ago, Cooper selected McAbee to create one of five short films used to promote new advances in mobile-phone technology and entertainment.
"I think his work is original, and I think he is a total original as well," says Cooper, who will introduce "Stingray Sam" at its L.A. premiere at the Downtown Independent. "I like his attention to detail. I like that he has an idea and he follows it through on a lot of different levels and they're never levels that I expect him to go to. You start to figure out where he's going, and then he switches it up. His films are very artful, even if they might look grungy sometimes. He's very exacting in what he's doing. There are parts of the set that you know he has to get just right. I like artists that are original but then really detailed as well and willing to follow through and make it everything it can be."
Cooper is also a fan of the music and themes in McAbee's films, which Cooper describes as having "a lot of American iconography. "He captures a place in me that's nostalgic but then totally new."
McAbee says he was inspired to write "Stingray Sam" after an encounter in 2003 at a film festival where "The American Astronaut" was being shown: "A woman from Belgium came and interviewed me. We had just bombed Iraq, and she said, 'Right now Europeans are angry with America because of what your government is doing…but Europeans always enjoyed loving America.' And she said that 'The American Astronaut' has all the things Europeans still enjoy liking about America and that it was refreshing for their audience to see that at this time. So I always wanted to address that."
McAbee's aim in "Stingray Sam" was to embrace American culture but at the same time criticize it, he says. "In embracing American culture, I chose genres that were American-born, like musicals and Westerns and singing cowboys and science fiction series, and created an environment that was our environment, like privatized prison systems that capitalize on their prisoners and pharmaceutical companies and advertisement in the tobacco industry and these things that are part of American culture. So I took all these qualities and [set] them in a science fiction landscape."
Like a serial, the film is divided into six episodes, which can be viewed on a cell phone, a laptop, a television, the big screen, or all of the above. Produced on an extremely low budget, it was shot on high-definition video, mostly in black and white. The film also incorporates amazing collage sequences created by artist John Borruso.
What's most remarkable is that "Stingray Sam" was accepted into Sundance before it was even shot—a rarity for the festival. "No one's supposed to know that," says Cooper, laughing. McAbee had sent him detailed storyboards and recordings of some of the film's music, which impressed the Sundance executive enough for him to give the go-ahead. And, Cooper says, by that point he had strong faith that McAbee would deliver the goods on time.
With the exception of David Hyde Pierce (an apparent fan of "The American Astronaut") as the offscreen narrator, "Stingray Sam" is populated mostly by nonactors, many of them McAbee's friends—including his bandmates in the Billy Nayer Show, guitarist Crugie and drummer Bobby Lurie, who also came on board as a producer. McAbee even cast his young daughter, Willa, in the key role of the little damsel in distress.
"I hope that he makes money," says Cooper. "I want him to do other things." As for McAbee, who is based in New York, he says he continues to "eke out a living" between his film projects.
Visit www.thesmalleststar.blogspot.com on Sept. 15 to see a webcast of "Stingray Sam." For more information, to purchase a DVD, or to locate other screenings, go to www.stingraysam.com.