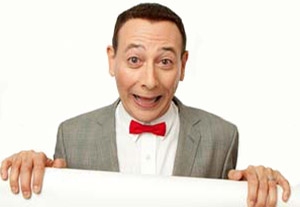 In each episode of the Emmy-winning Saturday morning CBS series "Pee-wee's Playhouse" (1986–91), there was a "secret word of the day." When someone uttered it, everyone else would scream. If there's a secret word for the show's star, Paul Reubens, right now, it would be "comeback."
The actor has spent the past year prepping his brand-new stage show, "The Pee-wee Herman Show," running through Feb. 7 at Club Nokia in downtown Los Angeles. The ambitious production features 11 actors and 20 puppets—a first for Reubens, who on his series relied on the magic of editing to bring puppets like Pterri, Chairry, Conky, Globey, and Magic Screen to life. Reubens says the tension and anxiety of creating the live show are palpable, and he has one question on his mind: Are the puppets going to perform?
"This show is in many ways like the series, except we never did that live," says Reubens. "A 24-minute episode would take us 10 days to shoot because those puppets would never do anything on cue. I've got a wonderful cast of live-action performers who I know are going to be fantastic, but you can't get too much more technical unless you're doing 'Wicked.' We're doing a full-on Broadway show. It's like I have this secret that nobody knows. People know I'm opening a show, but nobody knows how amazing it's going to be."
The Man in the Gray (Flannel) Suit
Reubens' Pee-wee Herman first made his entrance at the Groundlings in 1978. Donning a tight gray suit and a miniature red bow tie, Herman endeared audiences of all ages with his man-child enthusiasm for 1950–60s pop culture and hilarious quips like "Why don't you take a picture; it'll last longer," "So funny I forgot to laugh," and "I know you are, but what am I?" On the series, he did playful things like "fun with tape," where he taped his face into bizarre shapes; on one episode he loved fruit salad so much he married it.
His show featured guest stars Phil Hartman, Laurence Fishburne, Natasha Lyonne, and S. Epatha Merkerson. His 1988 "Christmas Special" had an impressive array of celebrities stopping by the playhouse—among them Oprah Winfrey, Cher, Whoopi Goldberg, Little Richard, Grace Jones, and Joan Rivers. Reubens' character inspired countless others, including Stephen Hillenburg ("SpongeBob SquarePants") and Steve Burns ("Blue's Clues").
Reubens gave up his public persona for Pee-wee early on in his career, and with diligence the alter ego garnered a star on the Walk of Fame, hosted "Saturday Night Live," and even published a book. The last time many saw Pee-wee, before he began promoting this new show, was on the 1991 MTV Music Video Awards, where the actor, freshly burned from a scandal involving "indecent exposure" (he pleaded no contest) at a Florida adult movie theater, asked a roaring crowd already on its feet cheering the fallen folk hero, "Heard any good jokes lately?" In that moment, it was clear Reubens may have been scarred by the bad publicity but Pee-wee came out unscathed.
For the next several years, Reubens put Pee-wee aside and gave stunning performances in the films "Buffy the Vampire Slayer," "Blow," "Mystery Men," and "The Nightmare Before Christmas" and even earned an Emmy nod for his guest appearances on "Murphy Brown." Convincing casting directors to hire him in other roles was a challenge. "I'm not on people's minds as an actor," says Reubens, who recently wrapped roles in David O. Russell's "Nailed" and Todd Solondz's "Life During Wartime." "Some people, I think, just really view me as Pee-wee."
And in the same way Pee-wee would constantly add to his massive boulder of tinfoil, Reubens became an avid collector of such items as fake food, yearbooks, and sunglasses. He would often buy in bulk and, unfortunately for him, a 2002 police raid on his house led to his second piece of tabloid baggage: a child pornography charge that was later reduced to possession of obscenity. Reubens went on Dateline NBC to defend his innocence, reassuring the public that he is in no way a pedophile or into child porn. But the damage kept Reubens from bringing Pee-wee back for nine more years.
"My plans are to try to figure out how to document my 50,000 favorite items I own on some kind of DVD or book and then sell all of it at an auction and have a different existence that's stuff-free," Reubens says with a sigh. During his downtime, he penned two Pee-wee scripts: a family-friendly one and a darker one about the fame roller coaster. The former will be shopped around once the stage show finishes its run.
"I've been talking to a lot of people, but nothing's been green-lit," says Reubens. "At this point now I'm going to wait a little bit and see. I think people will get it a lot more when they see the stage production of it, you know? It's been a little while, so this will be a good reminder. ['Pee-wee's Playhouse: The Movie'] has two scenes in the playhouse, and the rest is an epic adventure story out on the road with all these puppets who, by the way, should never be out on the road, really. They're difficult enough to contain and figure out in the playhouse or on the stage in the playhouse. Out on the road, it's completely insane, and I have them in airplanes and incredible stuff. It's not a reality-based world so much. I mean, 'Pee-wee's Playhouse' is in Puppetland, and we never really define what that is, so I say take that and mix in a really beautiful liberal dose of Sid and Marty Krofft's work, and you can sort of figure out what this is going to be."
Armchair Adventures
So how can Chairry the armchair go on the road trip? A flatbed truck? "Oh, Chairry does just amazing stuff—and by the way, people are going to be shocked at Chairry in the stage show," reveals Reubens, who hints that there will be hundreds of roles to cast in the upcoming film. His first film, 1985's "Pee-wee's Big Adventure," also concerned a road trip, to find the character's beloved bike, and it proved a cult and financial hit. Reubens almost didn't work with first-time feature director Tim Burton on that film. The studio gave Reubens a week to find a director, and he was asking around at a party with a lot of Groundlings members. Someone there had recently seen Burton's short film "Frankenweenie," which starred Reubens' friend Shelley Duvall.
"So I called Shelley Duvall, and she went, 'Oh, yeah, he's great.' Then we called the studio, and they said, 'Oh, he won't do it. He won't do anything. We've sent him all these scripts, and he's turned everything down.' The studio wouldn't even send it to him. My manager got the script to him, and he agreed right away," recalls Reubens. Any chance Burton would be directing the new film? "Tim saw this script when it was first written, and he's seen two versions of it, but he hasn't seen this version of it," says Reubens. "I think he's way too busy. He directed a Pee-wee movie already. It would be more like helping to produce it or helping in some way with it."
Whether or not the movie happens, Reubens confesses it will be "a breeze" compared to doing this stage show. "And I mean this in a really good way. It'll be a lot of work to make a movie also, which I'm well aware of, but this [stage production] has been so much work. What people are going to see when this all works well—it's just going to be incredible. I really feel like it's going to blow people away to see all these live-action actors, all these puppets, and all these set elements—just incredible. I mean, the production staff I have on this show are just amazing." That staff includes director Alex Timbers, scenic designer David Korins, puppet consultant Basil Twist, movement expert Toni Basil, and lead producer Scott Sanders, who was behind the Broadway staging of "The Color Purple."
Practice, Practice
Sanders first saw Pee-wee at Carolines on Broadway in the early 1980s and found the performer "brilliant, incredibly imaginative, and completely inspiring." The two decided to work together, and Sanders, who was the executive producer of Radio City Music Hall at the time, presented Pee-wee for his Carnegie Hall debut in 1983.
"I get a call from the president of Carnegie Hall, and he says, 'Mr. Sanders, I'm afraid we do not sell big underpants at Carnegie Hall,' " recalls Sanders. "And I said, 'Oh, you mean the big underpants that he uses in his show? It's a prop that he uses, and we sell them in his merchandise, too.' And he said, 'Well, you won't be selling any big underpants here tonight. We don't sell any underpants at Carnegie Hall.' Next scene: We did sell underpants that night at Carnegie Hall, and I've been a huge fan of Pee-wee's ever since."
According to Sanders, when Reubens called Fishburne to tell him he was casting another actor as Cowboy Curtis in the stage show, Fishburne had a special message for Reubens: "You've got my blessings, Pee-wee. Have a good time. I'm really sorry I'm not going to be there. But listen, if you decide to do another Pee-wee movie, count me in! I'll get my Jheri curl out, and I'm back there with you."
Reubens is using plenty of original cast members for the stage show—including Lynne Marie Stewart (Miss Yvonne), John Moody (Mailman Mike), and John Paragon (Jambi/Pterri). Reubens also cast for new roles like Sergio, a Latino handyman who wants to audition for "So You Think You Can Dance," as well as characters named Paypal and Shamwow.
"I've got to tell you, I just got clearance on Shamwow, so I'm very excited because we actually went off a little half-cocked and talked about Shamwow being in the show and did not have permission yet," says Reubens. "We cast an understudy for Miss Yvonne who is also doing the female voice track, and all the actors that we cast are also doing puppet voices. We cast the Firefighter and the King of Cartoons and Cowboy Curtis and a new character called Happy Bear."
The stage show's plot is veiled in secrecy but involves Pee-wee wishing he could fly, getting his wish, and then giving it away. It is also partly based on the original midnight show Reubens created in the early 1980s at the Roxy in Los Angeles, which was sold out for five months. That show would never have occurred had Reubens been cast in the 1980-81 season of "SNL" instead of Gilbert Gottfried.
Yet Reubens says, "I think both of us would've gone on to do the work we did. I think Pee-wee Herman probably would have happened faster because I would've been on 'Saturday Night Live.' More people would've seen me quicker. I mean, in hindsight, it was a great motivator, not getting that job." Reubens was disappointed, but it became the catalyst for him to borrow the $5,000 from his parents to do his show on his terms with creative control. "Yeah, I was more, like, forced to," he says. "I didn't realize that that ultimately was better at the time. I didn't know."
Altered Egos
The character Pee-wee was inspired by many things, including a kid Reubens went to summer camp with. The voice came from a role Reubens played in a stage show called "Life With Father," and the name came from Pee Wee brand mini-harmonicas. Reubens knew right off the bat that he was on to something special during his six years at the Groundlings, where he also created such characters as an Indian chief named Jay Longtoe and a philandering husband named Moses Feldman. In addition, the late Hartman (also a Groundlings member) made huge contributions to Pee-wee and his world.
"The idea to put it into a playhouse as a kid's show and being the host came out of a conversation I had with Phil, so, I mean, from the very, very, very beginning he was there," recalls Reubens. "The first scene that was written for the show was the Kap'n Karl scene that existed in the original show—a couple of lines of which serve as a bit of an homage in [the new show]. I didn't recast his role. Phil was always frustrated that I didn't want to do my other characters. I just decided, 'Okay, this is it. I'm going to focus on Pee-wee Herman. That's who I am now for a while.' Phil was always like, 'No you shouldn't do that. You've got to get out there and do all your other characters,' so we always had that little funny kind of exchange."
Reubens grew up watching "I Love Lucy," "Captain Kangaroo," "Howdy Doody," and Mickey Mouse on TV, and he identified with their TV personas. "I would go, 'That's what I'm going to do. Right there, that's me,' " he says. A couple of years ago, Reubens was at an autograph show and noticed Bill Dana across the room.
"I used to see him on 'The Ed Sullivan Show' [as his Mexican character José Jiménez], and he was a person who had a very early alter ego on television back in the '50s," explains Reubens. "And I remember being a little kid and looking at him on TV and going, 'He's not really that guy,' and cut to me many years later looking at him across the room and never having made that connection before. It was really interesting to just walk right across the room and shake his hand and go, 'Wow, I just realized that I can draw a straight line from watching you as a little kid and realizing you were playing a character to what I wound up doing.' "
Re-Playhouse
So is the public ready for Reubens to bring Pee-wee back almost 20 years later? Sanders points to Pee-wee's 377,747 followers on Twitter and 83,907 fans on Facebook (as of Jan. 8) and says a resounding yes. "If you go look at his Facebook page and the excitement and enthusiasm we're getting in both ticket sales and the number of people that are following him on Twitter, it's really fun," says Sanders.
He continues, "I think Pee-wee is an artist for all ages and people. I remember when 'Playhouse' was on, and there would be kids that watch it, and I was in my 30s, and my friends were watching it. I had other friends who were in college who were waking up from a hangover and having cold pizza in a box and watching it at 11 o' clock on Saturday morning. So he's sort of this remarkable character that has been able to touch the hearts of fans of all ages. I think he's subversive enough and irreverent enough on one level and kind and loving and good on the other side, so it's a wonderful combination."
Reubens, always a believer in happy endings, is also touched by the early response. "People all the time go, 'Do you ever feel the love?' And I really do," he says. "I've felt it. I really have. People are so nice to me. It's just incredible."
"The Pee-Wee Herman Show," presented by Goldenvoice, Bud Light, and Scott Sanders Productions, runs through Feb. 7 at Club Nokia @ LA Live, 800 W. Olympic Blvd., L.A. www.ticketmaster.com.