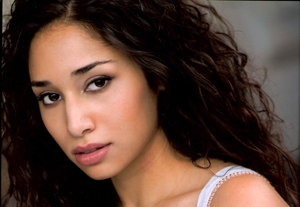 Meaghan Rath
may play a ghost dealing with loneliness on the Syfy series "
Being Human
," premiering Jan. 17, adapted from the British show of the same name. But the Canadian actress is anything but isolated. Lively, passionate, and a diehard "Lost" fan, Rath, who has mainly appeared in small-screen comedies, wasn't familiar with the U.K. series prior to auditioning for the role of Sally. But a few Season 2 episodes were all she needed to understand the show's identity. Then, it was all up to her. "Since we started shooting, they don't want us to watch any of the episodes, just so we bring something new and fresh to it," Rath says. "We want to make it our own thing."
Working with castmates Sam Huntington and Sam Witwer ("the Sams," as she calls them) has been beyond expectations. "From the second that we met from the screen test, there was an instant spark between us," she says. Though she understands the pressure the cast (which also includes "Lost's" Mark Pellegrino) faces, Rath remains optimistic that viewers will find room for two "Being Humans." "The three of us have some really big shoes to fill," she notes.
Rath spoke with Back Stage about her character's relationship with the vampire and the werewolf—the other two main characters of the series—the differences from the original, and her connection with Sally.
Back Stage:
Was the audition process for the show intense?
Meaghan Rath:
I went in and read a couple times, then I met with Adam Kane, who's our executive producer and the director of the first two episodes and the finale. He workshopped the audition and flew me to L.A. to screen test. It's scary as an actor to do that because every step of the way, I was getting more attached to it and I was falling deeper in love with the character. You can lose it all at any second, and it's devastating.
Back Stage
: Did you have to do anything specific in your audition since it's a unique part?
Rath:
[Kane] had me try a bunch of different things. I don't know if that was for the purpose of seeing if I can take direction or if it was because he had ideas for the role that he genuinely wanted to see carried out.
I think what they were looking for was an energy that they saw in the character and they were looking for someone who could bring that to the role. One of the things I noticed about Sally right away when I was reading the scripts for the first time was how similar we are. I could see myself saying those things and acting that way.

Back Stage
: What attracted you to the project?
Rath:
I really felt for the character. Even though she's in these supernatural and unbelievable circumstances, at the core of it anyone can relate to the loneliness, isolation, trying to find your place in the world, and trying to figure out what you're here for. What was saddest to me about this character was that she was the same person as she was in her life. In her life, she was someone who was very involved and passionate and someone who wanted to help people, and all of a sudden, all that's taken away from her, and she's still that person and she still has those needs and the longing to make a difference in some way. What's heartbreaking is she can't touch anything. No one can see her.
Back Stage
: And your character goes through something rather traumatic.
Rath
: It's something we uncover pretty soon into the series. It was intense, and it was fun to play. That's another thing that attracted me to this project—that there's so many different colors to her, which I, in the past, have rarely got to play. In my experience, it's always been, "Let's play one thing. Let's be happy all the time. Let's be the mean girl." This was a real person, and she goes through so many things.

Back Stage
: Can you talk about Sally's relationship with Aidan [Witwer] and Josh [Huntington]?
Rath:
It feels like those are Sally's older brothers and they're wanting to take care of her, wanting to protect her and wanting what's best for her. For Sally, she sees Aidan, who's the vampire—he's been dead for 260 years—as the veteran; he knows everything. If she has any questions about what's going on with her, she often goes to Aidan. Josh's transformation into werewolf has been more recent and so he's going through similar things as Sally's going through. It's more of a "We're in this together" kind of thing with Josh.
Back Stage
: Will there be tension between the three?

Rath:
A lot of the tension for Sally when it comes to the guys is the fact that they do want the best for her, so they're looking out for her, they're trying to protect her, but she wants to do a lot of things that they disagree with. She wants to explore her abilities and she's going to do what she wants to do.

Back Stage
: Will this show follow the trajectory of the British series or a different path?
Rath
: It starts off very similarly because we are the reimagining of that show. Towards midseason is where we start planting the seeds to go off and do our thing.

Back Stage
: Are there any differences from the original?

Rath
: We do introduce a character, Emily, who is Josh's sister. We get more into his backstory and his family life. We also have a new sect of vampires.

Back Stage
: Looking back on your career, what was the role or project that really made you understand acting?
Rath
: I think that's this role, just because I have so much to work with. It makes sense and it's easy. And that hasn't always been my experience in the past. I've been taking Meisner classes with my acting coach Jacqueline McClintock here in Montreal, and I think that is what really made me understand what I'm supposed to be doing. If it wasn't for [McClintock], I don't even know if I would have gotten this part because I don't know if I would have been ready to play something like this.
Back Stage
: Is television the medium you prefer to work in?
Rath
: Not necessarily. What I like a lot about television is, when you're working on a series every day for five months, it gives you the chance to improve and get better and learn how to develop a character. It's the best practice you can ever ask for. I would love to do films. It's just the way things happened for me—I ended up doing a lot of TV.
Back Stage
: Do you have any advice for actors wanting to go into television or film?
Rath
: The most important part is having discipline and not giving up. I remember so many times taking classes and feeling completely discouraged because I felt like I wasn't getting it and I couldn't understand. I kept working at it and I kept going back to class, and I wouldn't let myself get intimidated or get scared away, and it really does pay off.