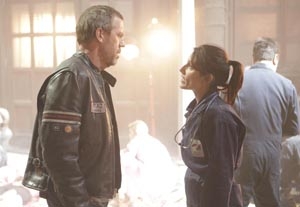 Though Lisa Edelstein wrapped her sixth season on the hit drama "House" with perhaps her biggest storyline yet—embarking on a romance with the dyspeptic doc—things could have gone very differently for the actor. Rather than commanding the halls of Princeton-Plainsboro Hospital as Dean of Medicine Dr. Lisa Cuddy, Edelstein almost wound up on Wisteria Lane when she auditioned for the role of Lynette on "Desperate Housewives," a part that eventually went to Felicity Huffman. The producers were making the offer to Huffman when Edelstein came in for her final test. "It was a bit embarrassing," says Edelstein. "They didn't know someone had let me in, and I literally walked in and they were on the phone talking numbers." She notes the people at "Housewives" were wonderfully supportive and there were no hard feelings. She landed "House" a week later.
Having been through 15 prior pilot seasons, Edelstein felt she had a good sense for what shows would succeed. "You develop a skill for recognizing three things: something you like on the page, something you think you'd like on the page six years from now, should it be successful, and something you think is written well enough to become that show," she says. But she also knows not to set her expectations too high. "It's always a gamble," she admits. "You have to look at it in the long term but assume the short term."
From the beginning, Edelstein was drawn to the character of Cuddy but confesses she felt somewhat underused the first season of the show—a common complaint made by the show's fans. "I didn't feel my character was getting used or thought about," Edelstein admits. "It wasn't about wanting more attention; it was about wanting to keep my job and make sure my character stayed in the show! So, yeah, I was nervous." Edelstein didn't want to come off as "an annoying, desperate actor," so she took it upon herself to come up with ideas for Cuddy, pondering Cuddy's back story and relationship with House. Then the actor presented her ideas to the show's creator and producer, David Shore. "It was great; he liked all my ideas," she reveals. "And I realized it wasn't that they didn't care about my character, there was just a lot going on." She points out that the first six episodes of "House" did not do well in the ratings, until the show was put after the juggernaut that is "American Idol." By that point, episode 14 was shooting. "He was trying to get a show off the ground," Edelstein concedes. "But I felt much more solid after that. We were all on the same page, and it developed from there."
Opening 'Doors'
Edelstein says she knew she wanted to be an actor "as soon as I could talk." She adds, "But I don't think my parents took me too seriously, they thought I would grow out of it and be a lawyer. Which is hilarious—I can't think of anything worse; I don't even want to play a lawyer on TV!" At age 14 she had headshots done and dropped them off "at any business that had 'agent' or 'manager' in the title." She attended New York University's Theatre Department, but it never clicked for her and she eventually left. But not before taking a class where she was asked to write a satirical and political song. Her teacher was so impressed, she eventually urged Edelstein to write a full musical. "That's the kind of thing you do when you're 20," Edelstein reasons, "You put on your show."
Titled "Positive Me," the musical dealt with the growing AIDS epidemic and Edelstein was the writer, composer, and star. Edelstein says she raised the money by "literally singing and dancing in people's living rooms." The experience taught her a lot, on and off stage. "I learned how much you need to fight for what you want to do, because people will try to get in your way," she notes. She adds that until then, she was regarded as a "club kid" in New York City, what New York Times Magazine called a "celebutante" for hanging out at nightclubs with friends like James St. James in the 1980s. But the show gave her a certain amount of credibility. More important, she says, "I really proved a lot to myself; that was a big deal."
She ended up landing a gig hosting the MTV show "Awake on the Wild Side." With typical candor she says, "I hated it. But it was good for me because first of all, they paid me and I was broke after doing my show for two years. Second of all, it put me in front of the camera where I learned a lot."
She got her SAG card for one line in her first movie, "The Doors," a role she got after a strange audition for director Oliver Stone. "The only scenes they were giving women to read with at the audition were raunchy sex scenes," she notes. "We were rolling around on the floor screaming. We ended up kind of rolling under Oliver's desk." She was originally supposed to do three of the sex scenes, but after the first one Stone said he'd seen enough. "I said, 'So you only need to see me fuck on the floor, not against the wall or on the couch?'" Edelstein recalls with a laugh. "And he looked at me and said, 'Will this be your first movie?' I think I got the part because I was sassy. And he liked that."
Step By Step
Since her film debut, Edelstein has worked steadily in film and television; memorable roles include Ben Stiller's awful date in "Keeping the Faith" and arcs on "The West Wing" as a call girl and "Ally McBeal" as a transsexual. The actor notes she learned early on good work would lead to more work. "I never had a big break, but there were jobs that I knew would propel me a little bit further," she says. "The first were guest star spots on 'Seinfeld' and 'Mad About You.' Then I did a show called 'Relativity' that didn't last long, but it was a wonderful character. I worked on a sitcom with [director] Tommy Schlamme, and he put me in the live 'ER' episode then thought of me for 'Sports Night' when they were having trouble casting a role. That's where I met Aaron Sorkin, who put me in 'The West Wing' pilot and brought my character back throughout the season. Work begets work; that's the way my life has gone and it's been wonderful."
Now on her own hit show, Edelstein notes wshe's grateful for her success and its timing. "There's a level of appreciation that only comes with life experience and knowing what those other 15 years were like that you just can't know if you're really successful at 24," she observes. "I feel like I've been working for 20 years and I worked for 15 of those years to get here. I feel solid and present and like I belong in my job."
Outakes
Other works include the movies "What Women Want" and "Daddy Day Care" and the series "Felicity" and "Leap of Faith"
Has done voice-over work on the Fox comedies "American Dad!" and "King of the Hill" and voiced Mercy Graves on "Superman" and "Justice League"
Says that to prepare for a character, she tries to find parts of herself that relate to the role. "I read the script over and over again and try to find the rhythm of the character. The hues I have to choose from all come from me. So it's a process of trying to find what parts of me belong there?"