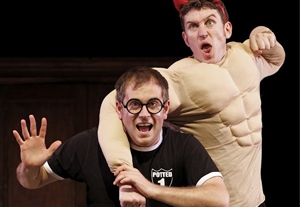 In 2005, British actors Daniel Clarkson and Jefferson Turner were commissioned to create a five-minute street show condensing the first five Harry Potter novels. The two unemployed actors are slated to perform the madcap snippet for hundreds of fans waiting outside a London bookstore for the midnight release of the sixth volume.
Little did Clarkson and Turner know they were about to launch a mini-cottage industry. Within short order, they expanded
"Potted Potter"
into a 70-minute show and toured the United Kingdom. They became comic hosts on British children's television and their fan base grew.
"Potted Pirates"
--a parody of pirate films, history, and folklore-- followed. That was topped by
"Potted Panto,"
a satire of British Christmas pantomimes. "Panto" and "Potter" played sold-out runs and each walked off with Olivier nominations for Best Entertainment.
Now on a world tour, the daring duo is currently regaling audiences Off-Broadway at the Little Shubert with their homage-meets-sendup amalgam. Clarkson plays an array of Potter characters and a befuddled narrator who often confuses Potter, Lord of the Rings, and Narnia storylines. Turner plays Harry and the beleaguered straight man contending with Clarkson's muddled mind. There are many silly props and rapid fire hat and wig changes. Improvisation and audience participation is the name of the game.
What were the challenges in writing "Potted Potter"?Turner
: Not upsetting the fans. They're unlike fans for anything else and we wouldn't have gotten as far as we had if we didn't love the books, if we went out there scathingly rather than poking fun in a loving way.
Clarkson
: When we talk about the rules of Quidditch it's delicate because they make no sense. So, it's a gentle knowing nod with the audience.
Has J.K. Rowling ever seen the show?Clarkson
: We heard that at one performance she came and was told there were no seats left. The girl at the box office didn't know who she was. So now we save a seat at every performance in case she shows up.
Turner
: If she did, we'd just talk to her for 70 minutes. We wouldn't do a show at all. What if she didn't laugh?
What are the acting challenges?Turner
: Not letting my character become too angry. Dan is so infuriating it's natural for me to berate him. I have to try and understand where Dan's character is coming from.
Clarkson
: The challenge is keeping it fresh. What looks like an ad-lib once was an ad-lib and there's nothing worse than an ad-lib not looking fresh. Also, there's improvisation and you can't always predict what an audience will do.
Not every audience member wants to interact. How do you decide whom to approach?Turner
: Through body language.
Clarkson
: You don't single someone out who doesn't want to be singled out, though I will bully someone if the audience is on my side.
Any war stories in terms of audience interaction?Clarkson
: You can't predict what children will say on stage. They brain fart. As soon as their brain says something, it will come out.
Turner
: Nine times out of ten, kids do what you want. But there's always that one child...
Clarkson
: We had one child who was loud, obnoxious and totally brilliant. He was so funny the audience thought he was a plant. We've never had a plant.
Are there cultural differences in terms of how audiences respond?Clarkson
: In London if we tell the kids they're standing on a trap door half of them will move away. Here they will jump up and down on the trap door.
Turner
: I think we're going to be shocked to find how aggressive the kids are here.
What have you been able to bring to "Potted Potter" from your previous acting experiences?Clarkson
: My voice training in drama school. If nothing else drama school is worth it for that.
Turner
: I struggle with voice. I'm not used to not having dairy or only one drink after the show. I never bought into it. I thought it was pretentious.
Putting the shoe on the other foot, what have you learned from doing this show that you can take to more traditional acting gigs?Turner
: Maybe the discipline. We've had incredibly busy periods and it's a two-hander and that's tough. Also, I no longer have any fear of getting on a stage.
Clarkson
: Because we do improvisation, I've learned to listen. In every play you're supposed to listen and be in the moment. This show forces you to do that.
Career-wise, where do you want to be in five years?Turner
: I'm hoping we'll still be working together. But the dream for me is to do sketch comedy on TV, probably in Britain, but I wouldn't turn down a job on an American network.
Clarkson
: As a teenager, my dream was to be on "SNL." There's nothing like that in the UK. I'd like to create an "SNL" in Britain. But don't get me wrong, if anyone said "Do you want to 'SNL' in the States?" But just to make a living at this. I don't need fame. This is the greatest job in the world.
"Potted Potter" will play through Aug. 12 at the Little Shubert Theater, 422 W. 42nd St., NYC 212-239-6200 www.pottedpotter.com
Outtakes
-Before the two actors joined forces Clarkson had professional credits on his resume, including a comedy club act.
-Turner was, by his own admission, an amateur.
-Clarkson and Turner had met briefly years earlier, but teamed up after Clarkson discovered Turner busking on the street and thought they'd make a good comic duo.