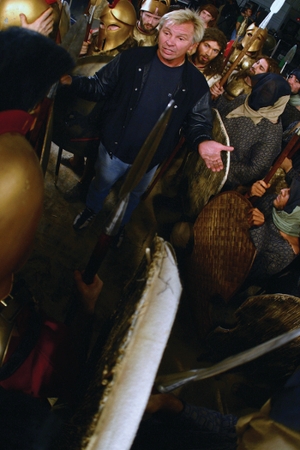 Shakespeare wrote, 'They fight' for a reason. Look at 'Hamlet.' You don't do this incredible play with great acting and then have a crappy fight," stage combat trainer Tim Weske points out.
A trainer for over 30 years and founder of Los Angeles' oldest fencing and theatrical combat school, Swordplay LA, Weske values the technical and emotional details of a fight—and the writer's intentions above all.
"[A fight] is a huge moment in the life of a character," he explains. "He's facing life and death, and when you're angry enough or insane enough to pick up a weapon that you're going to hurt somebody or kill somebody with, you hit one of the highest points of human emotion.
"When a writer writes that into a story, that's what he wants, that's what he sees, and that's what I base all of my stuff on."
Over the course of his career, Weske has trained actors for films such as "Master and Commander: The Far Side of the World," "I Love You, Man," "Peter Pan," "Old School," and others; worked with countless weapons—"Whips, guns, swords, wrenches, pipes, canes, trash cans over the head—anything can be used as a weapon"; and has developed very specific ways of creating fights on film and stage.
"There's a tempo and timing and rhythm that has to be understood," he says. "[You need to] get the impact of not the weapon itself, but of the power of the body behind the weapon."
And while meticulously arranging every move and instilling actors with the power it takes to deliver a fight scene, Weske notes his job involves being an acting coach as well.
"It's not just, 'Well, hit here and hit there and hit there'; it's coaching them through…it's directing them as a director would do for actors," he says, referencing the above photo, taken on the set of History's "Last Stand of the 300."
"I put the Spartans on one side and the Persians on the other, and I made the Persians run as fast as they could at the Spartans. There's a collision and every move and every spear hitting every person—every reaction to it has been coordinated. It's not random. It's a tough thing; you're gonna run at all these guys with real spears, make it believable, and no one's gonna get hurt," he explains.
As a professional in an often overlooked business, Weske encourages actors to do two things: Put research into the person instructing you, and make sure this kind of training isn't an afterthought.
"Everyone should be as passionate about this part of their training as they are about their voice or about their acting," he says.
"[Audiences] not only want to see a damn good fight—they want to see a damn good show."
Inspired by this post? Check out our audition listings!