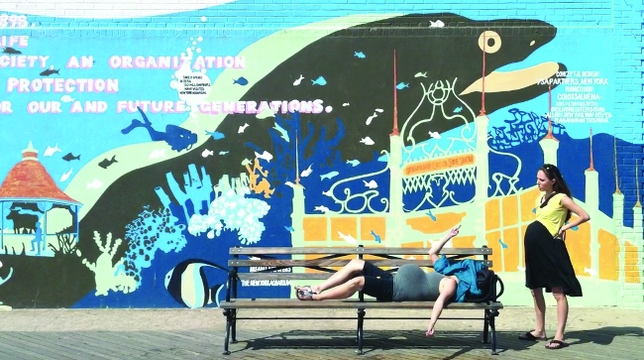 "This place would be awesome if there were no kids" isn't something you expect to hear come out of a pregnant woman's mouth. Neither is "Babies are ugly" from the pregnant woman sitting next to her.
"Preggers," the comedy Web series about two foulmouthed New York City chicks who happen to be expecting children at the same time, is so far off the politically correct bandwagon that Eilis Cahill and her (fake) co-pregnant cohort Catherine DeCioccio had to set boundaries for what they would show. "What's funny to us can be pretty extreme," says DeCioccio. "The comedy [in 'Preggers'] comes from this image of these two young, beautiful women who are in this state of grace and then, by contrast, being so awful."
Cahill and DeCioccio, who met while working on a play in 2008, quickly decided that depicting pregnant women doing drugs and smoking was a little too outrageous and would probably render their characters, Lizzy and Catherine, completely unsympathetic.
"We both enjoyed behaving that way," says Cahill, whose legs splayed across tabletops has become somewhat of a staple of the show. "We wanted to create mini-episode bites of horrible people. They're not terrible, they don't drink or smoke, but they don't really have their shit together."
What inspired this offbeat series? A sex toy party. "Like, one of those Tupperware parties, but sex toys," explains Cahill. "The woman running the party—the moderator, I guess; the sex toy moderator—was pregnant." The image, combined with their similar senses of humor, led to Cahill writing the series and casting DeCioccio as her co-star.
"I was pretending one of my best friends, who's a dude, was a pregnant woman," explains Cahill about writing and acting as her character, Lizzy. "He's really foulmouthed and he babbles a lot and he thinks of really creative ways to insult people."
It's clear that neither of these women are afraid to insult someone. In "The Nanny Episode," the two decide to take advice from their abrasively upbeat "pregnancy consultant" (who "talks like she has a feather up her vag," according to Lizzy) about interviewing potential babysitters. The two bake penis-shaped cookies to make them feel welcome.
As offensive as it sounds, the series, at its core, examines two brazen women navigating the blessing (or plight, depending on who you ask) of modern pregnancy without the support of men. "Preggers" won best comedy Web series at ITVFest, and inspired serious support from feminist viewers who said it was "one of the most feminist things [they've] seen in a while."
"I never sat down and was like, 'I want to write a postmodern feminist piece about pregnant existential crisis things,' " says Cahill, who cast several of their friends in the series. "It was more like we knew all these talented people who weren't working and we wanted to do something proactive while they were waiting for the next thing."
Like this story? See more of our Now Streaming articles here!