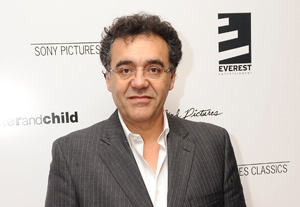 It seems fitting that writer-director Rodrigo García's latest feminine-charged drama, "Mother and Child" (opening May 7), would not have been conceived had a pregnancy not delayed the production years ago. The film's star, Oscar-nominated powerhouse Naomi Watts, became pregnant with her second child and, instead of scrambling to recast her role, García decided to halt filming.
"We did an initial offer to Annette [Bening], and for dates or personal reasons, she could not do it. So that was disappointing, but then after Naomi had her baby, Annette became available again. So that was definitely very lucky," says García. "I did think of it as a good omen."
García has carved out his own genre with thoughtful stories surrounding solid, mostly female ensembles that have included Glenn Close, Robin Wright, Lisa Gay Hamilton, and Holly Hunter. The son of Nobel Prize–winning author Gabriel García Márquez has a gift for writing the kind of characters actors of a certain age salivate over. "Things You Can Tell Just by Looking at Her," which won the Fondation Gan Award at Cannes in 2000, and 2005's "Nine Lives" are two such examples. García is also one of HBO's golden boys, having directed episodes of "In Treatment," "Six Feet Under," "The Sopranos," and the "Big Love" pilot, which earned him an Emmy nomination.
García has been writing the "Mother and Child" script for nearly a decade. The story concerns three women and how their lives have been affected by adoption. The film is arguably his best work to date. Watts in particular stands out as Elizabeth, a cold lawyer who has affairs with her boss and her married neighbor. She's the most vicious character García has ever written. "She's able to communicate the damage. You can tell all that toughness and viciousness comes from a place of pain," he explains. "You know she's hurting somehow and that it's all going to come back to haunt her."
García always casts actors who are able to project intelligence despite the challenges of the role. "Sometimes you have characters doing questionable behavior, so you don't want [audiences] to think that they're dumb. There's intelligence there, and yet they can't help themselves from behaving the way they behave. But ultimately, these are the things an actor cannot control," he says, adding that no role is too small. "You really want every character and performance from the leading to the one-liner to be well done." Aside from Watts and Bening, "Mother and Child" boasts beautiful performances by Kerry Washington ("Race" on Broadway, "The Last King of Scotland"), Samuel L. Jackson, Jimmy Smits, Cherry Jones ("Doubt" on Broadway), and Shareeka Epps ("Half Nelson").
Not an Audition Fan
García is not a fan of auditioning (he prefers seeing films or demo reels), and he does not like to rehearse (it "drains the tension and freshness" of a scene). He does, however, like to keep a balance of working with new talent and "using the people that you know are going to deliver for you." García's favorite part of working with actors is seeing how they breathe air into the characters who have only lived on the page.
"A lot of these characters, when I write them, are very tightly wrapped. They're tense characters, and the actors, I think, come in and make them more human and likable, and then the audience connects with them. There's a reason for it." García continues, "That's why these people are good actors and movie stars, because you connect with them immediately. Although I know why Karen or Elizabeth or Lucy are the way they are, it's not until I see them in front of me that I say, 'Oh, that's lovely. That's how she is and how she walks.' That's not an easy process. It takes a little while for me to give up my own ideas and say, 'Okay, Elizabeth is no longer the Elizabeth that I imagined. It's now Naomi Watts. And out of Naomi and the written Elizabeth comes this new Elizabeth.' Sometimes it might take a little getting used to, but once I clue in to what the actor is doing, it's very thrilling for me."
García, who studied medieval history at Harvard before graduating at the American Film Institute, is about to embark on his first period feature, "Albert Nobbs," adapted from the 19th-century Irish short story. Close will reprise the title role—she starred in the 1982 Off-Broadway production—of a woman who lives as a man in order to keep her job. García takes out his iPhone to reveal a yet-to-be-published picture of Close in full makeup and costume as the dreary head butler at a family-run hotel.
"She can pass, no?" he says of Close in drag. "[Nobbs] has erased herself completely. No one knows that she's a woman in disguise, and she no longer knows what she is or what she feels like. She's just Albert. She thinks, 'What now? What about the future? How long can I sustain this?' It's really a romantic triangle of sorts between her and another maid who lives in the hotel played by Amanda Seyfried. This will be my third time working with Amanda. And Orlando Bloom is the third part in the triangle." García is gearing up to start shooting in the summer. "We still don't have all our ducks in a row, but we are behaving like we are."
It's becoming harder and harder for García to find money to make his kind of films: adult dramas. "Movies like 'Kramer vs. Kramer,' 'Ordinary People,' even a movie like 'Raging Bull'—studios used to make adult dramas; now mostly they don't," he explains. "Studios buy them sometimes if they like them. Luckily, Sony Classics has really gotten behind ['Mother and Child']. It was grueling to make it because as usual there's not enough money. But on the other hand, it was easy to make in the sense that the actors really delivered."