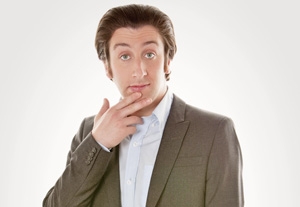 For many actors on successful sitcoms, summer hiatus represents a time to vacation, to recuperate, to maybe pick up a frivolous hobby or two. Simon Helberg, on the other hand, is using his time off from the CBS series "The Big Bang Theory" as an opportunity to cram in as much stage work as humanly possible. The actor will star in a pair of theater productions this season: "How to Succeed in Business Without Really Trying," produced by Reprise Theater Company, and "Doctor Cerberus," a 1980s-set tale of a socially awkward young man who finds solace in horror movies, produced by L.A. Theatre Works for its The Play's the Thing radio series.
"It's hard to convince your agents and managers to do theater, because it's not as financially rewarding and it takes up a lot of time," muses Helberg. "So I guess when you have the luxury of being on a television show and having some sort of steady work, it's a great opportunity during hiatuses to do whatever you want."
Both of these productions represent a new kind of challenge for Helberg: "Doctor Cerberus" is set to be recorded for radio broadcast, while "How to Succeed" marks his first attempt at musical theater. Helberg notes that while he has danced "to make people laugh," that's nothing compared to the intricate work going into his "How to Succeed" performance as weaselly Bud Frump. "When I got there on the first day, I had this sensation of that nightmare experience, where you look around and all of a sudden you're sitting on the starting bench of the Lakers and the coach is like, 'All right, Simon, you're up,' " he says, chuckling. "I play piano, and that helps a lot—I tried to play through it on the piano and to come in as memorized as I could. I had vocal training in college, but I'm trying to sneak in lessons here and there with the musical director: 'So explain how I do that vibrato with my voice. Can I grab my throat and shake it up and down?' "
Special Delivery
 Though he may feel behind the curve when it comes to all things tuneful, Helberg began his performing career as a musician: Growing up in L.A., he lent his piano-playing talents to a number of rock and jazz bands. His parents were in the entertainment industry—dad Sandy was part of the Groundlings—but Helberg wasn't fully taken in by acting until he landed a part in a production of "The Children's Hour" at age 16, in the rather minor role of Delivery Boy. He didn't see it as particularly minor, though.
"It was five lines, and I went onstage and just milked the hell out of it," he says bemusedly. "It's such a drama—suicide and lesbians and a period piece—and there's supposed to be an underlying tension in my scene. The word 'underlying' or 'subtle' did not enter into my vocabulary. I just milked it, and people laughed. I was hooked."
His fate sealed, Helberg set off for New York University's Tisch School of the Arts. But a funny thing happened during the summer between his sophomore and junior years: A friend urged him to audition for "Undeclared," a nerd-centric, college-set sitcom created by a young comedic talent named Judd Apatow. Helberg didn't have any sort of representation at the time, but his friend's manager got him a meeting. The show's casting director, Allison Jones, took an immediate liking to the actor's presence. "Right after my audition, she called Endeavor and said that they had to sign me," he marvels. "And they signed me. It was really crazy. I got very lucky."
Helberg decided to take a semester off from NYU, but a guest spot on "Undeclared" led to work on shows like "Sabrina the Teenage Witch" and films like "Van Wilder." Eventually, that one semester turned into a decade. "My parents tried to convince me that school won't always be there but auditions will," he says. "I said, 'Really? Are they tearing down NYU?' "
'Big' Break
Helberg's hilariously assured performance as bowl cut–sporting physics nerd—and wannabe lady's man—Howard Wolowitz on "The Big Bang Theory" has gained him legions of fans, but the actor notes that he nearly missed out on the part altogether.
When the audition came up, he was recurring on Aaron Sorkin's ratings-challenged "Studio 60 on the Sunset Strip"—a job Helberg loved. "If the show were to be picked up for a second season, I was most likely going to be added as a regular," he says. "I was nervous to start going out on other pilots, because I thought, 'I don't want to risk leaving this and getting on a show that only lasts a few episodes when I could've been a regular on "Studio 60." ' It's a gamble in your mind."
Still, he loved the geek-friendly "Big Bang" material and went on the first audition. When the auditors asked him to come back and test for the role, however, he politely declined. "It was mainly because of 'Studio 60,' " he says. "It was me trying to be strategic in some weird way. A week or so later, they came back, and I know [show creator] Chuck Lorre talked to my agent and said, 'Really? He's gonna stay on "Studio 60"? Who watches that show?' "
Helberg agreed to test, and the rest is history. And now he's nabbing exciting new parts, all thanks to a role he nearly turned down: He got offered "How to Succeed" and "Doctor Cerberus" based on his "Big Bang" work. "It's kind of like a backwards step: You do a bunch of theater before you're on a show to get people to see you," he says. "And then you have the luxury of going back to theater in sort of a bigger production once you've established yourself."
"How to Succeed in Business Without Really Trying" runs through May 23 at UCLA's Freud Playhouse in Los Angeles. Tickets: reprise.org. "Doctor Cerberus" runs July 14–18 at the Skirball Cultural Center in L.A. Tickets: latw.org.
Outtakes
- Currently repped by United Talent Agency and Brillstein Entertainment Partners
- Portrayed super-villain sidekick Moist in the Internet sensation "Dr. Horrible's Sing-Along Blog." Says Helberg, "Months later, I keep getting these email updates, like, 'Time Magazine voted it one of the best inventions of the year, right in front of the mechanical arm.' "
- Was thrilled to work with the Coen brothers on last year's "A Serious Man," in which he played Rabbi Scott; nine months after his audition, he found out he got the job: "My agents said, 'Don't think about it,' but every time my phone rang and I saw it was them calling, of course I thought it was about that. I actually didn't even need to see that it was them calling. I was like, 'Maybe they are calling from an unknown number. They just got this news and they stopped and pulled over and called from a pay phone at El Pollo Loco, because it's so exciting.' "