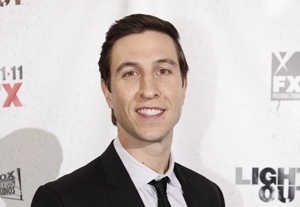 Pablo Schreiber admits frankly that because he has played wonderfully complex and challenging characters on stage, his expectations for future work have risen. "Now when I look at stage material, it has to provide me with more than the last theater project." Consider the daunting parts he has tackled: the emotionally anguished Ralph in Clifford Odets' "Awake and Sing"; the impassioned Eben who's in love with his stepmom in Eugene O'Neill's "Desire Under the Elms"; and simultaneously similar and different twins brothers in Christopher Shinn's "Dying City." Schreiber is flexing his acting muscles once again, taking on the mentally twisted and accident-prone Doug in Rajiv Joseph's two-hander, "Gruesome Playground Injuries," running Off-Broadway at Second Stage Theatre. It tells the story of two lost souls—Doug and Kayleen (Jennifer Carpenter)—who come in and out of each other's orbits over 30 years.
"The most glaringly obvious challenge in playing Doug is that he ages from 8 to 38," comments Schreiber. "And the second challenge is to inhabit his bizarre belief that Kayleen has the ability to heal his physical wounds. Also, he's much less physically capable than I am. He's constantly bumping up against his own physical limitations. The challenge is to express his physical self to an audience without overdoing it."
Schreiber, who has appeared in such films as Woody Allen's "Vicky Cristina Barcelona" and the remake of "The Manchurian Candidate," says his best work is instinctual, though he has a method.
"At the beginning of the process I read the script over and over without judgment," he says. "I then write down the given facts of the situation.  I also write a character bio that basically covers his life until we meet him. I fill in the gaps with information the playwright hasn't answered. During the rehearsal, I try on some of the ideas I have about the character. But a huge part of the process is finding out what it feels like to be that person in front of an audience during previews. This is especially true for a new play where you're kind of figuring out what the audience responds to. Do they want you to reinforce something or just get moving?"
Schreiber says his artistic and career turning points were starring in Odets' "Awake and Sing" and HBO's "The Wire," in which he played low-level drug dealer Nick Sobotka, probably his best-known role. " 'Awake and Sing' was my first starring role on Broadway," he comments. "It was a huge turning point in terms of my confidence. On 'The Wire' I learned how to perform in front of a camera and had the chance to play the same character over a period of episodes."
Schreiber has another opportunity to explore a character evolving over time in the new FX series "Lights Out," which centers on a boxing family. It stars Holt McCallanay as a former heavyweight boxing champion, Stacy Keach as his father, and Schreiber as his troubled younger brother Johnny.
"The most important thing for me in a TV project is the world it's presenting," Schreiber says. "It has to be unique and believable. In 'Lights Out' you learn a ton about the world of boxing and how it operates behind the scenes. And the sport of boxing itself is very intricate."
A Famous Brother in the Business
Schreiber spent his early years in British Columbia before moving with his father to Seattle when his folks split up. Schreiber's father was an acting teacher and his brother is the Tony-winning Liev Schreiber. "My brother is 10 years older than I am and we did not grow up together," Schreiber points out. "Acting was of some interest to me, but by the time I got to high school, my brother had started acting and that turned me away from it. I focused on basketball. At the University of San Francisco, where I was a liberal arts student, I realized basketball was not in my future. Since acting was the only other thing I knew, I pulled together audition material and auditioned for Carnegie Mellon. I told no one—not even my father—that I was auditioning. I spent the next four years at Carnegie Mellon."
Looking back, Schreiber concedes he has mixed feelings about the training. An 18-year-old is not ready to embark on a performing career because in large part acting is "all about who you are and how to use the person who is you to communicate," Schreiber says. "At eighteen, people are incomplete and don't have a real sense of who they are. It's premature for that kind of acting training to be beneficial. I would have gotten more out of it at the graduate level later on."
Schreiber has had on-the-job training and is now able to recognize those elusive moments of truth in performance, he says. Whatever his career trajectory, it has worked. Nonetheless, Schreiber is constantly struggling with a gnawing ambition to succeed "that has bred tension, which is not helpful in my having an open understanding of me or my world."
To what degree those feelings are in response to his brother's success is irrelevant. Schreiber insists they are just two brothers, both of whom happen to be in acting. Furthermore, his brother has never offered to open doors for him, and "I've never asked for it," he says. "It's possible someone was interested in me—wanted to write an article about me, for example—because of my name, but I'd have no way of knowing that. I do not feel I've been under greater scrutiny. Still, I've always been mindful of trying to do things on my own. For me, having an identity of my own is very important."
That's not to say big brother's acting advice is unwelcome. Quite the contrary. At a preview performance of "Gruesome Playground Injuries," Liev reminded Pablo that an actor's major power "comes from knowing that an audience just wants to watch you," Schreiber notes. "He said, 'It doesn't need information and you really don't have to do much. Simplicity goes further than complexity. The simplest delivery is the most interesting.'"
In addition to fully becoming Doug, Schreiber's thoughts are focused on Johnny in "Lights Out," a character in a desperate situation whose survival mode requires a compromised morality. "He's the kind of person who wants to push the rules and he thrives on bending them," Schreiber says. "I love playing the morally ambiguous."

"Gruesome Playground Injuries" runs through Feb. 20 at the Second Stage Theatre, 305 W. 43rd St., NYC. Tickets: (212) 246-4422 or (800) 766-6048 or www.2ST.com.
Outtakes
-Earned a Tony nomination for his performance in "Awake and Sing" and a Drama Desk Award for "Reasons to be Pretty"
-Featured Off-Broadway in "Mr. Marmalade," "Manuscript," "Sin (A Cardinal Deposed)," "Blood Orange," and "Julius Caesar"
-Will next be seen in Josh Radnor's "happythankyoumoreplease," which won the Audience Award at Sundance in 2010