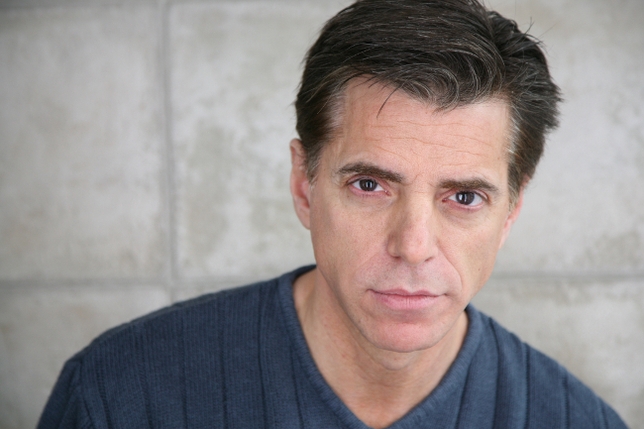 Ted Bardy can say it was the gig he didn't land that got him where he is today.
"I started out as a 9-year-old magician!" says three-time Readers' Choice winner Bardy. "I did children's shows, and when I was older I started working bigger jobs—I even had a manager. I'm also a musician, and in my teens I had a magic, music, and comedy act that I would perform at various venues in and around New York City."
It wasn't until Bardy got deeper into music—even auditioning for Bruce Springsteen's band, though he didn't get the job—that he discovered his love of acting. After deciding to major in film as a sort of backup, he was able to attend the Cannes Film Festival "and that changed my life!" he says. "I realized I wanted to express myself through the medium of acting and came back to NYC and began studying." From there, he worked both onstage and on television. When fellow actors in a company called We're in Something Productions asked Bardy to direct, he realized he not only loved getting his hands dirty as an actor but enjoyed teaching others to get dirty as well, and he went on to found the Ted Bardy Studio.
The studio offers an accelerated three-phase program to beginners, as well as advanced actors and working professionals. The multilevel approach to the classroom gives less seasoned players the chance to see where their craft can ultimately go, while actors with more training can strengthen their foundational skills. The studio also teaches on-camera audition technique, on-camera commercial technique, speech, diction and dialects, movement and relaxation techniques, film and play development, and private coaching, according to the studio's website. Additionally, monthly professional productions are presented in the 50-seat space on-site to showcase what's being taught.
Bardy's approach to the craft is deeply rooted in Sanford Meisner's technique and a few aspects appropriated from his time at the Actors Studio. Broken into what he calls "the seven elements of auditioning"—the provocative circumstance, objective, action, relationship, emotional condition, super-objective, and physical choice—Bardy's guidelines make teaching script analysis more comprehensive.
During his time as an assistant to a casting director, Bardy saw firsthand the common mistakes actors made in the audition room, and the No. 1 issue was not being properly prepared. "Many think being prepared means being very familiar with the lines, but it's more than that," he says. "Being fully prepared means you are able to live the life of that character for those few minutes you have at the audition—living, doing, behaving truthfully under the imaginary circumstances.
"To audition well, the actor must read the script in a specific way—a way which allows them to gather as much information as possible and use this information to make specific choices," says Bardy. "I teach this technique of script analysis and it makes a big, big difference, especially when it comes to the first moment—that's where actors often stumble."
Another place some actors stumble? Moving from the stage to the camera. Bardy says the key lies in understanding that if you've prepared correctly, less is more—the camera magnifies everything. Instead of thinking that actors must "show" the camera what they think, realize the camera already sees it; internalizing rather than projecting as if onstage will translate better.
"Acting should be a freeing experience," Bardy says. "There's nothing better than taking the cold words from a script or screenplay and bringing them to life on the stage or in front of the camera."
The success is in understanding the difference.
Check out interviews with all of the 2014 Readers' Choice winners, coming to you throughout the week!