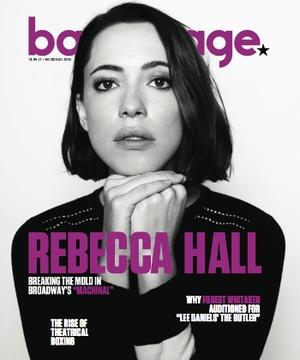 Rebecca Hall graces our cover this week, and she chats with Backstage about her Broadway debut in "Machinal" at the Roundabout Theatre Company. Check out a sneak peek from the feature below!
---
Rebecca Hall On Going Broadway
Rebecca Hall may be best-known for her film work, but she's long been a presence in both the London and New York City theater scenes, though she hasn't appeared on a NYC stage since 2009. Hall had been looking for something to bring her back to the stage for a while before "Machinal" happened, calling the change from film to stage a refreshing one—though she's quick to say that the reverse is equally as true. But she wasn't as concerned with geography as she was with material; it's pure chance that she's currently making her Broadway debut.
After meeting with director Lyndsey Turner to discuss "Machinal," Hall was on board with both the play and Turner's vision for it—but the current rights holder was Broadway's Roundabout Theatre Company. "She said the only people who have the rights are the Roundabout, so we have to do it on Broadway," Hall says. "And we're both British, so it was like, 'Hang on a minute, they want us to do it on Broadway? No, we have to do it on Broadway.' "
And though it's her Broadway debut, Hall is focused on the work, not the venue. "This is not in any way a slight to the great tradition of Broadway, but at a certain point a job is a job and you have to serve the play, not the context," she says. "I'm not unaffected by that, of course. It's really exciting. But I'm glad it's this and not something someone's seen a million times."