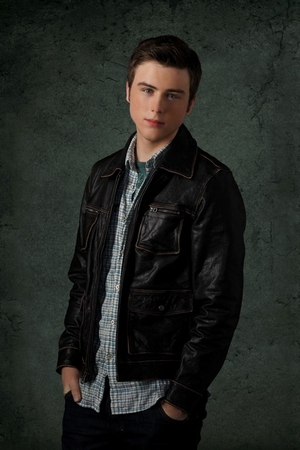 Sterling Beaumon has found his way from "Lost" into a mafia family on ABC's "Red Widow," where he plays Gabriel, whose mob connected father leaves his mother to settle his mafia debts. The drama starring Radha Mitchell provides an emotionally intense character arc for the personable young actor. Since childhood, Beaumon says he's always loved putting on a show. "I loved making people laugh and smile…now with this show it's not too much laughing and smiling, but it's still very entertaining."
Beaumon was intrigued by Melissa Rosenberg's pilot script, which was adapted from the Dutch version of the show, and the emotional arc and torment Gabriel would be facing with the death of his father. "I think it was a combination of everything and just really feeling moved after reading the whole thing," says Beaumon. Not only did Beaumon fall in love with the project, he also found the audition process to be affirming for him.
You got the part so your audition must have gone well. Is auditioning something you're pretty comfortable with?
Sterling Beaumon: I really do not like auditioning…it's hard because you never know what you're going to walk into in a room. During the screen test for "Red Widow" was the first time anyone ever told me that I was good at auditioning. Melissa Rosenberg [said] "You're a really good auditioner; you know how to connect with people." I'm like, "That's really interesting you say that because I always feel I'm the worst auditioner in the world." I never connect with anyone. But I think it's all the point of view of whoever you're auditioning for. My opinion on auditioning is that it really takes two to have a really good audition. It takes the person who you're auditioning for really showing that they care and really putting a little bit of effort into their read with you and it also takes you being prepared and you going in there knowing your vision of the character and willing to take their opinion on the character as well and sort of combine the two. Really you have to be able to act on your feet in auditions in my opinion.
Your first episode was a very emotional one. Was that difficult to do while you were still figuring out your character?
Beaumon: Yes and no. It was because it was so emotional. That was probably the most depressing three weeks - filming that pilot and also there were a lot of scenes in that that unfortunately didn't make the cut of the pilot. The original pilot ran like 72 minutes, so there was a lot that was cut out. And a lot of Gabriel's scenes were him blaming himself for his dad's death almost in a way and it was a very depressing shoot for those first few weeks. Just because living in this world where you know someone who was so important in his life is now gone. And that was hard character-wise because, like you said, you were still trying to figure out his past and where he came from and all of his relationships with all of these different people.
What can you share about Gabriel?
Beaumon: Everything he does in the show is for his family. Everything he does is to protect his mom and his sister and his little brother. And he's willing to get his hands dirty in order to help them. Because he would rather be hurt himself than watch them be hurt.
Do you have a favorite scene?
Beaumon: I do have a favorite and unfortunately it was one that was cut from the pilot. There's a scene in the pilot where the whole family comes home from the hospital having just learned about Evan's death and literally I think it's a three or four minute scene and not a single person in the cast says a word. Everyone walks in the door and you just see, it's this huge wide shot, you just see everyone sort of just spread out…Gabriel walks straight out into the backyard and just stands at the pool. And you just watch Gabriel's world just fall apart. You watch him just break down.
It's also a moment where Gabriel realizes that he's got to take care of his family and for that split second he just wants to get away from it all. So that's why he jumps in, but really a funny moment is because I spent so much time prepping for the scene and so much time just living it that I accidentally forgot that I had my phone in my pocket and I destroyed my phone while filming it. So that was a bummer, but it was well worth it until it got cut and then I was like, "Ah, I lost the phone for nothing!"
What advice do you have for aspiring actors?
Beaumon: It takes a lot of time. I feel like people who come out to Los Angeles hoping to be an actor give up too easily and or they don't put in the amount of time that it really does take. I've been acting for a long time and I've been going on auditions since I was three and four years old and it's just now - I'm 17 now - and just now [it's] starting to pay off. So the amount of time it takes is really strenuous, but I think it'll pay off if you put in the time and effort.