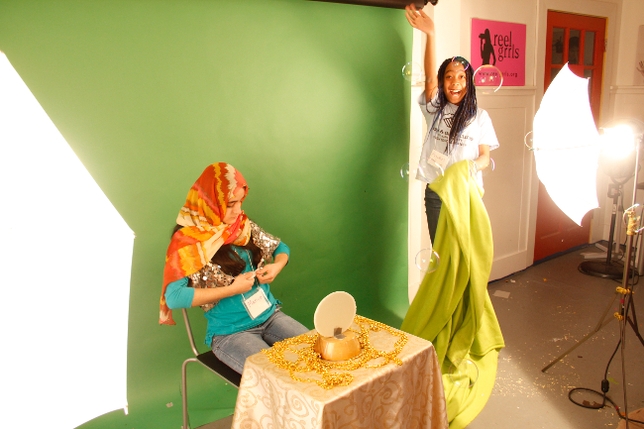 Being able to hear and tell stories is essential to expanding a child's imagination. In Seattle, nonprofit organization Reel Grrls is taking young girls' storytelling skills to the next level.
Founded in 2001, Reel Grrls focuses on hands-on learning of film and audio equipment, creating and filming storylines, and using various technologies like green screens and special effects to enhance their narratives. It also works to instill strong ideals about gender equality, social justice, and media literacy.
"Reel Grrls relies heavily on adult women who have some experience with film production, acting, or youth development to come in and help support," says program manager Bronwyn Lewis. "We end up having a high adult-student ratio—one to three."
The organization provides girls ages 9–21 with quality lessons on moviemaking, regardless of their financial status. According to their website, "no grrl will be turned away for lack of funds."
"We try to bring in girls that don't have access to these kinds of classes," says Ilona Rossman Ho, interim executive director. "All our classes are pay-what-you-can." In that spirit of providing access, the organization also works to reach beyond the Seattle area.
"We have a migrant youth program where we work with girls in eastern Washington," explains Rossman Ho. "Their summers are getting up at dawn and being in the fields all day, making $2 a day. We teach them how to use a camera and get their story out there."
A subset of Reel Grrls, Reel Grrls Productions also works to bring a different kind of on-site experience to some of the program's more advanced students, offering the opportunity to work with businesses to put their newfound skills to real-world use. Past clients of RGP include Starbucks, the Seattle mayor's office, and Cornish College of the Arts.
Classes such as Sounds Good: Audio Production I, Reel Queer Youth, DO-IT Disability and Media Justice, and others enable students to do quality work for real clients in the future. However, the organization does bring an element of performance to its curriculum.
"[Starring You!] is an introduction to video production; especially at that age [9–12], there's a lot of excitement and creativity and it ends up being less of a tech focus," says Lewis, who has taught the class. "It's a focus on girl power and an introduction to feminism. They write a film and star in it, and take turns filming each other." One recent video featured "spray-on cat power," designed to dispel stereotypes about girl and boy cats. The video's soundtrack is made up of fellow students meowing Katy Perry's "Firework."
"The focus in that class is to talk about broadening the idea of what performance is and talking more about the subtleties of characters, set, and narrative, and how you don't have to be sitting there and singing or dancing; just twirling your hair and being intentional about it is a performance," says Lewis. "We want to open ideas and assumptions about what it means to be an actor; it doesn't have to be dialogue or monologue. You can take any kind of action and draw it out, make it into something compelling to watch."
Inspired by this post? Check out our Seattle audition listings!