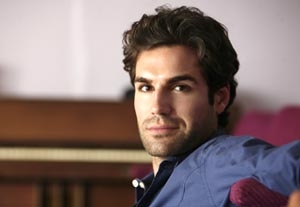 Film and television actor Jordi Vilasuso does not want to be pigeonholed as a Latino; indeed, he has turned down roles that are stereotypical or too similar to those he has played in the past. Nonetheless, if the writing is rich and he has the chance to work with such artists as "Ridley Scott, Martin Scorsese, Robert De Niro, or Russell Crowe," he'd play a Latino in a heartbeat, even a character like one he's already tackled. He emphasizes, "It's the actor's job to add nuance and discover new things in a character."
The Miami-born Vilasuso is perhaps best known for his stint as the young mafia hothead Tony Santos on "Guiding Light" from 2000 to 2003, a gig that brought him two Daytime Emmy noms and a win for best young actor. Since then he has appeared in such films as "The Lost City," "Heights," and "Ready or Not" and guest-starred on such TV series as "Numb3rs" and "CSI: Miami," among others. Currently he can be seen in "The Line," a character-driven crime drama featuring Ray Liotta, Andy Garcia, Armand Assante, Bruce Davison, and Joe Morton. Vilasuso's ambition is "being able to hold my own with this cast."
He is drawn to characters "who have to prove themselves or gain acceptance or recognition. They're fighting to be seen or heard. In many ways that parallels my existence as an actor and especially an actor in L.A." After three years in New York, Vilasuso relocated to Los Angeles to pursue film work, his real dream. Yet, once settled on the West Coast, he was depressed and unemployed. "It was a struggle having to come to terms with not having the comfort and convenience of going somewhere every day," he says, adding that lifestyle issues were oppressive as well. He hated having to drive everywhere, the relative inaccessibility of museums compared to New York, and, most of all, the industry's emphasis on "attractiveness as opposed to artistry." He recalls attending dozens of auditions, often unsuccessful and for dreary projects. It was a period of re-evaluating himself as an actor and his goals. "I concluded it was more important to get the creative juices flowing than getting a paying job," he says.
A series of acting classes followed. "I went to every acting class in L.A., and many of them screwed me up," he says. "In a lot of these classes, we were all trying to please the teachers instead of discovering what we could bring to a role. It came across as desperate. If you're coming from a place of fear, you're not serving the role."
The turning point was enrolling in a class given by David Farkas, who approaches a script physically, Vilasuso says: "There was nothing heady about it, and the work in the class was inspiring."
Thirty minutes of vocal warm-ups is Vilasuso's first step to every character. After that, "I read the script and walk around, trying not to intellectualize, and just see what happens. I don't think about intentions, unless they're really not clear, and then I might think about it and discuss it with the director. I try to be direct and find personal parallels in the script. But I'm also very open to the other actors onstage."
Being Discovered
As a youngster Vilasuso launched his career with acting teacher Marjorie Morhaim, who was also a casting director and ultimately his manager. She helped get him an agent, and by the time he was 12 he had a featured role in the film "The Last Home Run" and was appearing in commercials, industrials, and reenactments on "America's Most Wanted" and "Unsolved Mysteries," among other stints. At the same time, he was attending a posh prep school and earned a full scholarship to Miami University's BFA program. But Morhaim urged him to put college on a back burner because there was a plethora of roles for young actors on such networks as UPN and WB. She felt it would be foolish for him to lose the opportunity. Vilasuso took her advice and landed a few small gigs.
Still, it was not all smooth sailing. His most memorable experience was with a Saturday morning show kids' show in which he had been cast as the leading guest star. "It was a Casanova character," he recalls. But there were problems from the outset, starting with his inability to get to the first read-through on time because the doormen didn't have his name on the list. "There were 60 people in the room waiting, and I was late," he recalls. "Then in the middle of the rehearsal, my cell phone went off. I had forgotten to turn it off, but there was silence followed by buzzing in the room. Afterwards, I was told that if the executive producer had been there, I would have been fired on the spot. But he wasn't there, and everything went fine. Later, I got a call from my agent, who said the producer had heard about the cell phone going off, and I was fired."  As a result of that awful experience, Vilasuso is extra careful about turning his cell phone off before all rehearsals.
Despite the temporary setback, Vilasuso moved on to "Guiding Light," which was a career turning point. The visibility, topped by the Emmy recognition, "gave me street credit," he says. "My parents thought the next thing would be an Oscar. I never believed that."
Vilasuso has done a few L.A.-based plays but admits his stage experience is limited. "I do enjoy it, but at the moment I'd like to do film and television. Later, I'd like to do theater. I'm fascinated with how actors can do eight shows a week and keep it fresh."
He's also drawn to tackling romantic leads whose girlfriends "are strong, opinionated women coming into their own," he says. "I'm very interested in the challenges men face in dealing with these women, and those are roles I'd like to play."
Besides auditioning, Vilasuso is majoring in media production at California State University, Northridge. "I'm especially interested in how storytelling will change with the Internet," he says. "In the future I'd like to be working on studio films and be developing content for the films and the Internet. It's intriguing; it's wide open."
Outtakes
– Will appear opposite Robert Forster and Michael Biehn in the upcoming film "Fire Bay"
– Had a recurring role on "Fashion House" for 20th Century Fox Television
– Attended Marymount College while he was on "Guiding Light"