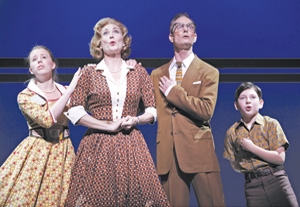 The major challenge in taking on an iconic work like "Bye Bye Birdie" is how profoundly it is identified with other stars, say Bill Irwin and Jayne Houdyshell. They are now starring in the Broadway revival—the first since it premiered in 1961—written by Michael Stewart with music by Charles Strouse and lyrics by Lee Adams. "Paul Lynde asserts an indelible gravitational pull," admits Irwin, who plays the slightly demented Harry MacAfee, father to the teenage lead. "So when you see lines on the page, it's hard not to hear them as he said them."
Houdyshell, who plays Albert's smothering mom, Mae Peterson, agrees. "The women who have played the role are fantastic. Though I never saw Kay Medford [in the original Broadway production], I saw Maureen Stapleton in the movie and Tyne Daly in the TV version. The challenge was to let go of any preconceived notion and try and find it for myself so that it makes sense and also exists within the particular sensibility and aesthetic of this production."
Undoubtedly, the two veteran actors have their work cut out for them and the stakes are high, not least because of their extensive roster of credits. Irwin, best known for his neo-vaudevillian clown act, has in recent years moved into such serious dramas as Edward Albee's "Who's Afraid of Virginia Woolf?," earning a Tony Award for his efforts; and replacing Bill Pullman in Albee's "The Goat, or Who is Sylvia?" Most recently, he was seen on Broadway as the hapless hobo Vladimir in Beckett's "Waiting for Godot." Similarly, Houdyshell had a featured role in "Wicked" and co-starred on Broadway in Lisa Kron's autobiographical "Well," receiving a Tony nomination and Theatre World award for her performance as Kron's exhausted mom.
Back Stage: How do you get into a role? What's your method?
Jayne Houdyshell: I can't say I have a method per se. I approach each role individually. I find that some characters demand certain things from me and others ask for a different process. In the case of Mae Peterson, the writing is so specifically of its time and style, the likes of which we don't see anymore. This is really joke-oriented writing. Setup and punch line. It's clean and clear, and you can see it on the page. Part of my analysis had to do with breaking down the text in a very technical way, figuring out where the jokes are and then finding the truth of the jokes and the situation around the jokes, which informs who the character is. I take comedy seriously. It's the most nerve-racking and scientific precise thing. It's a death-defying act, and you either succeed or fail with it, and the audience lets you know.
Bill Irwin: My approach to a role is the fine science of looking at the text, following the text, and then letting my instincts free. I ask the questions "Who is the character?" and "What does he want from the other characters?" and then use the precious rehearsal time—in a show like this it's especially precious—to sit with the other actors in context with ersatz bits of scenery and maybe a musical lead-in played on the piano. And that will set all kinds of things loose, and then instinct comes into play and makes these things particular instead of general.
Back Stage: Was there ever an artistic turning point when you saw the approach to acting in a new light?
Irwin: At a certain point in my life—and it was not early—some kind of combination of relaxation and flow of instinct and asking the actor's questions came together. It was an audition, a reading for Edward Albee's "The Goat." The woman I was reading with didn't know what she was doing. It would have helped if she had, but I realized that what's important is that I relax on this couch and open myself up and see what instincts flow and say the words trying to get what I want.
Back Stage: Was there a precipitating factor that made it all come together?
Irwin: I needed the job very badly.
Houdyshell: A turning point for me was having been in the business for 20 years or so when I decided to go back to class. I saw that Elizabeth Wilson was offering a class at HB Studios. She is an actress I've admired for many years, and I wanted to sit in a room and hear what she had to say about the process. One of the things she shared about her process in preparing for a role before rehearsals—and that can be many months—was to simply make a point of reading the play every day. That impressed me, and as an experiment, the next project I worked on I tried it, and it revolutionized the way I look at the work. It has just opened me up to the particular pieces I'm working on and made me aware of being a servant to something bigger than the role and the immediate relationships that the role has in the play. It's also made me more open to directors and their viewpoints, because when I look at the play as an overall thing, I am able to bring myself into a rehearsal room with an open attitude and many more points of reference.
Back Stage: How do you pick your roles?
Irwin: It's a cliché, but they pick you.
Houdyshell: Since I started out, I've been attracted to things that have given me the widest variety and range. I'd rather not repeat myself, but sometimes one does. And sometimes it's a matter of having to prioritize for monetary reasons. If I have the leisure to pick roles and a number are coming my way, I generally gravitate to the projects that challenge me the most and also where I can work with people I respect.
Back Stage: What work are you most proud of?
Irwin: George in "Virginia Woolf" and Vladimir in "Waiting for Godot."
Houdyshell: Playing Ann Kron in Lisa Kron's "Well" was a great privilege because I was representing a real person.
Irwin: There is a responsibility and a certain intense place in an actor's memory when you play a real person. The stakes are high when you play a fictional character. But when you're playing someone who walks and lives and breathes, the stakes are that much higher.
Back Stage: Are there any roles you're dying to play?
Houdyshell: Amanda in "Glass Menagerie" and also Martha in "Virginia Woolf." I played a short run and skimmed the surface. I'd like to revisit.

Irwin:
I'm scared to say, but I think I will. I've been reading "King Lear" over and over. I'm old enough. I'm getting there. And it's one of those roles you've got to play when you're young enough to play it, but old enough to understand it.
"Bye Bye Birdie" runs through Jan. 10 at Henry Miller's Theatre, 124 W. 43rd St., NYC. Tickets and more info: www.byebyebirdieonbroadway.com or www.roundabouttheatre.org.