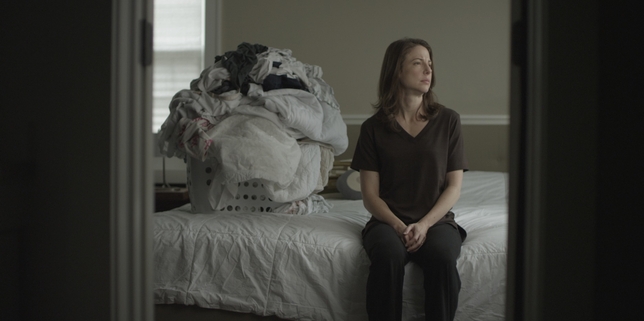 When it comes to nailing the ethos of the 2013 Sundance Film Festival, Stacie Passon's "Concussion" is right at the top of the list. A spare, character-driven film filled with sexual encounters, Passon's debut as a filmmaker is more interested in psychological intimacy than scenes of lesbian sex—though it has plenty of both.
Robin Weigert plays Abby, a gay, married mother of two who radically alters her life after a head injury and starts working as hooker out of the New York City loft she's remodeling. Among her clients is a fellow mother from her small town, played by Maggie Siff, an old friend of Weigert's. As Siff said during our conversation about the film, she knew immediately that the script would only work if the actor playing Abby were exceptional—Passon herself put it as casting someone "as believable pulling a Gandhi book off the shelf as she is pulling off a bra"—and there is no doubt that Weigert delivers.
What got you involved in the project, Maggie?
Maggie Siff: Robin sent me the script and I read it and was so impressed by the writing and how intelligent it is. The script is an interesting read because it's very spare. It's an expressionistic film and how that translates on the page—
Robin Weigert: There were some scenes that were just indicated.
Siff: But when I read it, I thought, This is really interesting, but it's completely dependent on having a really amazing director and a really amazing person in that part. So Staci and I had a long conversation. I really, really enjoyed her. I thought she was incredibly bright and had a vision for the film that clearly wasn't salacious. And I thought the character I was being asked to look at was not somebody we see a lot. Very sexy and mysterious. I feel like that little scene near the end in the supermarket really speaks to the brilliance of what Staci knows how to do in terms of telling a story. It's such a little moment but it points to a whole world that exists between me and my husband but at the same time pulls back the cover on what's going on in Abby's mind and heart in regards to me. It's such dense storytelling.
Everything that happens in this film seems to happen in people's faces. Robin, did you know how much of what you were thinking was that visible?
Weigert: I was so buried inside the experience it was a little odd to watch it because I didn't know what was going on in my face or body at all. There were some scenes where I thought that something was happening between my character and myself but the camera would not see. And some thought I might have. And always with film, but with this more because I had both the pleasure and the pain of looking at myself so very much, just how much the camera sees amazes me. It's all somehow visible—especially in close-up. And if you're having a certain kind of day, the camera will see it. If you're feeling tired, don't fight it. The trick is to use it, rather than making it the enemy and trying to marshal through. Any effort you're expending against what's really going on is visible. The trick to some of that stuff that is not written is to say to yourself, "Anything might happen here," and open yourself to the other actor and see what transpires.
All of the sex scenes here had an almost uncomfortable level of intimacy to them, but particularly the ones between the two of you. Did being friends before filming make things less awkward?
Weigert: I think, because of having complete trust, I wasn't embarrassed. I knew from Maggie there would be no judgment on me and that allowed it to be very personal and very exposing.
Siff: I do think it helps when you have a friendship already and the trust is there and professional respect. It's much harder to do that sort of thing with strangers.
Weigert: But that happened too!
Siff: [Laughs] That's true, Robin had both!
Weigert: I think the very scary thing of looking somebody dead in the eyes like that, which was written into the script, is if there's any level of emotional intimacy and you're trying to protect yourself for your own survival, it's impossible to do that while making eye contact. And there are very few other actresses where that would have been as powerful for me.
Were those scenes all highly orchestrated?
Weigert: That one was, but some of them were utterly improvised.
Siff: Staci had certain of those scenes she had really specific ideas about how she wanted them to play out and who was in control. And she had specific ideas about Sam and Abby and Sam really dominating Abby in a certain way.
Weigert: And I think what happens is you see the character in all of these other scenes, and no one is able to take her in hand. And that is a huge missing piece—among a lot of missing pieces—in her life. And that has a galvanizing effect on her. Not for the better, because that relationship is untenable, but it drops it into this is what your relationship would be.
And the trysting loft was gorgeous!
Weigert: That was a beautiful piece of work. All the component parts coming together, and of course that was all Staci.
Siff: I loved the life of that room and the life that that room collected and absorbed. It had the accumulation of all those encounters so that by the time [Abby's wife] Kate walked in and the way she's looking around, you feel everything the room holds. And that room does begin to take on a charge.
Weigert: Even when her wife speaks for her and says, "Abby is a collector," it's that thing that couples do where it's like, "This is what she likes." And it's so diminishing, even though it's with the best of intentions. And that's the kind of single line that has six layers in it. There's a lot to those little words.
And finally, do either of you have any terrible audition stories you wouldn't mind sharing?
Siff: I have lots of terrible audition stories, but nothing that interesting! I once auditioned for Wallace Shawn and my grandmother was good friends with him. I remember saying something about it to him and he just looked so startled and overwhelmed and then I became really awkward and flustered and sort of stumbled out the door. And I never do that, I never say if I have a personal connection to someone! And then I felt just very ashamed for some reason, exposing that personal thing and being kind of awkward and startled.
Weigert: It's the second part of your question I have issue with! Testing is a nightmare, and certain testing scenarios are harder than others. But there were two pilot seasons back to back for me where I got to the level of testing—which already means a lot has happened—10 times. Ten times! It's hard enough when it's just twice. But it was 10 times testing without booking. And in one of them, the audition space is all glass behind, so you're visible when you walk behind where you audition. And it was me and one other actress and I went first. And the scene was emotional and I played it to the hilt, and it just didn't stop! And it was time for me to leave, and I thought, Well, I can't walk by my competition in this state. So I very confidently walked the other direction. And that way there was nothing but a broom closet. There just wasn't any other door! So I went through that door. And I thought, If I don't figure this out before she finishes this audition, I will forever be the girl who left the audition and was crying in the broom closet. And so I had to figure out what the moment of peak interest was in this thing, so their attention would all be riveted so I could do the walk of shame past all that glass so I could get back to where human beings are supposed to reside. So I listened to the monologue and I made the dash back. I did not slither, but there was some dashing.