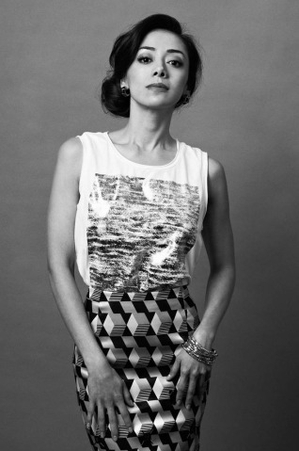 Aimee Garcia, best known for her role as Jamie Batista, the babysitter on "Dexter," is gearing up for the release of the 1987 film "Robocop's" 2014 reboot, set to hit theaters tomorrow, Feb. 12. Acting opposite Gary Oldman, Garcia plays Dr. Jae Kim, one of the scientists responsible for creating the bionic, crime-fighting man at the center of the film's narrative.
"It's a very smart movie that's relevant to today, because we're really going to have to start thinking about how we're going to fit robots into our lives," she says. "Do we trust them with our children? Do we trust them when we get on a plane and there's no human in the cockpit? Do we trust them with a gun? I think that that's really what Kim grapples with, the morality of it all."
The Chicago native chats with Backstage about how she rebounded after a slew of failed auditions and preparing for the role of Dr. Kim.
On preparing for her role.
Garcia is not a doctor or a scientist so to prepare for her role, she did extensive research to be sure she got the performance right. "I watched a bunch of TED talks, I read books about neuroscience, I interviewed scientists, and I shadowed one of my friends who is a scientist," explains Garcia. "I just sat there and watched her, and observed her relationship with her surroundings and her laboratory." The research paid off as she was able to pull up mental references on set—during a scene when she needed to be looking at a heart monitor, she used what she learned while shadowing to conjure the image—as well as make valuable suggestions to director José Padilha about her character's behavior. "I talked to the props department a month before we started; I said, 'I really want her to have a tablet because so much of her role is taking notes for her boss, Gary Oldman and his character, and I think that she has to record everything that's happening with Robo and Alex's transformation into this bionic machine.' I get there on set and the director is like, 'Alright let's try no notepads or anything.' And I thought, Oh geez! And then José's like, 'Let's put in the tablet. She should be taking notes!' So it was really nice to have done my research when I came in.' Garcia says having the tablet for Kim's note-taking grounded her—she wasn't "just standing there punching the air like Tom Cruise in 'Minority Report.' "
On becoming her character.
Unlike her character—a reserved, detail-oriented scientist—Garcia is as bubbly and talkative as they come. Scaling her personality back to fit that of a scientist's took some (welcomed) work on her part. "I'm very expressive, passionate, I talk with my hands, I tend to speak a little louder than most people, so there was something really powerful about her stillness," says Garcia. "[Jae's] very still, she doesn't say much; she's very economical with her words, but she has a very clear focus and presence, which was definitely challenging for me but really exciting." Garcia cites Kim as the film's moral compass, whose stoic but visceral reactions are telling of just how far "off the deep end" the scientists in "Robocop" are willing to go.
On failing.
Though she's successful now, just after moving to Los Angeles, Garcia hit a wall with landing work. "I remember I'd gotten a job but then right after that, I didn't get like, 12 auditions in a row and finally, the 13th, I booked something," she says. "But it was pretty tough to get back on the horse after 12 rejections." For her, the best way to think about acting is to look to the Baseball Hall of Fame for assurance. "Players that are in the Hall of Fame have a .3 batting average, which means that 70 percent of the time, they "failed" or didn't make contact with the ball. As an actor, if you fail—which I would argue that nothing is a failure when you learn from every audition—but that 70 percent of the time, you're still a rockstar. It's up and it's down for everybody. Natalie Portman wanted 'The Great Gatsby' and lost out to Carey Mulligan, so at every level people win and people lose and so I think if you really want to be an actor, you have got to get back in the ring even if you're cut, bruised, sore, deflated, because at every level, it's never going to end." Her recipe for dealing with rejection? "Mourn it for a day, maybe don't get out of bed for a day, but then the next day, brush it off, get back up and get back at it."