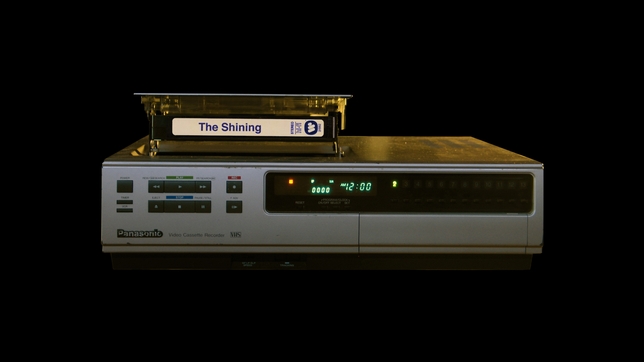 Stanley Kubrick's iconic horror flick "The Shining" has lived on in pop culture ever since it was released in 1980. Referenced everywhere from "The Simpsons" to "Sideways," the creepy film about the haunted Overlook Hotel continues to haunt its viewers.
But even the film's most passionate fans might be surprised by some of the theories filmmaker Rodney Ascher discovers in his documentary about the movie, "Room 237." A tin of baking powder becomes a metaphor for the Holocaust. Another scene offers "proof" that the Apollo moon landings were faked. And on and on.
Ascher made his name with the offbeat short "The S From Hell," which played Sundance in 2010 and featured off-screen narrators talking about the fear they experienced as children upon seeing the Screen Gems logo. Like that film, "Room 237" keeps its interview subjects off screen, and presents a fascinating look into how strange ideas can actually be universal.
When did you first see "The Shining," and what effect did it have you on?
Rodney Ascher: I snuck into a screening when I was still a little kid and only lasted about 10 minutes. Although I was soon to revisit it as a teenager and really like it, the film must have left some indelible marks on me because I've been lured to revisit it again and again and again.

How did you first come up with the idea to make a film about the conspiracy theories behind "The Shining"?
Ascher: Internet addiction. When my friend Tim Kirk—who would become the producer of "Room 237"—posted a link to a mind-blowing essay about the secret meaning of "The Shining" on my Facebook wall, I read it, and re-read it, and almost instantly wanted to interview the author as a follow-up to a short documentary I did in 2010. Very quickly, the idea of interweaving it with other people's takes on "The Shining" came together and the two of us spent months and months happily exploring the outer reaches of "Shining" scholarship, much of it online.

Why did you choose to keep your narrators off screen?
Ascher: Above and beyond the very real practical considerations, I worked that way on the short and wanted to take it further. I've always been a fan of essay films and collage/remixes, and that style seems to work your imagination much differently than a traditional documentary.

What are the craziest theories you've heard about "The Shining"?
Ascher: That it's just the story of a family stuck in a haunted hotel.

What do you think is the reason behind the film's enduring appeal?
Ascher: Like most of Kubrick's work, it really falls smack in the intersection of art and entertainment. There's obviously a lot to it, but it's also more fun than other movies, which may seem more plainly symbolic.

So what childhood trauma will you be turning into your next film?
Ascher: Oh, I don't know... I've got a half dozen ideas I'm trying to sort through. Only one of them is directly based on a personal trauma, and that one was in my college years.

"Room 237" screens Thursday, Sept. 13 at The Bloor, Hot Docs Cinema at 6:00 p.m.; Saturday, Sept. 15 at Cineplex Yonge & Dundas 2 at 5:45 p.m.; and Sunday, Sept. 16 at the TIFF Bell Lightbox 3 at noon as part of the Toronto International Film Festival.