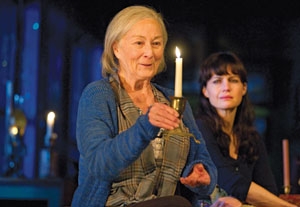 Rosemary Harris finds it ironic to be performing two doors down from the Broadway megahit "Spider-Man: Turn Off the Dark." After all, she appeared in three "Spider-Man" films as Peter Parker's lovable Aunt May, yet no one on the long lines even notices her. Not that being a celebrity—or even a film actor—was ever a goal. "I had a lot of fun doing the 'Spider-Man' movies," she emphasizes. "I really enjoyed it. But I'd much rather be doing this."
"This" refers to acting onstage, playing the intensely eccentric and free-spirited Miss Helen in Athol Fugard's three-hander "The Road to Mecca." It's a Roundabout Theatre Company production at the American Airlines Theatre.
Based on a true story and set in 1974 South Africa, "Mecca" tells the tale of an elderly, reclusive widow, who has blanketed her garden with Byzantine sculptures she has created. Depending on viewpoint, they are either dazzlingly beautiful or perversely ugly. Her friend, urban schoolteacher Elsa (Carla Gugino), is an enthusiast, while the town clergyman, Marius (Jim Dale), is disapproving and determined to see her placed in an assisted living facility. 
"Miss Helen is one of the great roles written for an elderly person," says the Tony Award–winning veteran actor in her dressing room before a performance. "Even Shakespeare didn't write great parts for women in their 70s and 80s. It's not that I'm getting fewer offers, but certainly nothing as challenging as this piece."
Harris says her greatest stumbling block was memorizing all the lines, and in recent years she has made it her business to know all her dialogue before rehearsals begin. She believes it's a good approach for an actor at any stage, despite the commonly held belief that good actors learn the words as they rehearse and discover the character. Harris says if the writing is top-notch, "everything about the character can be found in the text. You don't have to go searching for it."
The British-born Harris has had an illustrious six-decade career appearing in the West End and on Broadway. She is also a committed wife and mother. Her husband is writer John Ehle, and her daughter, actor Jennifer Ehle. Much of her life has been spent juggling professional and private concerns. "It's a balancing act, especially if you have young children," she says. "It may be different for women today, but that was a major issue for me. There were projects I turned down for my little family."
Turning Down Jack Warner
Born in Leicestershire, England, Harris acted professionally in stock companies before attending the Royal Academy of Dramatic Art. An actor acquaintance suggested she apply to RADA. "If nothing else, it was a shop window for people to see me," she recalls. A high point of her training was studying with Mary Duff, a well-known drama teacher, who was blunt in her opinions. "Her method was the wing chair method," Harris says, chortling. "She sat in a large wing chair with her back to the window, and her students sat at her feet. She was autocratic and brilliant, and she did not tolerate fools. But we clicked." Not every student shared Harris' good opinion of Duff. "If you mention her name to [director] Michael Blakemore, smoke comes out of his ears," she says, laughing. Harris believes the most important step for a young actor is to find a teacher she likes and trusts.
A major difference between today's theater world and the one in which Harris emerged was the presence of stock companies in virtually every British community. They gave actors a modest income and a place to hone their craft. You performed in a different play every week and two performances nightly, Harris remembers. In the pre-television days, people throughout the provinces attended theater regularly. A booming market existed, and young actors did not find themselves unemployed for long stretches of time, Harris explains. "They did not leave one company before joining another."
When Harris started appearing on live TV, she made her first decent paycheck but nothing equivalent to what performers make on the small screen today, she says. But then, Harris didn't gauge the value of a project in financial terms. Career strategies were equally alien. "I never thought of acting as a career," she says. "I thought of it as a job that paid me a living, and it was something I loved doing. When Jennifer said, 'I want to be an actress,' I said, 'Why?' She said, 'Why not? You have so much fun.' I couldn't deny I was having fun. I told her to go for it."
After Harris made her 1952 Broadway debut in Moss Hart's "The Climate of Eden," Jack Warner personally offered her a contract with his Hollywood studio, and she turned him down. "In those days you'd sign a seven-year contract, and I couldn't envision myself by a swimming pool for seven years with nothing to do," she recalls. "I wanted to go back to London to be a classical actor, but when I went back I was cast in 'The Seven Year Itch.' It lasted a year, and it was the longest year in my life." Still, after she finished the run, she joined the Bristol Vic and had the chance to play Portia, Hermione, and Beatrice, among other classical roles.
Looking back, Harris says there is nothing she would do differently, though she regrets never having played Cleopatra. She was offered the part, but at the time she was the old grandmother in Neil Simon's "Lost in Yonkers" on Broadway. "I couldn't leave, and that was my last chance to play Cleopatra."
In a splendid career, that's a small disappointment.
"The Road to Mecca" runs through March 4 at theAmerican Airlines Theatre, 227 W. 42nd St., N.Y. (212) 719-1300 or www.roundabouttheatre.org.
Outtakes
Won a Tony for her performance in "The Lion in Winter," an Emmy for "Notorious Woman," and a Golden Globe for "Holocaust" and was nominated for an Oscar for "Tom & Viv"
Appeared on Broadway in "A Delicate Balance," "Waiting in the Wings," "An Inspector Calls," and "A Streetcar Named Desire," among others.
At the Royal National Theatre, played Ophelia opposite Peter O'Toole in Laurence Olivier's inaugural production of "Hamlet" and Yelena in his production of "Uncle Vanya"
Was a founding member of the APA-Phoenix Repertory Company in New York