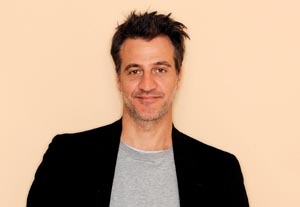 Ross Partridge isn't a movie star (yet), but he plays one onscreen. In the film "Treatment"—which premiered recently at the Tribeca Film Festival—Partridge portrays Gregg D, a Hollywood bad boy in the Charlie Sheen/Mel Gibson mold (sans anti-Semitism). It's the type of part that looks fun to play, and according to Partridge, it was.
"Gregg D is one of those characters who was so huge," Partridge says. "The trick was trying to keep him grounded in something that was real and keeping it somewhat palpable. I think you could certainly sensationalize the character."
"Treatment" is the latest entry in a string of films that has made Partridge a familiar face on the festival circuit in recent years. Indie watchers will remember him from "Baghead," "The Freebie," and "The Off Hours"—films that sprang from a loose-knit community of artists who often pop up in each other's projects. It was through this network that Partridge found himself in "Treatment." He had worked with the film's lead actor, Joshua Leonard, and co-writer and co-director Sean Nelson on "The Freebie."
"When you have an actor at your fingertips, and other people and other resources at your fingertips, you're going to use those first," Partridge says. "When you're in the realm of this guerrilla style of filmmaking, this independence, it's just easier when you know people you can trust."
Though the style of filmmaking on "Treatment" may have been guerrilla, the setting was not. The movie follows Leonard's character, a blowhard would-be filmmaker, as he checks himself into an upscale rehab clinic in order to convince Gregg D to appear in his movie. Much of the film was shot at an L.A. hotel, forcing Partridge and company to work around certain obstacles.
"There are guests in a hotel," he says. "And for some reason when we were shooting, it was the rainiest month in Los Angeles, so a lot of stuff that was intended to be outside was shot inside."
Still, the actors and filmmakers managed to make the movie happen—something that's easier to do when you're working with friends.